---
FAST FACTS HAWAII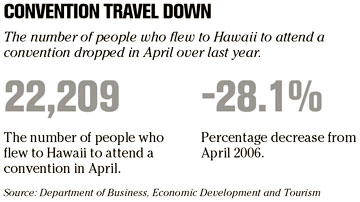 ---
Blackstone execs to get $2.3B
NEW YORK » Stephen Schwarzman and Peter G. Peterson, who started
Blackstone Group LP
two decades ago with $400,000, stand to collect a combined $2.33 billion from the largest initial public offering by a leveraged buyout firm.
The 60-year-old Schwarzman will receive $449.2 million for selling some of his holdings, leaving him with a 24 percent stake, New York-based Blackstone said yesterday in a filing with the U.S. Securities and Exchange Commission. Peterson, 80, who's retiring next year, will get $1.88 billion and retain 4 percent of the company.
The payouts to Schwarzman and Peterson top those earned by partners at Goldman Sachs Group Inc. and the founders of Google Inc. when their companies went public.
No OT for home-care workers
WASHINGTON » The U.S. Supreme Court ruled yesterday that home care workers are not entitled to overtime pay under federal law. The unanimous decision upheld a 1975 U.S. Labor Department regulation exempting the nation's 1 million home care workers from the protections of the Fair Labor Standards Act.
Justice Stephen Breyer wrote that the agency did not exceed its authority when it left home care workers without overtime protection.
The overtime case was brought by lawyers for Evelyn Coke, a 73-year-old retiree who spent more than two decades in the home care industry helping the ill and the elderly. Coke's former employer, Long Island Care at Home Ltd., said it would experience "tremendous and unsustainable losses" if it had to comply with federal overtime requirements.
CinemaNow to relaunch video site
LOS ANGELES » Online movie download site
CinemaNow Inc.
will revive its 2-year-old effort to sell music videos, hoping to fill a demand for content to be viewed on portable devices by increasing its inventory.
The company first launched its "watchmusichere.com" site in 2005 with a small selection of music videos. That site never quite found an audience in part because the portable media devices that could play the videos never caught on.
With Apple Inc.'s iTunes music store finding some success in selling music videos and the increased number of portable media players, CinemaNow has decided to beef up its offerings and will relaunch by featuring $1.99 videos from Warner Music Group.
Review: Toyota tops GM in sales
NEW YORK »
Toyota Motor Corp.
topped
General Motors Corp.
in global auto sales in 2006, according to a review by trade journal
Automotive News
that pared GM's tally by more than 400,000 vehicles sold in China.
GM sold 8.68 million cars and trucks last year, compared with Toyota's 8.81 million, Automotive News said yesterday. The magazine cut 420,140 vehicles from GM's count of 9.09 million because they were sold in China under the Wuling brand by SAIC-GM-Wuling Automotive Co., a venture in which GM owns 34 percent.
The race between Toyota and GM is being watched closely because some analysts say Toyota will grab the global sales lead in 2007 from its Detroit-based rival, which has held the title for 76 years. Toyota outsold GM last quarter.
Chinese inflation highest in 2 years
BEIJING » Chinese inflation rose to its highest level in more than two years in May, driven by soaring prices for pork and other foods, according to government figures released today.
The government has been worried that China's sizzling economy, growing at an 11 percent pace this year, could accelerate inflation. The official inflation target is 3 percent.
The 8.3 percent rise in food prices is especially sensitive because it would be felt most strongly in the poor countryside, where hundreds of millions of people have missed out on the country's two-decade-old boom.
---
BUSINESS PULSE