More seal deaths in years with El Niño
An average of 11 endangered Hawaiian monk seals die needlessly -- ensnared in cast-off fishing nets or some other ocean garbage.
But scientists are finding that more seals drown or are suffocated that way in years with El Niño warming of ocean surface waters.
A study shows that in those years, the ocean currents are driven father south into the middle of the Hawaiian monk seals' home in the Northwestern Hawaiian Islands, bringing more debris with them.
---
More endangered Hawaiian monk seals get trapped in marine debris in El Niño years than other years, a study by two Hawaii researchers concludes.
The link could prove important because El Niños can be forecast months in advance and because the seals' survival is so tenuous, said Mary Donohue, a marine mammal ecologist with the University of Hawaii's Sea Grant College Program.
Donohue and co-author David Foley, an oceanographer with UH's Joint Institute for Marine and Atmospheric Research, published their findings in the journals New Scientist in March and Marine Mammal Science in April.
The study shows that a wind-driven "subtropical high convergence zone" is driven farther south in El Niño years -- into the middle of the Hawaiian monk seals' home range. This means the ocean currents head for the area, bringing debris with them.
Despite removal of more than 540 tons of marine debris from the Northwestern Hawaiian Islands since 1996, seals continue to get tangled in drifting nets and ropes, Donohue said.
Scientists have long known that getting stuck in debris was a top killer of the seals, Donohue said. But it wasn't clear until now why more seals get tangled in nets in some years over others.
Since 1982, the number of seals known to be entangled ranges from a low of two in 1985 to a high of 25 in 1999, according to Donohue.
Scientists have observed an average of 11 seals a year entangled in marine debris from 1982 to 2004, their statistics show.
---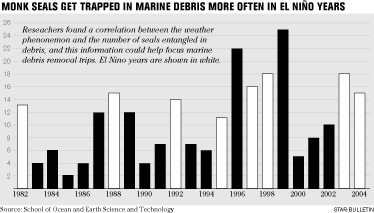 ---
The numbers are "very conservative," Donohue said, because they count only entangled seals actually seen by scientists. "We are confident many more are entangled and no one ever sees them," she said.
If the seals can't get free, they drown or starve.
Just 1,200 seals remain in the wild, with most living in the Northwestern Hawaiian Islands and fewer than 100 in the main Hawaiian Islands. NOAA scientists say the seals' population has been dropping by 4 percent a year recently.
In addition to entanglement, other risks include young seals dying of starvation or being eaten by sharks. Unless more young seals can survive to reproduce, the species is doomed.
"When I was working for NOAA (the National Oceanic and Atmospheric Administration) in the protected species program, I was helping analyze monk seal entanglement data," Donohue said in a recent interview.
"I had plotted it out, and when I looked at the peaks, to me it looked like a graph of El Niño."
El Niño is the periodic warming of surface waters in the eastern tropical Pacific, which affects weather and ocean conditions from South America to Indonesia.
Donohue said she hopes the research might yield two results in El Niño years:
» Researchers in the Northwestern Hawaiian Islands could spend more time looking for and helping entangled monk seals.
» Marine debris removal cruises might be able to target incoming globs of drifting debris and remove it before it reaches the islands the seals use to give birth.