---
FAST FACTS HAWAII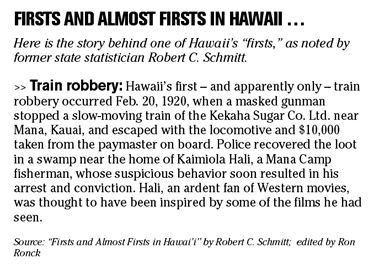 ---
NATION
How to look busy while at work
Whether you're bored, stressed or just need a break, sometimes you need to put down the spreadsheet and pick up the Sudoku. To make sure you at least create the appearance of being diligently engaged in company business, check out the following suggestions from bloggers on the job Web site
Monster
.
» Always carry a file folder with at least one sheet of paper inside. Scribble a note on it and mumble, "Must not forget that."
» Leave a cup of coffee and bakery bag on your desk at night and leave your computer running. When you're late the next morning, everyone will think you've been there all along.
» Always have a work-related question or statement ready that you can fire off at a moment's notice while gabbing with a co-worker. When a manager walks by, seamlessly transition to your prepared statement: "So Susan, that's how we calculate profit-margins."
Workers admit abusing sick days
It's funny how the office ranks start to thin just as the summer kicks off, with reports of stomach viruses rising coincidentally with the number of bright, sunny days.
Nearly 40 percent of full-time workers admit to calling in sick to work to enjoy a summer day off, according to a recently released online survey.
Here's a shocker: the most popular days to play hooky were Friday and Monday.
"It really leads to a bit of a productivity and morale problem if it's left unchecked," said Jim Kizielewicz of workplace management firm Kronos Inc., which sponsored the survey, conducted in April among 2,021 adults.
Workers are turning the concept of sick time on its head, calling in sick when they're not and showing up to work when they are. In a related Kronos study, 98 percent of full-time employees reported going to work when they were ill.
Most think their jobs are secure
You may think your job's safe, if you're like most workers. The majority of American employees, or 89 percent, aren't worried about the prospect of their company merging or being acquired in the next year, a new survey found.
Much of that confidence, however, results from the higher-ups' version of the story. Employees usually hear about a deal's potential for growth, but not necessarily the accompanying plans for job cuts, said Jeff Perry of Ernst & Young, a professional service firm that conducted the survey. If employers are clear about their strategy, workers can position themselves for new opportunities within the company, Perry said, rather than ducking for cover under their desks.
The survey was conducted among 855 full-time workers in companies with more than 100 employees.
---
BUSINESS PULSE