Hawaii's
Back Yard



---
Big Island health fair takes holistic view
When he was just a 13-year-old boy growing up in Keaukaha on the Big Island, Dane Silva would often massage his father, a lineman for Hilo Electric Light Co.
Even then, Silva's gift was evident. He knew exactly where to place his small but deft fingers, and how much and what kind of pressure to apply. Within an hour, he had alleviated much of his father's pain, swelling and stiffness.
If you go ...
What: Pacific Cultural Wellness Festival

Place: Outrigger Keauhou Beach Resort, 78-6740 Alii Drive, Kailua-Kona, Big Island

Dates: June 29 and 30

Time: Various; see accompanying sidebar

Cost: $25 per person on Friday; free for children under 17 and those 60 and older. Saturday admission is free.

Call: (808) 965-8917

E-mail: kumulomi@haleola.com

Web site: www.pacificcultural
wellnessfestival.org
Schedule of events
June 29

8:30 a.m. to noon, and 2 to 5 p.m.: ManaFest conference in the Kahaluu I and II Ballrooms

5:30 to 6:30 p.m.: Kahaluu Tea Party in Kahaluu Lanai

8:30 to 9:30 p.m.: Group discussion in the Kahaluu I and II Ballrooms

June 30

8:30 a.m. to noon, and 2 to 5 p.m.: PonoFest conference in the Kahaluu I and II Ballrooms

8:30 to 9:30 p.m.: Hui in the Kahaluu I and II Ballrooms

5:30 to 6:30 p.m.: Kahaluu tea party at Kahaluu Lanai

9 a.m. to 4 p.m.: Wellness Festival in the Kahaluu III Ballroom and Lanai

9 a.m. to 4 p.m.: Lomilomi Festival in the Kahaluu IV Ballroom
"When I was about 15," recalled Silva, "I began learning more about lomilomi from my grandmother and neighbors who also were masters of the healing arts. They taught me some techniques, but, more importantly, they showed me there's a definite link between how we treat our bodies and the quality of life we have."
That is the premise for the inaugural Pacific Cultural Wellness Festival, set to take place June 29 and 30 at the Outrigger Keauhou Beach Resort. Silva, now a respected kumu lomilomi (lomilomi master) and president of the Hawaiian Healing Center in Puna, is the primary coordinator for this seminal event, the idea for which came about last October when he learned a beloved kupuna (elder) was ill.
"Her foot had been amputated due to diabetes, and that had a powerful effect on me," said Silva. "It reminded me of another diabetic patient, only 19 years old, who was scheduled to have his leg amputated because of a gangrenous infection. His public health nurse contacted me to see if I could help."
Crediting lomilomi, an oil and cream made from the Australian tea tree, and "the grace of Akua (God)," Silva cured the infection, eliminating the need for surgery.
At his urging, the 440-pound Hawaiian youth immediately began a weight-loss program to improve his health.
Many more people, Silva thought, need to hear the message that holistic healing is a viable alternative to pills and the scalpel.
"News articles about health often ignore the practitioners of complementary medicine, yet these professionals provide immense benefits for those who choose natural methods of disease intervention," he said. "They are at the cutting edge of preventive medicine, which includes nutrition and exercise."
Over the ensuing months, Silva talked to health professionals and government leaders statewide about launching an event that would allow an open exchange of knowledge. Response was enthusiastic, and, thus, the Pacific Cultural Wellness Festival was born.
At least a dozen esteemed medical doctors, naturopathic physicians, acupuncturists and massage therapists from throughout Hawaii will be participating in workshops, demonstrations and panel discussions on both days (all sessions are open to the public).
They include Dr. Kekuni Blaisdell, retired professor of medicine at the University of Hawaii at Manoa's John A. Burns School of Medicine; lomilomi experts Mary Fragas and Sylvester Kepilino; Ramsay Taum, an instructor in lua (Hawaiian martial arts) and hooponopono (conflict resolution); and Levon Ohai, instructor of laau lapaau (herbal medicine) at Kauai Community College and the Kamakakuokalani Center for Hawaiian Studies at the University of Hawaii at Manoa.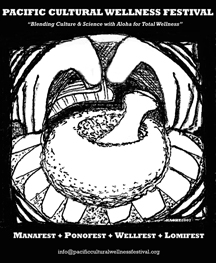 ACCORDING TO Silva, one of the festival's goals is to improve communication and understanding between health practitioners. It also will provide a forum for them to interact with the community at large.
One of the highlights of Friday's program will be a presentation on the benefits of massage as a treatment for disease.
Silva believes lomilomi is one of the best anti-inflammatory treatments available.
"Controlling inflammation is an important step in reducing the impact of chronic diseases like cancer, asthma, diabetes and arthritis," he said. "The key is to begin lomilomi and laau lapaau during the early stages of the disease."
Another seminar will focus on the potentially dangerous herb-drug interactions that occur because doctors don't know about the types and amounts of herbal supplements their patients are consuming with prescription drugs.
"I lost a dear friend a couple of years ago to a fatal herb-drug interaction," said Silva. "He was taking an herbal supplement to lose weight and a medication for his heart problem at the same time. That kind of tragedy is preventable if health-care providers openly communicate with each other and their patients."
Educational sessions will continue on Saturday. In addition, during the Wellness Festival, attendees will be able to meet healers, teachers and health care center staff members to learn about traditional practices as well as the latest research results and clinical observations.
Massage therapists from throughout the state will offer free demonstrations and longer treatments for a fee.
Throughout the two-day event, students from Big Island high schools will interview doctors, cultural authorities, sponsors and attendees for a documentary that will be distributed to schools in Hawaii and across the Pacific later this year.
Silva hopes the Pacific Cultural Wellness Festival will deliver a strong, positive message about holistic healing and the practitioners of complementary medicine who champion it.
He said, "When we are confronted with an impending pandemic from avian flu, doesn't it make sense to use every available resource for our survival? If an herbal supplement from China or Tahiti can help treat antibiotic-resistant infections, shouldn't we add them to the list of remedies in our emergency kits? Total wellness for all is the ultimate prize."
Cheryl Chee Tsutsumi is a Honolulu-based free-lance writer and Society of American Travel Writers award winner.