DRAWN & QUARTERED
Get on board for the 'Train Man' ride
Adversity can bring two hearts together. So does the Internet, that worldwide digital frontier that can unite anyone with common interests.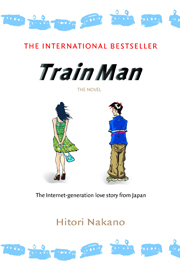 The combination resulted in one of the biggest Japanese pop culture phenomena in recent memory, the spread of the legend of "Train Man" (Densha Otoko). The story goes that in 2004, an otherwise nondescript otaku (an avid fan of anime, manga, video games and the like) witnessed a drunken man making advances on a group of female passengers on a train. He gathered up the courage to defend the women -- a story he shared on 2channel, a popular Japanese Internet message board.
A few days later, a particularly attractive young woman sitting next to Train Man sent him a set of expensive tea cups as her way of thanking him. With anonymous 2channel posters nudging Train Man forward, his relationship with the woman they dubbed "Hermes" (for the brand of tea cups) slowly blossomed.
The kicker: The whole story is true ... allegedly. Someone using the pseudonym "Hitori Nakano" (translated, "a person inside") gathered the 2channel posts, edited out all the irrelevant tangents, and released a light novel containing what was left.
The novel, translated into English and released in the United States by Del Rey, reads just as one might expect a pile of printouts from an Internet message board would read: rather unconventionally. Anyone used to conventional prose would certainly be confused, but readers raised in the Internet age will find the going easier.
The success of the "Train Man" novel in Japan spawned four manga series, a live-action movie and a live-action TV series in Japan, all of which took slightly different spins on the source material. Three manga series and the movie have been translated and released stateside; we'll take a closer look at the manga here.
It's certainly not necessary to read all the manga to gain a better understanding of the phenomenon; choosing what to read, thus, is a matter of personal preference.
'Train Man: A Shojo Manga'
Author:
Machiko Ocha
Volumes: 1
American publisher: Del Rey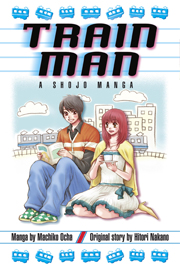 Shoujo manga are typically aimed at girls ages 13 to 18, but that shouldn't dissuade anyone outside that demographic from reading it. Its generally straightforward retelling of the story makes it perfect for anyone who wants to get a taste of Train Man's tale in one compact volume instead of the multivolume arcs of other versions.
Readers can see here some of the storytelling devices that pop up in the other versions -- everything Train Man and Hermes do together is fully illustrated, while the 2channel commentary is depicted either in straight text (as it would appear on the original message board) or by showing people sitting at their computers talking to their screens.
Ocha may have made fewer embellishments to the story than others, but her contributions are significant. She is the only author to humanize the main characters by giving them formal names instead of calling them by their nicknames -- "Train Man" becomes Ikumi Saiki, while "Hermes" becomes Mai Kohinata.
The author further fleshes out her characters by giving Ikumi a job as an office drone and Mai a boyfriend; the latter change slightly alters the dynamic of the ending, but not so much that it destroys it.
Del Rey's standard extras -- in this case, translation notes and an essay by William Flanagan about the Train Man phenomenon -- are, as always, excellent.
'Train Man: Densha Otoko'
Author:
Hidenori Hara
Volumes: 3
American publisher: Viz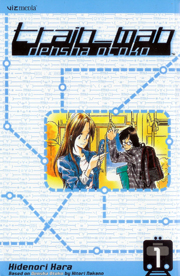 Hara's version of the story has been characterized as seinen manga -- a genre aimed at young men 18 to 30 -- and it shows in this more mature, complex look at the relationship.
The story ambles along, capturing all the nervous pauses of the couple's first meetings and taking its time to explore and develop Train Man's emotional roller-coaster ride from nervous geek to self-assured stud.
Hara also punches up the visibility of Train Man's Internet "support group," with some characters making repeat appearances (true to the spirit of the original message board, though they are never named). Seeing these characters react to Train Man's repeated successes helps flesh out his world and makes the story more believable.
Granted, there are a few flaws -- some of those nervous pauses last a bit too long, and it's never really stated why Train Man turned to the message board for advice in the first place. But for anyone who has the time to invest, this is the version to get.
'Densha Otoko'
Author:
Wataru Watanabe
Volumes: 3
American publisher: CMX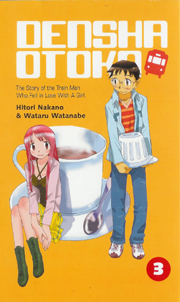 Meet Train Man, lovable dork and straight man to a whole host of hilarious hijinks. This is the end result of Wataru Watanabe's embellishments to the story, which, like Hara's version, expands on the world surrounding the Train Man/Hermes relationship.
Unlike Hara's tweaks, though, Watanabe's sometimes take away from the joy of watching the main characters develop as a couple. No opportunity for comedy is passed up; every significant development is shown with an abundance of speed lines, sweat drops and wild takes.
Anonymous posters, like a nervous girl intent on cheering on Train Man, an otaku trio and a weightlifting hairdresser, interact with him without even realizing it. Hermes' friend, depicted in the other two versions as largely normal, becomes tomboyish and mischievous in this version. And new characters that never existed in the novel, like Hermes' sister and the overbearing boss at the bookstore where Train Man works, are introduced.
It's enough to make one wonder, "Wow ... how much will this guy endure to win the girl, anyway?"
Enjoying this version, thus, depends on one's tolerance for wacky romantic comedy manga. It's not for everyone, but it's certainly worth sampling for its different approach.