| | |
| --- | --- |
| | Wood Craft |
---
Big crowd gets a taste of Nobu at his new Waikiki restaurant
N
obu Matsuhisa
gave people a taste of what's being served at his newest restaurant at a flashy reception Tuesday. Some 500 people streamed in and out of Nobu Waikiki during the evening. The new spot is in the Waikiki Parc, across the street from the Halekulani, its sister hotel.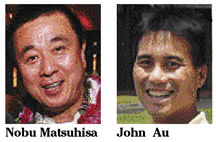 It cost in the high seven figures. That's millions, folks. An army of servers moved though the crowd with delicious little seafood and sushi dishes. Tasty lamb chops also were offered, along with beverages, including sake. When I interviewed Nobu weeks ago he asked if I liked Japanese food. I told him I had other favorites. Nobu said emphatically that even though Japanese food was not my favorite, I would like his food. He was so right. And when I saw him with Halekulani Corp. whip
Peter Shaindlin
at the party, I told him so. He smiled. The party was packed with beautiful women in fashionable cocktail attire and heels. Upscale retailers who outfit many of the glamour gals were there, including:
Laura Brodkin
and
Rheanne Lange
of Hermes,
Joyce Okano
of Chanel,
Al Tomonari
of Neiman Marcus with wife
Joyce, Patrick Gey
of Fendi with wife
Marisa, Dale Ruff
of Louis Vuitton and
John Taitano
of Bulgari. ...
George Mavrothalassitis, who has opened Cassis in what was Palomino, was at the Nobu party with wife Donna Jung. His Chef Mavro restaurant was one of two Hawaii restaurants listed in Robb Report magazine's 57 finest restaurants in America in its March issue. The Star-Bulletin's Nadine Kam wrote the piece on Chef Mavro. The other spot picked by the ultra-upscale R.R. was the Halekulani's La Mer. It was written up by Nancy Wong Bryan. ...
Little school has kids with big hearts
LITTLE Waiahole Elementary has only 80 students, but those kids have big hearts. The school's participation rate was 98 percent in the "Shoeboxes for the Homeless" project organized by Chinen & Arinaga Financial Group. That was good for first prize of $500, presented by
John Au
of the group. Kapunahala received $150 for second and Kaneohe Elementary won $100 for third. Other schools involved in contributing 675 boxes of toys and books were: King Intermediate, Ahuimanu, Heeia and Kahaluu. ...
Ben Wood
, who sold the Star-Bulletin in the streets of downtown Honolulu during World War II, writes of people, places and things in our Hawaii. E-mail him at
bwood@starbulletin.com