HiLIFE
Johnny be good!
When Johnny Winter picks up a guitar to play the blues, mere mortals know to get out of the way of the legendary Texas slinger
Take a bag of bones, a hank of hair; bleach it; give it a graveyard howl and a midnight scowl; throw it a guitar and let 'er rip -- Johnny Winter is knocking at your door, better let him in before he scares the neighbors. We're talking guitar gods, of course, and they don't throw down sonic thunderbolts much mightier than Winter's. After all, he's playing the blues; always has, one way or another, and Johnny Winter has actually walked through the Valley of Shadow of Near-Death Experiences, what with heroin addiction and nearly being burned alive in a house fire.
Johnny Winter
With guests The Girlas and Bluzilla

In concert: 7 p.m. Friday

Place: Aloha Tower Marketplace

Tickets: $45 advance; $55 at the door

Call: 545-5900
And it's the Texas School of Guitar Goditry -- meaty tones, layers of technique (wobble-tuning and finger-pushing), an attack like a starved hound on a chicken-fried steak; jaw-dropping flurries of notes that arc fluidly, like a rainbow; the pantheon of T-Bone Walker, Gatemouth Brown, Albert Collins, Freddie King, Billy Gibbons and the dead-and-gone-but-his-notes-
still-ring Stevie Ray Vaughan -- you get the picture.
For many of us, Johnny Winter first appeared on the radar in the late '60s, so freakish that he couldn't be made up: a -- get this -- cross-eyed, albino, 98-pound guitar slinger who looked like a stick marionette when he played. And when he played, it was all attack, a blistering spatter of testosterone-fueled shrieks. The band at the time notably featured Rick Derringer, previously known for "Hang On Sloopy" and later for "Rock n Roll Hoochie Koo." Together, they could make wet paint on a wall orangeskin up and dry in minutes.
But Winter had been slugging it out for more than a decade previously, often performing with equally talented, equally albinoed brother Edgar, beginning as an in-demand prom band called Johnny and the Jammers. Born John Dawson Winter III in 1944 in Beaumont, Texas, Winter was 15 when he released his first record, "School Day Blues." The Brothers Winter spent their formative years soaking up gigs by Muddy Waters, B. B. King and Bobby Bland, guitarists known for piercing sustains and over-the-rhythm melody lines. This very white guy was turning blue.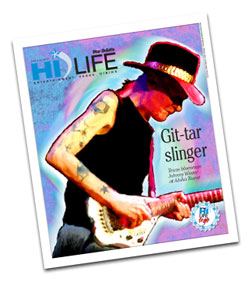 Famously, in 1962, Johnny and Edgar checked out B.B. King at a Texas club called the Raven. The teens were, seriously, the only whites in the crowd.
"I was about 17," Winter later recalled, and dying to play with B.B., who "didn't want to let me on stage at first. He asked me for a union card, and I had one. I kept sending people over to ask him. He gave me his guitar and let me play. I got a standing ovation, and he took his guitar back!"
After a Rolling Stone profile created a bidding battle among labels, Winter performed at Woodstock, part of an incredible gauntlet of high-profile gigs in 1969. By year's end he was an established artist. Within a half-decade, though, Winter was strung out on heroin, unable to deal with personal and management woes. The guy was so gaunt that even fans assumed he wouldn't last. He'd just keep losing weight until he evaporated.
Winter turned, as artists do, to the blues, immersing himself in the redemptive qualities of confession, and his playing became more reflective and mature, although you'd still never mistake Winter's gravedog howl for mellow ever-after.
He also became serious about the blues as a legacy, producing the Muddy Waters album "Hard Again" in 1977, and Waters' final effort "King Bee" in 1980. Waters took to referring to Winter as his "adopted son."
Winter's 1988 induction into the Blues Foundation Hall of Fame wasn't solely based on his swaggering guitar chops.
Winter's album titles have a reputation for disarming bluntness -- one record that didn't feature Edgar is called "Hey, Where's Your Brother?" -- and the latest is Grammy-nominated "I'm a Bluesman," the first record since the '90s, thanks to a dangerous house fire in which Winter broke his hip and was laid up for a while. He now prefers to sit when he plays.
How influential is Johnny Winter among guitarists? He was the cover boy of the first issue of Guitar World magazine in 1980.