| | |
| --- | --- |
| | Island Mele |
---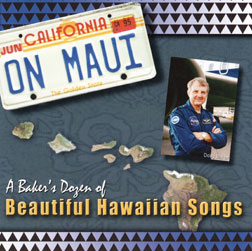 On Maui: A Baker's Dozen of Beautifu Hawaiian Songs
Doug Baker
(Dourei Productions DRP-107)
Keith Haugen's many fans on the mainland and other parts of the world are certain to embrace this album of contemporary hapa-haole songs by singer/songwriter Doug Baker. Not only did Haugen produce it and write the liner notes, but his influence as a creative mentor is also evident. Most of the songs are written and arranged in a light acoustic folk-rock style similar to Haugen's. Baker's lyric style is reminiscent of Haugen as well.
Baker expresses his love of Hawaii with gentle heartfelt honesty. Several songs celebrate the beauty of the islands. Two others, "Lady of Kaua'i" and "Ka'anapali, Where I Found You," are worthy additions to the long list of hapa-haole songs about island women and tropical romance.
Most of the arrangements are clean and acoustic. Baker backs himself on acoustic guitar, with Bryan Tolentino (ukulele) and George Kuo (slack-key guitar) his primary studio sidemen. Pierre Grill provides piano, synthesizer bass, and, alas, a synth-track section, on various tracks.
Tolentino is featured on "Mr. 'Ukelele," a song inspired by years ago by Eddie Kamae. An identified steel guitarist adds a sweetly nostalgic ambiance to "Ka'anapali, Where I Found You."
---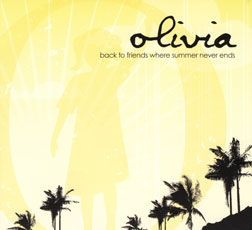 Back To Friends Where Summer Never Ends
Olivia The Band
(Essential - No serial)
Olivia the Band returns with a five-song CD that is essentially more of the same for this talented punk quartet. It isn't revealed in the liner notes whether the "additional musicians," a guitarist/bassist and a drummer, played with the band's own musicians in old-style "live" recording sessions or subbed for them in the studio, but the tracks are high-energy buzz-saw rock throughout.
Although Olivia the Band is usually described as a Christian rock group, the quartet's use of lyrics with predominately secular themes sets it apart from the Christian mainstream. The group avoided earnest proselytizing on its eponymous 2004 album, and the Christian messages here are even more opaque. "Are You Out There?" could be interpreted as a call out to God, but most of the lyrics appear directed at a departed lover. God is mentioned in "Letters in White Lines," but once again the song seems more about the angst of being alone and living without purpose.
On the other hand, there's no reason why a Christian group can't take a break and record powerful mainstream rock without religious content!
---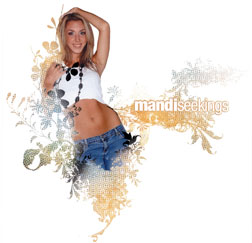 Mandi Seekings
Mandi Seekings
(ARGI - ARGI-2006)
Hawaii's resident R&B and hip-hop artists owe a shout out to Mandi Seekings. The under-the-radar release of her debut album last December brought to five the number of 2006 releases by Hawaii residents whose music is either R&B or hip-hop, and that resulted in the creation of a new Na Hoku Hanohano Award category for "R&B/Hip-Hop Album."
Seekings does not have the club cred earned by front-runners in the category -- Afatia, Creed Chameleon and Krystiles -- but her album is an impressive calling card. At a time when almost every new R&B/Neo-Soul artist is trying to sound like someone who's is already out there, Seekings fits right in.
A majority of the songs are languid soulful ballads -- some celebrating the wonders of true love, others lamenting love lost. On three other memorable songs, Seekings and her producers tap into the ever-popular subject of infidelity with "Lie," successfully go Hispanic-lite with "Spanish Love Song," and hit it hard with "Independence." Yes, the latter song says, some women can't be held down by a man's money.
Seekings' album has yet to receive the promotional support it deserves, but those fans of urban pop who happen to come across it will welcome her as yet another appealing diva-ette with national potential.
John Berger
, who has covered the local entertainment scene since 1972, writes reviews of recordings produced by Hawaii artists. See the Star-Bulletin's Today section on Fridays for the latest reviews. Reach John Berger at
jberger@starbulletin.com
.