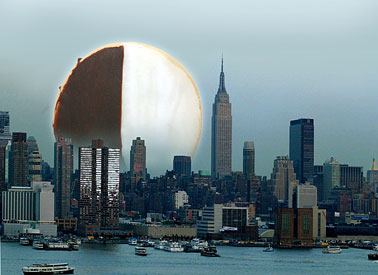 NEW YORK TIMES PHOTO / PHOTO ILLUS BY BRYANT FUKUTOMI
The Black-and-White Cookie is a New York icon. Once baked, it's flipped over and the flat side is frosted.
Moon over Manhattan
The Black-and-White Cookie is a New York icon
ON THE IDEAL vacation, you'd see everything, do everything and find something great to eat. The first two are normally not humanly possible, but on a trip to New York City last month I came up lucky on No. 3.
Not that it's hard to eat well in New York, where you can't take six steps without stumbling on an edible substance. So it was that I stumbled on the Black-and-White Cookie, a handsome oversized treat that's frosted with chocolate on one side and vanilla on the other. In some parts of the state it's called a Half-Moon Cookie.
"The black and white cookie is, in fact, not a cookie but a flat, thinly frosted cake, like someone has sat on a cupcake," says Manhattan's William Greenberg Bakery in advertisements for the cookie it has sold since 1946. "Cookie convenience, cupcake taste."
"The key to eating a black and white cookie, Elaine, is you want to get some black and some white in each bite. Nothing mixes better than vanilla and chocolate. And yet, still, somehow racial harmony eludes us. If people would only look to the cookie. All our problems would be solved."
Jerry Seinfeld,
in "The Dinner Party" episode of "Seinfeld"
It is a fascinating ca-kookie. Imagine just the top of a cupcake -- crusty on the outside, chewy on the inside. Once baked, they're turned over and frosted on the flat side.
The cookie is scarce outside New York, where it seems to have the everyday-legend quality of our Spam musubi.
In fact, its peculiarity was saluted in an episode of "Seinfeld" (the one about the chocolate babka). Jerry eats one while waiting in line at a bakery and delivers an ode to the cookie. Later he gets sick, not that you should count this against the cookie.
I saw these cookies at coffee shops, delis and supermarkets everywhere and finally caved in to curiosity and bought one. It really is special, even though reading foodie blogs once I got home has taught me that the plastic-wrapped type I got at a deli is probably the worst example. You're supposed to seek them out at real bakeries.
Whatever. I've since made two batches of cookies and three batches of frosting, in pursuit of this fine cookie concept and to commemorate my trip. In Hawaii, we love cookies as much as the next state and this is a great one for the repertoire.
---
Black-and-White Cookies
Adapted from "The Good Cookie" by Tish Boyle (Wiley, 2002, $34.95)
2 cups flour
1 teaspoon baking powder
1/2 teaspoon baking soda
1/8 teaspoon salt
1/2 cup butter
3/4 cup sugar
1 egg
2 teaspoons vanilla
1/2 cup sour cream
» White Icing:
2 cups powdered sugar
2 to 3 tablespoons water
» Black Icing:
3/4 cup powdered sugar
1 tablespoon corn syrup
1/4 cup unsweetened cocoa powder
3 tablespoons water
Preheat oven to 350 degrees.
Whisk together flour, baking power, baking soda and salt.
Cream butter and sugar. Beat in egg and vanilla. Add sour cream alternately with flour mixture.
Scoop dough in 1/4-cup mounds 3 inches apart on ungreased cookie sheet. Moisten palm and flatten cookies into discs. Bake 15 to 20 minutes. Cool.
To make white icing: Combine sugar and water, stirring until smooth. Turn cookies over; brush off crumbs and frost half of each one. Let dry 10 minutes.
To make black icing: Combine ingredients, adding water 1 tablespoon at a time and stirring until smooth. Frost other half of each cookie. Let dry 10 minutes.
Makes 12 to 14 large cookies.
Variations: For a softer cookie, replace half the flour with cake flour. For lemony flavor, replace half the vanilla extract with lemon extract.
---
Nutritional information unavailable.