---
FAST FACTS HAWAII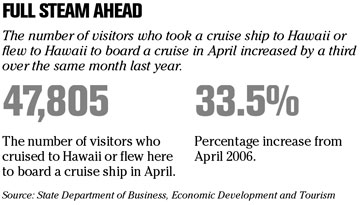 ---
Small-business champ: Harvey King
Harvey King, president and co-founder of King & Neel, has been named Small-Business Champion of the Year for Hawaii.
Each year since 2004, the National Federation of Independent Business has selected small-business owners in all 50 states who go the extra mile for mom-and-pop enterprises.
King & Neel, which King has run since 1967, is a Honolulu-based firm providing risk management, insurance, and surety bonding for construction and commercial clients in Hawaii and the Pacific region.
The honor was conferred upon King by the leadership council of NFIB/Hawaii.
Last year's winner was Marcia Anderson of Aiea. In 2005, the award went to Teena Rasmussen of Maui and in 2004, to Ron Heller of Honolulu.
[ HAWAII INC. ]
NEW HIRES / PROMOTIONS
» ResortQuest Hawaii has named
Raymond N. Blouin
as general manager of ResortQuest Kauai Beach at Makaiwa. He will oversee daily operations of the beachfront resort. He previously served as general manager of the Hanalei Bay Resort and has more than 25 years of experience in the travel industry.
» The Shidler Group has announced the following new hires: John C. Paulachak has been hired as general manager of the Pan Am Building and the Pacific Business News Building. He has nearly 30 years of facilities and commercial property management experience and currently serves on the board of the Building Owners and Managers Association, Hawaii chapter. Michael D. Murray has been hired as general manager of the Kalakaua Business Center. He has nearly 20 years of commercial and retail real estate experience and is a member of the Building Owners and Managers Association, Hawaii chapter, and the International Council of Shopping Centers, Hawaii chapter. Joe D. Knaub has been hired as director of engineering for the firm's Hawaii properties. He has 27 years of engineering and operations experience through his service with the U.S. Navy.
» Philip K. White & Associates has announced the following promotion and new hire: Laura Ayers has been promoted to associate project architect from architect. She has worked for six years managing commercial and high-end residential projects. Ed English has been hired as a project manager. He previously served as a project director at Architects Hawaii and has more than 30 years of experience in commercial, residential, institutional and recreational architecture.
» Edward Enterprises has announced the following promotions: Jyun Kanemura has been promoted to vice president from assistant vice president. He has served the company since 1995 and is a veteran of the graphic arts industry. Sanford Morioka has been promoted to vice president from operations manager. He has 18 years of experience in the printing industry and serves on the company's board.
» HMAA has named Rodney J. Park as senior vice president, treasurer and chief financial officer. He will implement and advance the company's financial strategy. He has more than 30 years of experience in Hawaii's business community, serving in executive and financial management roles, including the healthcare industry.
» Bright Light Marketing Group has promoted Wally Zimmerman to senior vice president of client services from vice president of client services. He will create a strategic growth plan for the agency, develop new media practices and assist clients with public relations, marketing and event coordination needs. He has more than 35 years of experience in the communications industry, having served as executive producer of Hawaii's Morning News at KHON-TV, news director for both KHON-TV and KITV 4 and director of communications for the Chamber of Commerce of Hawaii.
---
Whole Foods merger hits snag
WASHINGTON » U.S. antitrust regulators plan to file suit to block the proposed merger between
Whole Foods Market Inc.
and
Wild Oats Markets Inc.
, the largest and second- largest natural-foods grocers.
Whole Foods, which agreed to buy Wild Oats for $565 million in February, said it will "vigorously challenge" the Federal Trade Commission in court and continue to pursue Wild Oats.
The agency is concerned that the combined company will control too much of the U.S. natural-foods market and increase prices. The FTC should instead consider the merger's effect on the overall supermarket industry as other grocers expand their natural and organic departments, Whole Foods said yesterday.
The commission voted 5-to-0 to authorize staff to seek a temporary restraining order. The complaint will be filed by tomorrow in U.S. District Court for the District of Columbia.
Anheuser-Busch options jump
NEW YORK » Trading in options to buy
Anheuser- Busch Cos.
shares surged to a record yesterday after the New York Post reported investor William Ackman may buy a stake in the world's second-largest brewer.
Ackman, general partner of Pershing Square Capital Management has raised $2 billion to buy a stake in a company that has a market value of $30 billion to $40 billion, the Post reported. The target may be Anheuser-Busch, Starwood Hotels & Resorts Worldwide Inc.or Marriott International Inc., the Post said.
Hybrid Accords reach end of line
TOKYO » Honda will discontinue the hybrid version of its Accord sedans, the company said today, ceding Toyota's dominance of the market with its Prius hybrid.
Honda Motor Co., Japan's No. 2 automaker, will continue to make gas-and-electric models of its Civic sedan, but stop offering the hybrid Accord with the new model expected to go on sale later this year, company spokesman Yoshiyuki Kuroda said in Tokyo.
Toyota Motor Corp.'s Prius hybrid is the market leader, with 729,800 units sold since December 1997. Toyota offers several other hybrid models, including the hybrid Camry and hybrid Lexus models.
---
BUSINESS PULSE