Landowners, state agree to reopen trail
Hunters and hikers who have been kept away for five years can return to Oahu's Poamoho Ridge Trail starting July 1, state trail managers have announced.
The once-popular trail through prime native forest will be accessible again thanks to an agreement between the state and Dole Foods/Castle & Cooke Hawaii.
Permits available tomorrow
Permits to access Poamoho Trail can be reserved starting tomorrow for dates beginning July 1. Details will be available next week at www.hawaiitrails.org or by calling 973-9784.
Dole owns the Central Oahu land that must be crossed to get to the state forest reserve and hunting area.
Curt Cottrell, manager of the state Department of Land and Natural Resources' Na Ala Hele trail program, called the reopening of the area "a huge collaborative venture."
The Poamoho Trail leads through the "heart of the Ewa Forest Reserve" on the flanks of the Koolaus, where native forest birds such as the iiwi, elepaio and apapane make their home, Cottrell said last week at the start of the 3.5-mile trail.
From the trail head, it is the easiest hike to a Koolau mountain summit -- and provides a panoramic view of the Kahana and Waikane valleys, Cottrell said.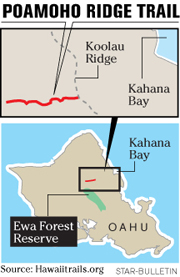 Dole stopped allowing the public to cross its land to get to the Poamoho Trail in 2002, citing crop thefts, farm equipment vandalism and liability. Persuading the sister companies to reconsider led to new rules that will:
» Limit trail use to weekends and holidays.
» Require that state permits be obtained by hikers and hunters.
» Keep the gate locked to all but permitted users.
» Allow no more than 50 hunters, 50 hikers and 20 vehicles on any day.
Under the direction of trails specialist Aaron Lowe, volunteers and Oahu Community Correctional Center inmates spent eight months building a 2-mile fence along the access road through Dole property at half the usual $150,000 cost with the free labor.
The fence was finished Thursday, and a private blessing ceremony Saturday allowed officials involved in the partnership to celebrate with "the three food groups of our stakeholders: pig, pineapple and trail mix," Cottrell said.
The four-wheel-drive-only access road to the trail head starts near the Helemano Military Reservation. It cuts between hot, fallow pineapple fields and cow pasture, then winds upward into the cooler forest.
The three inmates working on the fence line last week, Justin McCormack, Trevor Dillard and Jake Jon Basques Sr., said they were proud to have helped out.
"It's been a lot of hard work, but the trail is beautiful," McCormack said.
"I want to bring my kids up here," Dillard said between rounds of stretching and attaching barbed wire to fence posts.
Kathy Best, Castle & Cooke Hawaii's community relations manager, said the companies "want everybody to enjoy it, but like we do for everything else, to take care of it -- malama the aina -- so we can take of it for many years to come."
Ollie Lunasco of Waialua said he hopes the hikers and hunters will get along and that nobody will mess things up for the majority.
"That was a pretty good hunting spot. If you're familiar with wild boar hunting, we're gradually losing places to go," Lunasco said.
Reducing the population of wild pigs is an important part of managing the watershed, Cottrell noted.