| | |
| --- | --- |
| | Newswatch |
---
Leeward water main breaks
The Board of Water Supply is asking customers from Honokai Hale to Makaha to continue conserving water this morning as crews repair a broken water main that supplies water to the Leeward Coast.
At about 7:30 a.m. yesterday, officials found a broken 24-inch water main on the side of Farrington Highway near the Kahe Power Plant. The 46-year-old main supplies water from Waipahu to nearly 9,000 customers on the Leeward Coast, said Board of Water Supply spokeswoman Tracy Burgos.
About a dozen customers lost water while others experienced low pressure, Burgos said.
A water wagon in front of Nanakuli High School was removed after little use. Last night, the utility provided a small wagon for customers without water.
Crews expect to finish repairs by rush hour this morning. Burgos said two to three hours are needed after repairs are complete for pressure to return to the pipes.
Gas cylinders to be emptied
The state Department of Health will vent 11 cylinders of carbon monoxide today and tomorrow at Waiau Center, 98-450 Kamehameha Highway, where a May 29 fire destroyed two businesses in a strip mall near Waiau Power Plant.
Crews will release the flammable gas between 6 a.m. and 3:30 p.m. today and 6 a.m. and 1 p.m. tomorrow in preparation for removal and disposal of the cylinders, a Health Department news release said.
Some of the cylinders could ignite and create a controlled explosion. Tenants in the area have been notified and are evacuating during the venting process.
The cylinders do not present an immediate danger to the public, but must be removed so the Fire Department can complete its investigation.
For more information, call the Health Department's Hazard Evaluation and Emergency Response Office at 586-4249 from 6:30 a.m. to 4:30 p.m. today or tomorrow.
Inouye honored by cancer group
U.S. Sen. Daniel Inouye was one of four members of Congress recently presented with American Association for Cancer Research Centennial Medals for Distinguished Public Service.
Others recognized at a Centennial Celebration Dinner to commemorate a century of progress in cancer research were Sen. Arlen Specter, R-Pa.; Rep. Rosa DeLauro, D-Conn.; and Rep. Sue Myrick, R-N.C., a breast cancer survivor.
"I am humbled and honored to have been selected as a recipient of this special award from the AACR," said Inouye. "The AACR has played a significant role in the progress we have made against cancer."
Inouye championed a campaign to build a new, first-class Cancer Research Center of Hawaii. He has been instrumental in obtaining federal support and funding for the new center next to the University of Hawaii John A. Burns School of Medicine in Kakaako. He also facilitated a UH-Tripler Army Medical Center research partnership.
Intestinal parasite spreading
HILO » An invasive slug that causes serious illnesses is spreading on the Big Island and Oahu.
According to the Pacific Basin Agricultural Research Center, the brown slug Parmarion martensi is about 2 inches long and sometimes clings to home-grown produce such as lettuce. Ingestion of the slug on unwashed, un-inspected produce can cause meningitis, pulmonary disease and gastrointestinal illness.
The slug showed up on Oahu in 1996, and health officials say it is now more prevalent on the Big Island, where it first appeared in 2004. It carries a parasitic nematode called angiostrongylus.
Jacqueline Hahn, a naturopathic physician, said she has treated eight patients with the parasite over the past three years.
Conference to discuss social issues
A conference featuring indigenous practitioners and researchers from throughout the Pacific will be hosted by the University of Hawaii School of Social Work today through Thursday at the Makaha Resort.
"Indigenous Voices in Social Work: Not Lost in Translation" will include such speakers as Nainoa Thompson, who will give the Myron "Pinky" Thompson Memorial lecture; Office of Hawaiian Affairs trustee Haunani Apoliona; the Rev. Kaleo Patterson; state Human Services Director Lillian Koller; and activist Poka Laenui.
Participants will discuss indigenous practices on such social problems as domestic violence, substance abuse, child abuse and neglect.
For more information, visit vrchawaii.org/IVSW/index.html.
| | |
| --- | --- |
| | Police, Fire, Courts |
---
NEIGHBOR ISLANDS
Police seek info on missing teen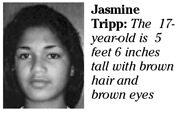 Big Island police are asking the public's help in locating Jasmine Tripp, a 17-year-old Hilo girl missing since March 22.
She is described as Hawaiian, 5 feet 6 inches tall and about 135 pounds, with brown hair and brown eyes.
Anyone with information is asked to call Officer BJ Duarte at 961-2373 or the nonemergency number at 935-3311. To remain anonymous, call CrimeStoppers at 961-8300 in Hilo or 329-8181 in Kona.
Rolling SUV kills 1-year-old boy
A 1-year-old boy died Saturday afternoon after his father ran over him in the driveway of their Hilo home.
The 28-year-old father of Kahea Smith was moving his 2000 Ford Expedition forward in their driveway on Malae Place when he ran over his son, according to Big Island police.
Police were called at 6:33 p.m., and the boy was pronounced dead at 7:20 p.m. at Hilo Medical Center.
Police have opened a standard negligent-homicide investigation.
Four Hawaii children have died since December after being run over outside of their home. All the accidents involved sport utility vehicles or light trucks.