---
FAST FACTS HAWAII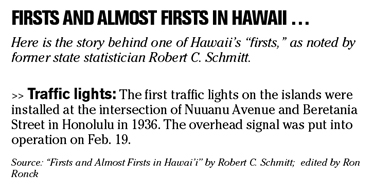 ---
NATION
Job tips for 20-something crowd
If you find yourself struggling to find that dream job a few years after graduation, try moving back in with your mother.
Returning to the land of milk and cookies eventually can lead to great career success, according to Penelope Trunk, author of "Brazen Careerist: The New Rules for Success."
If your parents live in a city where you can find a good job, moving home and saving some cash can set you up for stability and fulfillment down the road, Trunk said.
"If you can stomach it, you should try it," she said.
Among her other tips: Don't be too honest on your resume and try to be nice instead of competent.
When you're looking for work, leave unflattering information -- like that project you bombed at your last job -- off your resume.
Don't flat out lie, but hiring managers expect a certain amount of self-preservation from applicants, Trunk said.
"Sanity is going into an interview and telling a story that makes you look good," she said.
Another unconventional rule: It's more important to be likeable than competent. A friendly, helpful employee will always get ahead over the crabby genius in the corner, Trunk said.
Credit cards can heat up in summer
With the summer vacation season finally kicking off, it's easy for all that fun in the sun to burn through your wallet.
But if you follow a few tips, your credit card balance won't skyrocket along with the rising temperatures.
Beware of retail credit cards, which are offered by major merchants such as Best Buy Co. or Exxon Mobil Corp., said Rob Anderson, co-founder of LivingWithBadCredit.com.
Unlike those available through banks, these cards have low limits and notoriously high interest rates, making them easy and expensive to max out, he said.
"Stick with big, established credit and you're going to be a lot safer down the road," Anderson said.
Create a budget before you hit the road, and spell out how much discretionary cash you really have to spend. Plan to use debit cards or travelers' checks, he said.
Check with your credit card company before leaving the country to make sure your card will be accepted. Also, ask if you'll have debit access along with regular credit privileges.
Finally, take a trip closer to home if you're already maxed out on credit, he said. Pay off your debts with the money saved, then splurge on that tropical getaway next year.
Small-biz owners work longer
Think you work harder than everyone else? If you own a small business, you're probably right.
More than 30 percent of small-business owners report working an average of at least 10 hours a day, compared to only 19 percent of the general population, according to the monthly Discover Small Business Watch index.
Nearly half of small-business owners say they work on holidays, and 15 percent show up seven days a week, more than twice the number of non-business owners.
"Being a small-business owner really means being available to your customers 24-7," said Sastry Rachakonda of Discover.
Almost 60 percent define a "day off" as being available for calls and e-mail, working for a few hours or working all day at a remote location, the index reported. That's compared to 32 percent of the general population.
Before you feel too bad for those hardworking stiffs, know that small business owners tend to feel passionate about their work and more in control of their future, Rachakonda said.
Plus, their husbands and wives support their entrepreneurial spirit.
More than half of small-business owners reported that their spouse approved of them checking e-mail away from work, compared to 37 percent of non-business owners.
The Discover Small Business Watch is based on a national random survey of 1,000 U.S. small-business owners, and measures the relative economic confidence of businesses that employ fewer than five people.
---
BUSINESS PULSE