---
FAST FACTS HAWAII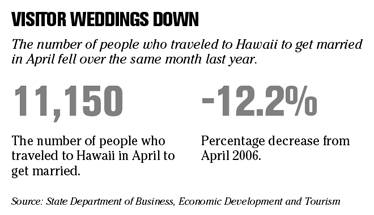 ---
HAWAII
ATA to expand Hawaii service
ATA Airlines
said yesterday it will expand its service to Hawaii later this month.
The Indianapolis-based carrier will offer three flights a week beginning June 14 between Oakland and Kona on the Big Island, and starting on June 15 will fly four times a week between Oakland and Lihue, Kauai.
ATA also will begin daily service from Las Vegas to Kahului, Maui, starting on June 14.
The airline said 97 percent of its Hawaii flights already are booked for the summer and that it is able to transport passengers from other cities to Hawaii through its code-share agreement with Southwest Airlines.
NATION
Google buys photo, RSS firms
MOUNTAIN VIEW, Calif. »
Google Inc.
said yesterday made two more acquisitions, one that lets users store photos and link them to online maps, and another that lets publishers of Web logs, news sites and podcasts promote their material and sell advertising.
Google said it will work with Spain-based Panoramio to add more photos taken by users to its Google Maps and Google Earth programs, part of a larger investment the company is making to attract users seeking geographic information. Yahoo! Inc., owner of the second- most-popular search engine, offers a similar feature through its Flickr photo service.
The other acquisition, FeedBurner, distributes ads through the rapidly expanding universe of bloggers, podcasters and other sites that send out headlines and links through Really Simple Syndication, or RSS. Some 431,000 Web publishers currently belong to FeedBurner's network
Panoramio has a "handful" of employees that will move to Google's offices in Zurich. FeedBurner has about 30 employees and will remain in Chicago.
FTC: Fewer food ads than in 1977
WASHINGTON » Kids watch fewer food television ads than they did in 1977, a federal agency said Friday -- but there's a catch.
A new Federal Trade Commission study found that half of the ads for junk food, sugary cereals and soft drinks are on children's programs, double the number 30 years ago. That may bolster the view of health experts who say too many TV food ads contribute to a rise in childhood obesity.
Children between the ages of 2 and 11 saw approximately 5,500 food ads on television in 2004, down about 9 percent from roughly 6,100 such ads in 1977, the FTC's study said.
However, half the food advertising children saw in 2004 was on kids' shows, which are programs with audiences of 50 percent children or greater, the FTC found. That's twice the level of 1977, when only a quarter of food ads children viewed were on children's programs.
Wal-Mart to trim store openings
FAYETTEVILLE, Ark. »
Wal-Mart
gave investors something yesterday they haven't seen in some time: a reason to pour some money into its shares.
The world's largest retailer is trimming its store growth as it balances its traditional focus on low prices with a push to be a force for change in such areas as health care and the environment.
At its annual shareholders meeting, Wal-Mart said it would scale back the number of planned U.S. supercenter store openings this year by more than 25 percent, a move that will drop its capital expenditures by $1.5 billion in the current fiscal year and help improve store sales.
Wal-Mart says it will open between 190 and 200 new supercenters in the U.S. during its current 2008 fiscal year, with an average of 170 supercenters each year for the coming three years.
---
BUSINESS PULSE