| | |
| --- | --- |
| | Island Mele |
---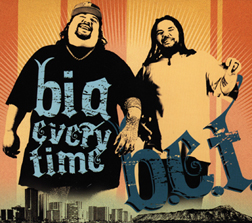 Big Every Time
B.E.T.
(South Pac Entertainment SP-2)
B.E.T. debuted as a recording act in 1998 and has made steady progress developing what Tim "Papa T" Troxell and Joe "J.D" Daniels Jr. now call "urban island" music. The key as always is their success in balancing Troxell's Jamaican-style singing and rapping with Daniels' command of soulful African-American "urban" ballads. Their voices blend smoothly and the album feels like the work of kindred souls.
Troxell and Daniels are also versatile songwriters. All but two songs, "Hook It Up 2" and "Crying for Peace," are originals, and they range in style from reggae-dancehall to mainstream pop.
"Baby R U Ready" displays their strengths convincingly. Romantic yet up-tempo, it is "urban" in style but with ample space for Troxell's rough-edged rapping. "Str-8 Stompin" utilizes harder-edged rhythms in adding impact to the message that B.E.T. is not an act to mess with.
There are softer songs, as well. "Daddy's Little Girl" traces the life of a beloved daughter from childhood to motherhood; it would be hard to find a sweeter or gentler tune. "Fiailoa" uses a similar gentle approach in describing a love so perfect that it inspires a marriage proposal.
The guys are also unapologetic advocates of recreational marijuana use, and celebrate that in catchy and compelling style with "Indo." On the other hand, "Redemption Song" suggests that living a life of faith is preferable to "hanging with fools" and getting into trouble.
The only problem with this beautifully crafted album is the producers' failure to acknowledge the national artists whose melodies and lyrics are heard in these recordings. For instance, the melody from Hall & Oates' 1976 hit, "She's Gone," becomes a hook in "Crying 4 Peace," and lyric fragments from several other Top 40 hits contribute to the romantic impact of "Hook It Up 2." Oldies fans will also detect bits of "We're in This Love Together," among others, in "Baby R U Ready." Acknowledging these artists' work would have been a nice touch.
---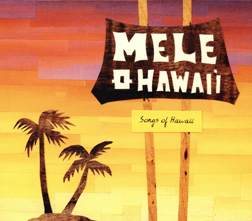 Mele O Hawai'i
Various Artists
(Produced for Starbucks by Sony BMG Music Entertainment - INE002)
In addition to its popular low-fat oatcakes and exotic coffee-based beverages. Starbucks sells anthologies compiled from the music that is played in its stores, er, coffeehouses. This one is a sampler of modern Hawaiian music culled apparently at random from everything out there. The artists range from Israel Kamakawiwo'ole ("White Sandy Beach") and Jake Shimabukuro ("While My Guitar Gently Weeps") to Palani Vaughan ("Ka Mamakakaua") and Taj Mahal ("Moonlight Lady").
Give the producers credit for fitting in Brother Noland's Jawaiian rocker, "Are You Native?" along with recordings of Hawaiian standards by Sean Na'auao ("Ka Ipo Lei Manu"), HAPA ("He'eia"), and Dennis and David Kamakahi ("Ulili E"). Selections by Sonny Chillingworth and the Gabby Pahinui Hawaiian Band also represent slack key, while Keali'i Reichel ("Kawaipunahele") and Willie K ("You Ku'uipo") do the same for contemporary Hawaiian and hapa-haole music.
Liner notes are essential to anthologies, but the information must be factually accurate and relevant. That's not always the case here. Palani Vaughan's first album, "Meet Palani Vaughan and the Sunday Manoa," is said to have been released in 1995, and Willie K's Hawaiian album, "Awihilima: Reflections," is named as the one that "made him one of the state's most prominent contemporary musicians." Both statements are incorrect.
And anyone familiar with the career accomplishments of Keali'i Reichel will be surprised to find his debut album described as "similar" to HAPA, and to learn that he "took the Kelly Clarkson route" to stardom.
John Berger
, who has covered the local entertainment scene since 1972, writes reviews of recordings produced by Hawaii artists. See the Star-Bulletin's Today section on Fridays for the latest reviews. Reach John Berger at
jberger@starbulletin.com
.