---
FAST FACTS HAWAII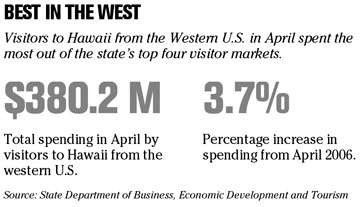 ---
KGMB-TV sale OK'd by FCC
The sale of KGMB-TV and its neighbor island repeater- and translator stations has been approved by the Federal Communications Commission, which has approval rights over broadcast license transfers.
HITV Operating Co., a subsidiary of Virginia-based MCG Capital Corp., announced the $40 million purchase of the station from Indiana-based Emmis Communications Corp. in February. The financial transaction is expected to close in early summer and thus far, HITV has not disclosed plans for the station.
The FCC granted the transfer of the licenses to an entity named HITV License Subsidiary Inc. last Friday (May 25) and released the information yesterday, as HITV and station officials were attending the annual CBS affiliates conference in Las Vegas.
KGMB signed a 10-year affiliation agreement with CBS network in September, almost exactly one year from the date Emmis put it and more than a dozen sister-stations on the market.
KGMB is Hawaii's oldest television station, having signed on in 1952. It has been a CBS affiliate since 1954.
---
ChoicePoint settles over breach
ATLANTA »
ChoicePoint Inc.
settled with 43 states, including Hawaii, and the District of Columbia over allegations it failed to adequately secure consumers' personal information related to a breach of its database it disclosed in 2005.
The Alpharetta, Ga.-based consumer data provider has agreed to adopt significantly stronger security measures.
The breach involved thieves posing as small business customers who gained access to ChoicePoint's database, possibly compromising the personal information of 163,000 people, according to the Federal Trade Commission.
ChoicePoint will now conduct periodic audits to ensure that companies are using consumer data for legitimate purposes, according to the settlement announced yesterday.
There is no fine, though ChoicePoint will pay $500,000 for state public education campaigns about identity theft. Hawaii will receive $5,500 of this.
Wachovia buying A.G. Edwards
CHARLOTTE, N.C »
Wachovia
, the nation's fourth-largest bank, said yesterday it would acquire A.G. Edwards for $6.8 billion in cash and stock in a deal to form the second-largest retail brokerage firm in the United States.
The combined brokerage unit will operate as Wachovia Securities, headquartered in St. Louis, and will have more than 3,300 brokerage locations nationwide, more than $1.1 trillion in client assets and nearly 15,000 financial advisers.
Other A.G. Edwards businesses, including research, underwriting, investment banking, mutual funds and trust, will be consolidated into Wachovia's existing operating lines.
The deal continues a string of high-profile acquisitions engineered by Charlotte, N.C.-based Wachovia, including First Union, Prudential Securities and, most recently, Golden West Financial Corp.
Mortgage rates highest in months
WASHINGTON » Rates on 30-year mortgages rose for a third straight week, hitting the highest level in eight months.
Mortgage giant Freddie Mac reported yesterday that 30-year, fixed-rate mortgages averaged 6.42 percent in its nationwide survey this week.
Rates on 15-year, fixed-rate mortgages, a popular choice for refinancing, rose to 6.12 percent this week, up from 6.06 percent last week.
Five-year, adjustable-rate mortgages averaged 6.19 percent, up from 6.02 percent. One-year, adjustable mortgages were the only category to show a decline, dipping to 5.57 percent from 5.64 percent last week.
A year ago, rates on 30-year mortgages stood at 6.67 percent.
Telecom firms win $20B contract
WASHINGTON » Five companies --
AT&T Inc., Level 3 Communications, Verizon Communications Inc., Qwest Communications International Inc.
and
Sprint Nextel Corp.
-- yesterday were awarded a federal telecommunications contract worth up to $20 billion over 10 years.
Getting on the so-called Networx Enterprise contract is the first step. The winners must now compete with each other to win business from agencies looking to improve their voice, data and other telecom services.
It's the second telecom contract awarded by the General Services Administration in about two months.
---
BUSINESS PULSE