| | |
| --- | --- |
| | Newswatch |
---
Grand jury indicts slaying suspect
An Oahu grand jury has indicted a Wahiawa man on a second-degree murder charge for allegedly shooting a Sunset Beach man who was trying to break up a fight fronting his home.
Dustin Jimenez, 21, was also indicted yesterday on three firearm offenses, first-degree terroristic threatening and reckless endangering in the May 19 attack.
He and his friends apparently were partying on the beach in an area known as Log Cabins when a fight broke out between his group and another group at a home across the street.
Dillon Ching, 30, had just returned home with his family and attempted to break up the fight, prosecutors said.
Witnesses identified Jimenez as firing a semiautomatic handgun into the air, pointing it at several people and shooting Ching, who died later at a hospital.
Circuit Judge Derrick Chan confirmed bail yesterday at $1 million. Prosecutors requested the high bail, noting the severity of the conduct charged.
Jimenez has 11 prior arrests, five for contempt of court. He had received a deferral of a guilty plea for an auto theft and is reportedly a member of a Wahiawa gang, prosecutors said.
681 belted for seat belt violations
From May 18 to Monday, officers issued 681 seat belt citations, 33 citations for improper use of child restraints and one violation for a child under 8 not riding in a booster seat.
Last year, there were 909 citations issued during the two-week campaign. Statewide, there were 2,433 citations issued in 2006.
In the last five years, there has been a decline in the number of seat belt citations issued in the state, an indication, officials say, that more people are buckling up.
The campaign ends Sunday.
'Quatenus' trips spelling champ
Hawaii's only contestant in the 2007 Scripps National Spelling Bee was eliminated yesterday after misspelling "quatenus" in the fourth round.
Andrew Zhou, an eighth-grader at Robert Louis Stevenson Middle School, spelled the deciding word "quatanus." Webster's Third New International Dictionary defines the word as a preposition that means "in the quality or capacity of," synonymous with the word "as."
Zhou won the Hawaii state spelling bee in March after correctly spelling the word "Geronimo."
A total of 286 spellers competed in the two-day national spelling bee held in Washington, D.C. KITV will broadcast the championship finals today from 7 to 9 p.m.
10-inch sewer pipe links up today
A city contractor will connect a newly installed 10-inch sewer force main to the Kukanono Wastewater Pump Station at 705 Manu Oo St. in Kailua from 8 a.m. to 3 p.m. today.
Tanker trucks will be standing by to handle any increased waste-water flow during the connection.
The city said the work is being conducted when waste-water flow is low and should not affect local traffic.
| | |
| --- | --- |
| | Police, Fire, Courts |
---
Body found on Kuhio Beach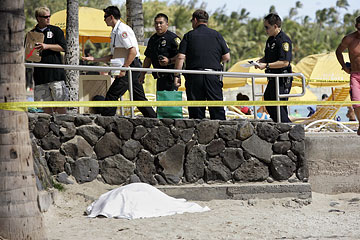 School has close call with fire
A brush fire got as close as 100 feet to a wooden portable building at Ewa Elementary School yesterday, fire Capt. Terry Seelig said.
About five acres burned between the school and Ewa Villages Golf Course.
The fire was reported at about 3:50 p.m. yesterday and was contained by 4:25 p.m. The fire started near the school, but investigators were unable to determine a cause, Seelig said. Firefighters quickly doused the flames closest to the school.
Classes were not in session when the fire began, and the fire did not affect an A+ program held in the cafeteria, the school principal said.