---
FAST FACTS HAWAII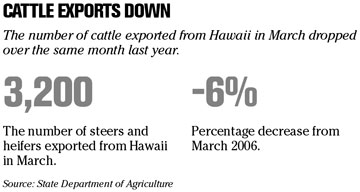 ---
NCL joins Army hiring program
NCL Corp.
has signed an agreement with the U.S. Army to provide priority hiring status on the company's Hawaii-ported ships to soldiers participating in the Partnership for Youth Success program.
PaYS was developed to help the Army attract, train and deploy talented young people who want to serve their country, but also want to help secure jobs once their Army service is complete. More than 500 U.S. corporations and public sector agencies already belong to PaYS.
"These men and women have the values, leadership qualities, discipline and other traits that will be an asset to our fleet," said Colin Veitch, NCL's president and chief executive officer.
To date, close to 30 enlisted soldiers have expressed interest in working for NCL America once they finish their terms, beginning in 2009. They have applied for a variety of on-board positions including cook, bar manager, bell person, deck steward, provision master, manifest administrator, printer and youth counselor.
[ HAWAII INC. ]
New Hires / Promotions
» First Hawaiian Bank has announced the following new hire and promotion:
Sherri Yim
has been hired as senior vice president and controller. She will handle all aspects of the bank's accounting and financial reporting. She previously served as vice president and controller at Central Pacific Bank and has more than 20 years of experience in financial and business management.
David Honma
has been named Hilo branch manager and area manager, replacing Clyde Nakasue, who retired. Honma joined the bank in 1988 as a management trainee and recently served as vice president and business banking officer at the Hilo branch.
» Aqua Hotels & Resorts has named Elizabeth Churchill as vice president of sales and marketing. She will be responsible for global sales and revenue management initiatives for the company's 10 Waikiki properties in addition to strategic marketing and advertising, e-commerce initiatives, guest services and development of new project acquisitions. She joined the company in 2005, recently serving as vice president of marketing and guest services.
» ResortQuest Hawaii has hired Cara Okawa as vice president of sales and revenue development effective June 8. She previously served as vice president of sales and revenue management for Aqua Hotels & Resorts.
» Roberts Hawaii has hired Sandi Williams as an account manager in the company's sales division. She will create and manage new sales accounts covering destination management companies, hotel conferences and conventions. She previously served as general manager of Hawaii Activity Stores and has more than 15 years of sales and marketing experience.
» Marc Resorts has hired Lorrin Ngum as director of revenue management. He will oversee all Web sites, voice line reservations and wholesale channels. He previously served as revenue manager for Turtle Bay Resorts and has 35 years of hotel industry experience.
» PM Realty Group has promoted Matthew G. Bittick to senior vice president of invest- ment sales and leasing for the firm's Pacific Rim division. He will coordinate and supervise investment sales, industrial leasing and brokerage. He joined the firm in 2003 and has more than 10 years of office investment and leasing experience.
» Summa Hawaii has promoted Kathryn "Kathy" Murata to tracking and logistic specialist. She will oversee all procurement, project management and consulting services for hotels, resorts, condotels and timeshares. She joined the firm as an account executive and has more than 20 years of customer service experience.
---
Northwest attendants OK pay cuts
MINNEAPOLIS » Flight attendants at
Northwest Airlines Corp.
accepted a pay cut deal yesterday, the final step in the airline's push to get $1.4 billion a year in savings from its workers.
Northwest was set to exit bankruptcy protection tomorrow with or without the approval of flight attendants. And flight attendants have been working under similar pay cuts since July, when Northwest imposed new terms with a bankruptcy judge's permission.
But acceptance by the rank-and-file will put an estimated $15,000 in their hands in exchange for their concessions, an opportunity they would have lost after Northwest emerges from bankruptcy protection. And for the airline it removes the threat of a strike, although that had been appearing increasingly remote.
T-Mobile parent buys into VoIP
NEW YORK » German telephone company
Deutsche Telekom AG
, the parent of T-Mobile, said yesterday it has invested in
Jajah
, an upstart firm that lets customers bypass long-distance fees by connecting their calls over the Internet.
Founded in Austria in 2005, Jajah has emerged as the third model of Internet calling, also known as Voice over Internet Protocol, or VoIP.
Users go to the company's Web site and enter two phone numbers -- their own and the number they want to call. The company calls both numbers. If the calls are answered, Jajah connects them to each other, making it a high-tech version of the long-distance calling card.
Calls are free between Jajah users in many countries. Other calls cost about 3 cents a minute.
Borders Group net loss widens
DETROIT » Losses are growing for the book retailer
Borders Group Inc.
as it faces a difficult sales environment and a shortage of exciting new releases.
The company said it lost $35.9 million, or 61 cents per share, in its fiscal first quarter ending May 5, compared with a loss of $20.2 million, or 31 cents per share, in the prior year quarter.
Excluding costs for store closings and other nonrecurring items, Borders said it lost $29.9 million, or 51 cents a share. Analysts surveyed by Thomson Financial, who typically estimate earnings excluding items, forecast a loss of 38 cents per share.
---
BUSINESS PULSE