| | |
| --- | --- |
| | Newswatch |
---
HOKULE'A IN UWAJIMA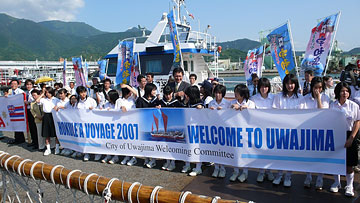 Net snares 2 monk seals; 1 dies
Two monk seals were caught in what is believed to be an illegal gill net laid off Makua on Sunday, a Department of Land and Natural Resources spokeswoman said.
One monk seal was found dead and entangled in the net, while the other was still alive and partly entangled, DLNR spokeswoman Deborah Ward said.
The gill net was found 100 feet out in 15 feet of water, which is a typical setting for that type of net, Ward said.
DLNR Conservation and Resources Enforcement Division officers responding to a 5 p.m. call cut part of the net to free the live seal. Bystanders helped the officers retrieve the body of the dead seal, which was taken to the National Marine Fisheries for necropsy.
DLNR officers believe the net is illegal because it has no registration marks on it.
Anyone with information about the net or who might have set it is asked to call DLNR at 643-DLNR.
Keiki can still join fitness project
Cutty's Keiki Fitness Challenge, a free three-month program aimed at reducing childhood obesity in Hawaii, has extended its registration deadline to Thursday.
The community-based educational event is open to children age 8 to 16 and their families. The first 800 children to sign up will receive a Keiki Get Fit Backpack with fitness items, a booklet of health information, an exercise and nutrition program, and a logbook.
Participants will be tested at the start of the program for strength, endurance, flexibility, body mass, body fat, blood pressure and other key health indicators to create a base line to gauge improvement.
They will use exercise and nutrition information provided by the program and keep track of their activities in the fitness log or online if they have Internet access.
Those finishing with the greatest increase in their Cutty Health Index will be eligible to win cash, prizes, scholarships, a TV appearance and other awards.
To participate, visit www.keikifitnesschallenge.com to download a registration form and fitness log.
The challenge will be featured on several "Cookin' with Cutty" episodes and broadcast nationwide as a network special on the America One Network and in Hawaii on Oceanic Time Warner Cable's Channel OC16.
Volunteer home builders sought
At least 150 volunteers are needed to help Habitat for Humanity-Leeward Oahu construct three homes in a Build-a-Thon on June 16.
People with skills in raising walls, installing windows and doors, assembling walls and others are needed.
Each volunteer will work a five-hour shift. For every hour worked, builders will collect pledges of money from family and friends for Habitat for Humanity's Leeward homes.
To register as a volunteer, call the Leeward Habitat office at 696-7882 or go to the Upcoming Events section at the Web site www.leewardhabitat.org before Thursday.
New warning sirens to be tested
Seven newly installed warning sirens will blare today during several 20-second tests.
Officials from the city Department of Emergency Management and the state Civil Defense are testing the sirens, which recently replaced old ones, to ensure proper performance and area coverage.
Residents in the following neighborhoods can expect to hear the sirens:
» From 8 a.m. to noon: Kuliouou, Kahala/Diamond Head, Palolo Valley and Moanalua Valley.
» From 1 to 3 p.m.: Koko Head, Mililani in the proximity of Kipapa Elementary School, and Waialua.
Tests are expected to be completed by 3 p.m.
| | |
| --- | --- |
| | Police, Fire, Courts |
---
Rockfall at Diamond Head beach hurts woman seriously
A 44-year-old woman was taken to the Queen's Medical Center in serious condition with a head injury yesterday after she was hit by falling rocks at the beach below the Diamond Head lighthouse.
The accident occurred just before 9 a.m., according to a police officer on the scene.
A witness, who declined to give his name, said he saw the woman with about seven other people, including small children, when they arrived and planted a large umbrella on the beach.
However, the woman chose to sit under a rock ledge, which broke apart and fell, the witness said. A spokesman for the city Emergency Medical Services Division said only one person was injured.
The witness said those who frequent the area know it is unsafe to set up a picnic area under a ledge because erosion caused by the high tides eats away at the walls of the shoreline.
Police closed off the area where the accident occurred with yellow tape. Signs on Beach Road said the area beyond the end of the road is closed because of the rock hazards.
---
NEIGHBOR ISLANDS
Big Isle inmate recaptured after attempt at escape
KAILUA-KONA » A Big Island prisoner is back in custody after escaping briefly on Sunday.
David Kaleikao Scheper, 35, of Waimea, was being held on a contempt-of-court charge when he complained of being sick.
Police took him to Kona Community Hospital, where he said he needed to use the bathroom, then climbed into a false ceiling still wearing leg restraints.
Police caught him four hours later, 150 yards from the hospital.
HONOLULU
Stolen mo-ped prompts arrest
Police arrested early an 18-year-old driver yesterday morning of a truck that allegedly contained a stolen mo-ped in its bed.
The officer tried to stop the Makiki man for a traffic violation, but the truck sped off, police said.
When the truck finally stopped at Naale and Anianiku streets in Makiki Heights, four occupants jumped out and fled on foot, but the driver remained, police said.
The incident occurred at 2:55 a.m. yesterday.
Police found a mo-ped, which was recently stolen, in the bed of the truck.
The driver of the truck was arrested on suspicion of second-degree detaining of stolen property. The case is pending investigation.