---
FAST FACTS HAWAII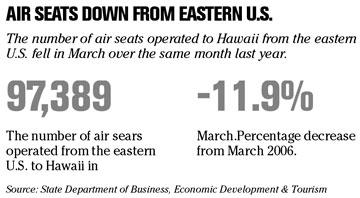 ---
FTC eyes Google-Doubleclick deal
WASHINGTON » The Federal Trade Commission has opened a preliminary antitrust investigation into
Google
's planned $3.1-billion purchase of the online advertising company DoubleClick, an industry executive briefed on the agency's plans said yesterday.
The deal, involving powerful forces in their respective niches of the online advertising business, prompted privacy advocates and competitors to raise concerns after it was announced last month. Those concerns and the deal's size made a preliminary investigation all but certain, according to antitrust experts.
Within a few weeks, perhaps within days, the FTC will decide whether to escalate its investigation into the Google deal, antitrust experts say. That step, known as a "second request" for information, would suggest that the proposed acquisition raises more serious antitrust issues.
Google said it was confident that the deal would withstand scrutiny.
Privacy groups said it was significant that the FTC, the agency that monitors online privacy issues, would be conducting the review.
REIT deal could total $20B
NEW YORK »
Tishman Speyer Properties
and
Lehman Brothers Holdings Inc.
may soon acquire
Archstone-Smith Trust
in a deal that could be worth more than $20 billion, according to media reports late yesterday.
An announcement on the acquisition of one of the country's most prominent apartment real estate trusts could come as early as Tuesday morning, the Wall Street Journal reported on its Web site.
Archstone-Smith, based in Englewood, Colo., is the second-largest public apartment company based on real estate value and market capitalization. It owns 86,000 apartments in cities that include New York, Los Angeles, San Francisco, Boston and Washington, D.C.
Tishman Speyer is one of the leading owners and operators of real estate in the world. The company owns iconic properties including New York City's Chrysler Center and Rockefeller Center, London's CityPoint and Tower Place, Frankfurt's MesseTurm, Berlin's Sony Center, and other prominent properties in major European cities.
URS buying Washington Group
BOISE, Idaho » San Francisco-based
URS Corp.
is buying Washington Group International for $2.6 billion, the engineering and construction companies announced yesterday.
The boards of directors of both companies unanimously approved the deal, which calls for Washington Group stockholders to receive $43.80 in cash and 0.772 shares of URS stock for each Washington Group share.
The transaction is valued at $80 per share, or a 14 percent premium over Washington Group's closing stock price on Friday.
The deal combines two of the nation's largest engineering and construction firms. URS has 29,500 employees in 20 countries, while Washington Group has 25,000 employees worldwide.
The deal, which is subject to approval by the stockholders of each company and regulators, is expected to close in the second half of this year, the companies said.
Sony to debut HD Radio products
SAN JOSE, Calif. »
Sony Corp.
says it will introduce its first HD Radio products in July, joining the growing group of companies seeking to make the next-generation digital radio technology a standard feature in audio products over the next several years.
HD Radio is new form of digital radio broadcasting that allows radio stations to deliver extra music content on up to four side channels that piggyback on the frequency it already uses. So far, more than 1,200 radio stations nationwide have adopted the technology, according to the HD Digital Radio Alliance, a group of broadcasters promoting the new format.
A listener, however, needs a special radio receiver to hear HD Radio signals, which also boasts improved sound quality.
Sony's first HD Radio products will be the XDR-S3HD, a $200 tabletop AM/FM/HD radio, and the XT-100HD, a $100 tuner module for vehicles that will work with most Sony car stereo units.
---
BUSINESS PULSE