---
FAST FACTS HAWAII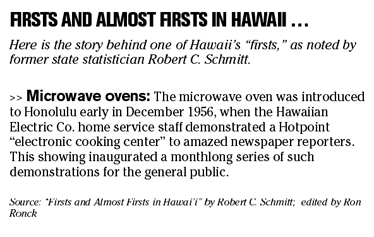 ---
NATION
Greeks, Romans worked IX to V
When they weren't busy founding modern civilization, the ancient Greeks and Romans spent their free time much like we do -- shoe shopping, rocking out at concerts and gossiping at parties.
Behind the scenes were workers and slaves whose jobs prove remarkably similar to many modern-day occupations, according to Vicki Leon, author of "Working IX to V: Orgy Planners, Funeral Clowns and Other Prized Professions of the Ancient World."
Among them was the sandaligerula, who made sure her mistress was wearing the proper shoes at all times, not unlike the personal stylists of today.
A locarius was the ancient equivalent of the ticket scalper, buying up tokens to theater and athletic performances to hawk at a profit.
"While all the gladiators were making a killing inside the arena, the scalpers were making a killing outside the arena," Leon said.
Similar to Miranda Priestly's assistant in "The Devil Wears Prada," a nomenclature stood behind her boss at parties and whispered guests' names as they approached.
Then there's those orgy planners -- no doubt a popular topic of conversation around the aqueduct.
Hearing loss can be felt in wallet
Workers with hearing problems are losing more than snippets of conversation, they're losing money.
Two-thirds of people who suffer from hearing loss are below retirement age and still working. If you're one of them, trying to hide or ignore the problem could cost you, a new study found.
Untreated hearing loss, depending on severity, cut household income by an average of nearly $23,000 per year, according to the study by the not-for-profit Better Hearing Institute.
Hearing loss prevents employees from fully engaging in meetings and conversation, which fuels anger, instability and anxiety, while giving co-workers the impression that they're less competent, said Sergei Kochkin, the institute's executive director.
People with untreated hearing problems are more likely to work into their 70s and 80s because lower salaries along the way add up to thinner retirement and investment savings in the end, Kochkin said.
"You're going to be greeting people at Wal-Mart and Costco to supplement your income," he said.
While many workers fear that getting a hearing aid will make them appear old or disabled, the opposite is true, Kochkin said. The use of hearing aids mitigated the effects of hearing loss on income by about 50 percent, the survey found.
"Hearing loss is much more noticeable than hearing aids," he said.
Drivers prefer the Jaguar XKR
The editors at Kelley Blue Book's automotive information Web site, kbb.com, chose 10 new vehicles well-suited for road trips and then ran them by shoppers to get their opinions.
Topping the resulting list was the Jaguar XKR convertible for its sexy, sporty appeal that's sure to impress the tanned elites at posh resorts this summer.
Coming in second was another luxury convertible, the BMW 3-Series. With a hardtop that retracts in 22 seconds, it's well-suited to long trips, the editors said.
For those planning to pack up the kids and lots of gear, the Chevrolet Suburban is the hauler of choice, with room for nine people and more than 45 cubic feet for bags, bikes and beach towels.
Rounding out the top five were the Dodge Charger SRT8 and the Mercedes-Benz E320 Bluetec, featuring clean diesel technology.
Credit scores get a make-over
Fair Isaac Corp.
said last week it is tweaking its trademark FICO credit score, in part to better predict the behavior of subprime borrowers.
The company said the upgraded FICO system, which will debut in September, will improve the accuracy of scores by 5 percent to 15 percent.
Fair Isaac says that, in addition to bettering predicting the behavior of subprime borrowers, the new FICO score will do a better job in assessing new accounts and borrowers who have little or no credit histories, such as young people and immigrants. The upgraded system will still use the same 300 to 850 scoring range.
Fair Isaac spokesman Craig Watts said most borrowers would see only a slight rise or fall in their credit scores with the new system.
---
BUSINESS PULSE