| | |
| --- | --- |
| | Newswatch |
---
Memorial Day leis go on today
Every grave should be receiving flowers today for Memorial Day observances at cemeteries for veterans on Oahu.
As of yesterday afternoon, 43,000 leis were collected from across the state and more were expected to come in today.
The National Memorial Cemetery of the Pacific at Punchbowl has more than 38,000 graves and the Hawaii State Veterans Cemetery in Kaneohe has about 5,700 graves.
At about 1 p.m. today, about 2,000 Boy Scouts, Girl Scouts and Cub Scouts will have their annual Good Turn Day Ceremony and will decorate each grave at both cemeteries with a small American flag and lei.
"I want to remind our greater Hawaii community that cemeteries are for the living," said cemetery director Gene Castagnetti. "Because without their presence to honor the memories of those who have given the fullest measure of devotion, this day wouldn't be very meaningful."
Mayor Mufi Hannemann will host the annual Mayor's Memorial Day Service at the Punchbowl cemetery beginning at 8:30 a.m. tomorrow Gov. Linda Lingle will preside over the ceremony at the state veterans cemetery in Kaneohe at 1:15 p.m.
Shuttles to Punchbowl scheduled
A round-trip shuttle will be available tomorrow for the mayor's Memorial Day ceremony at the National Memorial Cemetery of the Pacific.
The ceremony begins at 8:30 a.m. Parking at the cemetery is limited and attendees are encouraged to use the shuttle, a city news release said.
Buses will leave from the Alapai Express Bus Terminal on the corner of King and Alapai streets beginning at 7:15 a.m. Parking at the terminal will be free.
The last bus will leave at 8:15 a.m. Buses will carry the sign "Special Punchbowl Cemetery" and charge $2 for adults and $1 for youths, grades 1 through 12. Monthly, elderly and disabled passes will be accepted.
TO OUR READERS:
There will be only a morning holiday edition of the Star-Bulletin tomorrow because of Memorial Day. All home subscribers will receive their paper in the morning.
Kailua water main work goes on
Repair work on a broken water main near the Kailua police station will continue through tonight, a Board of Water Supply spokeswoman said.
A 24-inch transmission main on Kuulei Road broke Friday morning. But more problems were discovered once repairs began, the spokeswoman said.
Traffic on Kuulei Road in both directions between North Kainalu Drive and Maluniu Avenue is affected by the repair work.
| | |
| --- | --- |
| | Police, Fire, Courts |
---
GETTING TOO INTO THE WORK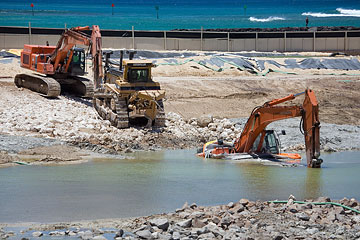 2 rescued from capsized boat
Firefighters rescued two men yesterday after their catamaran capsized off Kualoa.
A fire helicopter, rescue company, two engines and two boats responded to the call at about 3:35 p.m. Both men, 63 and 51, were brought to shore aboard a fire boat by 4:30 p.m., said Honolulu Fire Capt. Robert Main.
The overturned 20-foot catamaran remained floating near the second reef. Firefighters were trying to remove the boat or tie it down, Main said.
---
EAST OAHU
Woman caught inside stolen car
A 19-year-old woman was arrested yesterday morning after being found sleeping in a stolen car in Hawaii Kai.
About 1 a.m. yesterday, officers were investigating reports of a man wandering through houses. While checking, police found the woman sleeping in the passenger seat of a stolen car on Portlock Road. She was arrested for investigation of unauthorized entry of a motor vehicle.
HONOLULU
Cash nabbed from woman's tank top
Police arrested a 28-year-old man after he allegedly grabbed cash from a woman's shirt in Kalihi.
About 3:26 p.m. Friday at a shopping area on Vineyard Boulevard, the suspect allegedly grabbed cash from inside the front of a 42-year-old woman's tank top and fled. The woman gave chase, but the suspect allegedly grabbed and broke the woman's gold necklace chain, cutting her hand. The suspect also allegedly punched her in the face while escaping.
Police found him nearby and booked him on suspicion of second-degree robbery.
Argument leads to alleged assault
A 30-year-old man was arrested after returning to the area where he allegedly attacked a woman.
A 33-year-old woman said she and the suspect got into an argument at about 9 p.m. Thursday at Kakaako Waterfront Park, and that she was struck with a beer bottle.
When she regained consciousness the next morning, she contacted police. The suspect returned to the scene while police were there, and he was arrested on suspicion of second-degree assault.
LEEWARD OAHU
Gun threat used during car theft
A 29-year-old man was arrested after allegedly stealing a car at gunpoint.
About 11:15 a.m. Tuesday, a couple, both 45, were driving along the Waianae Coast when the suspect stood in front of their car, allegedly brandished a gun and ordered them out of their car.
The suspect was arrested yesterday on Farrington Highway and booked on charges of first-degree robbery, felon in possession of a firearm and dangerous drugs, and possession of drug paraphernalia.
Brother accused of sex assault
A 22-year-old man was arrested on suspicion of sexually assaulting his sister since 2002.
The 19-year-old woman reported to police that her brother had been sexually assaulting her from 2002 to November last year. They were living together on Waimano Home Road in Pearl City. Police arrested her brother on a third-degree sexual assault charge.
NORTH SHORE
5 acres burn near Whitmore
About 25 firefighters put out a five-acre brush fire near Whitmore Village on Friday.
No one was hurt and no structures were damaged, said Honolulu Fire Capt. Frank Johnson.
About 4:15 p.m., firefighters responded to the blaze near 1404 Aheahe Ave. and extinguished the fire by 6 p.m., Johnson said. Four engine companies and two tankers assisted. The cause of the fire was undetermined yesterday.