Going Green
Conservation and the high energy cost prompt many in Hawaii to alter their style of living
LOVE FOR AN off-grid oceanfront parcel in Waa Waa, which is located on the southeast corner of the Big Island, inspired Beverly and Dallas Jackson to build an environmentally friendly "green" home away from the network of wires that deliver electricity and communications.
"After we bought the land, we waited to see if they were going to extend services to the region," Dallas Jackson said. "They didn't, and it became clear that if we wanted to live on our land by the ocean that we would have to find a way to do it off-grid."
Like other off-gridders, who make the choice out of conservation values or necessity due to the remote location of their homes, the Jacksons can't depend on electricity, phone/Internet service or, in some cases, modern water or plumbing services.
The couple made their home, now worth $1.25 million, more hospitable by using alternative forms of energy. The home, which boasts aluminum roofing and six-foot eaves to keep it cool, is positioned to capture the breeze as well as its perfect oceanfront vistas.
"When we leave our doors open at night to capture the breezes, we can hear the whales," Beverly Jackson said.
Green used to be for Hawaii's hippies, loners and true believers, but it's rapidly going mainstream. And that is changing how Hawaii constructs and uses its workplaces, as well as our homes, schools, stores, medical facilities, and civic and cultural institutions.
First, some state public buildings sought higher efficiency. Then, a few island companies began building more eco-friendly offices. And now, residential developers and buyers are seeking greener communities. The high cost of energy alone has prompted many home and remodeling contractors, as well as business owners and residents, to consider greener living.
Companies like Maui Land & Pineapple, Actus Lend Lease, Dowling Co. and Ferraro Choi and Associates Ltd. have taken up the mantra started by such diverse mainland companies like Harley Davidson, Genzyme, Goldman Sachs, Google, Hearst, IBM, JP Morgan Chase and Toyota.
"If you aren't doing green building in the future, you won't be part of the mainstream," said Bob McNatt, president of community development for MLP.
The company, which is developing Kapalua Resort, West Maui Village and Pailolo Views, is in the entitlement process for Pulelehua -- its most green affordable housing development to date.
"People will perceive the value of green building," McNatt said. "The homes will live better."
Hawaii's developers are building with low-emitting materials, using state-of-the-art sustainable land-use management plans, creating below-ground storm water retention ponds and photovoltaic power systems. They are positioning the buildings to make the most of Hawaii's breezes and they are stocking them with energy-star appliances and long-lasting fluorescent lighting systems.
"It's taking the traditional town-design idea and applying it here, mixing the uses and creating places that are great to live in," McNatt said.
The advent of new green technology has eased some of the challenges of living green and has made it more appealing to the general public, he said.
Though the Jacksons' Boone Morrison-designed Old Hawaii home is set deep in the untouched wilderness of the Big Island, the high-tech home design, as well as wireless phone service and high speed Internet, help the couple stay connected.
A commercial-grade hybrid solar-generator system with two sine-wave inverters matches the energy output of any other home on regular power. The home generates enough energy to allow the couple to use heavy machinery in their wood-working and stained-glass studios. The couple also has plenty of water, which they draw from two water catchment tanks that offer a 3,000-square-foot holding area.
For the Jacksons, living off-grid provided a way to live on their dream parcel.
BUT FOR OTHERS like Jay Winslett, who lives in a more modest $279,000 home down the road, it satisfies a desire to save money, actively participate in conservation or achieve independence.
"I love the independence of it," Winslett said. "I haven't paid a HECO (Hawaiian Electric Co.) bill in 15 years."
Rising fuel costs have brought the concept of green construction to individual home owners, said Charles Lockwood, an environmental and real estate consultant in Southern California.
"Costs have made people more aware of what it means to be green," he said, adding that the U.S. Building Council's decision to launch a LEED rating system for homes this summer will further spread the proliferation.
LEED, which stands for leadership in energy and environmental design, is the recognized standard for measuring building sustainability.
A growing number of cities have mandated that private developers seek LEED certification, Lockwood said. Laws are being discussed in San Francisco; Pasadena, Calif.; Montgomery County, Md.; Washington, D.C. and Boston that would require privately-owned condo and hotel buildings to be green, he said.
While green building has gained more rapid acceptance on the mainland than in Hawaii, many in the industry are trying to catch up, said Joe Ferraro, a founding principal of Ferraro Choi and Associates Ltd., the Hawaii architecture firm that earned a platinum certification, LEED's highest industry standard for the design of the Hawaii Gateway Energy Center.
"The leaders in our industry in Hawaii didn't embrace it at first and it was slow to get across the ocean," Ferraro said. "But in actuality, we should be the leaders since we've got such a fragile ecosystem and our economy is tourism based. Besides, our climate is so adaptive to it. We should be way out there -- the model for the county and the world."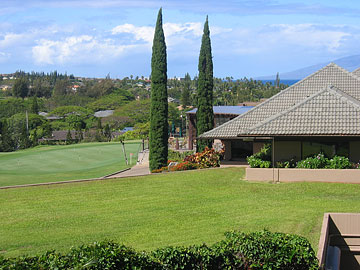 x.jpg" target="new">CLICK FOR LARGE
As people get more aware of the impacts of global warming, they will want to become part of the solution, said Everett Dowling, president of Maui-based
Dowling Co.
, which made the commitment to go entirely green in 2005.
"I think people will choose to learn how to live in a manner with less of an impact," Dowling said. "When people think green building they think of people living off the grid and have an image of how inconvenient that lifestyle could be. We want to demystify the concept and show that green building can range from the affordable to the high-end and include all the luxury amenities that a homeowner could want."
Dowling, whose office is almost entirely green and whose employees are switching over to hybrid cars, is the brainchild behind Maluaka, the first green-certified resort community to be built in Hawaii.
"I think a lot of it is kind of back to the future," Dowling said. "We've had rain-water catchments and photovoltaic for years; however, these people were doing it out of necessity because they had no choice but to live off the grid. We have the opportunity to connect to the grid and live off power, but we are trying to minimize our footprint."
Like Dowling Co., more and more Hawaii developers are choosing to educate clients about green-building, Ferraro said.
"There's definitely a high demand for green now -- it's sort of in vogue," Ferraro said. "Just about every institution is asking for some level of green, and the state and county are demanding it. We've even seen more requests from private residents."
BONNIE OSAKI, a certified aging in place specialist (CAPS) with Graham Builders, said many clients are inquiring about built-green materials and technology.
"Most homeowners we see are concerned about the cost of energy as well as the operating and maintenance expenses of built-green materials and want suggestions," Osaki said.
While the increased costs of built-green factor into the demand, some homeowners and businesses see the long-term benefits of using green technology and materials, she said.
Encouragement from industry trade associations like the Building Industry Association and HECO, as well as Hawaii's county and state governments, has enticed many developers to consider the long-term health of the planet when they are making design and building decisions, said Marshall Hickox, a partner/vice-president of Homeworks Construction Inc.
"The general feeling is that many are starting to think about how to incorporate more to the built-green philosophy," Hickox said.
Hickox, who specializes in green building, said that while there is still not enough local demand to keep him entirely occupied in that category, the dynamic is evolving.
"Economically there isn't enough demand now," Hickox said, adding that it will take continued education, pressure from larger companies to set the standard, subsidies and technological advances that allow for cheaper greener products to move builders completely into the greener side of building.
Green principles were once seen as extreme. However, the creation of reliable building-rating and performance measurement systems, combined with proof that green building ultimately saves money, has made the concept more attractive to mainstream commercial and residential developers, as well as businesses and residents, Lockwood said. As the cost of green building has gone down and the benefits such as increased employee productivity have been documented, green building has begun to tip the popularity scales, he said.
"The future of green is here," Lockwood said.
THINKING GREEN
The top 10 ways to save the earth at home:
1. Slow the flow. Take shorter showers and shut the water off while brushing your teeth or washing dishes. Fix water leaks. Install dual flush and low-flow toilets and showers.
2. Brighten up. Switch to compact fluorescent bulbs to save energy and money. Unplug electronics like TVs and computers that suck energy while in "sleep" mode. Shut off unneeded lights.
3. Keep cool. Check for leaks around doors and windows. Draw the drapes to block sunlight, or even better, plant foliage to help shade your house, turn off the A/C, and let the breezes flow.
4. Be efficient. Replace old appliances (air conditioners, refrigerators, washing machines) with energy-efficient ones to save energy and money.
5. Go native. When planting or landscaping your yard, choose native plants that don't require lots of watering and pesticides.
6. Don't pollute your own house. Household cleaners and detergents can have nasty stuff in 'em. Choose plant-based cleaners (instead of petroleum based) and other natural alternatives.
7. Reuse and recycle. Use rags instead of paper towels, use cloth bags instead of paper or plastic for groceries, print on both sides of paper, and recycle everything you can.
8. Go solar. Talk to your parents about installing solar panels on your roof and take advantage of all the free sunshine for generating electricity and heating water. With rebates, solar power can be very affordable.
9. Ditch the car. To save gas and cut down on air pollution, try biking and walking. It's fun and good for you. Gotta go far? Take the bus.
10. Spread the word. Tell everyone you know to go green at home by conserving resources and choosing healthy products.
---
» Next week: What it's like to live green, and how will green impact residential real estate values