Police investigate death of Ewa Beach woman
Neighbors describe the victim as friendly, outgoing and active
A woman described by neighbors as "friendly" and "outgoing" was found dead yesterday in her single-family Ewa Beach home.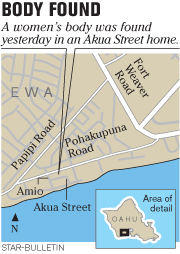 Neighbors identified the woman as Karen Ertell, 51.
"I came outside, and they told me they found Karen dead," said Sharon Bartley, who lives on Akua Street across from Ertell. "I was shocked."
Police said there are suspicious circumstances surrounding the death, and homicide detectives are investigating.
Police recovered a blue Volvo sedan at Geiger Park last night. Neighbors said the Volvo was the car Ertell drove for work, delivering coffee for Koko Crater Coffee Roasters in Kakaako.
Bartley, who worked with Ertell at the coffee shop a year ago, said family and co-workers called police to check on Ertell after she did not show up for work.
A message on the company's voice mail said, "To all our valued customers, we apologize for the inconvenience, (but) Karen Ertell has passed on."
Bartley said Ertell lived with two dogs and a cat in the house for about four years.
"She's hardly home. When she's home it's late at night," Bartley said, adding that she had not seen any suspicious activity recently. A hanai daughter lives downtown.
Bartley said Ertell was active with a lot of confidence and would often walk her dogs or go surfing on the North Shore.
"When I left in the morning, the car was still there," said Pete Bartley, Sharon Bartley's father. "I can't believe it. She was strong and healthy."
Neighbors were surprised to hear of a possible crime in the usually quiet neighborhood.
"I find it hard to believe," said Joe O'Neill, a resident on Akua Street for more than 30 years.
A pink pickup truck that also belonged to Ertell sat in the driveway yesterday.