Teens traffic in stolen auto parts
The parts were found on the Internet
Police are investigating several young adults and juveniles for allegedly stripping street-racing cars of their parts and reselling them online.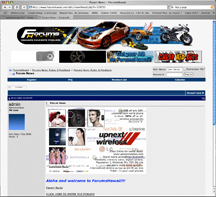 Two 17-year-old Kalihi boys were arrested recently and booked on suspicion of auto theft, after they were allegedly caught reselling stolen car parts on the Internet.
The makes targeted include Honda and Mitsubishi, and the parts were being sold on the online message board Forums Hawaii, said Sgt. Kim Buffett, CrimeStoppers coordinator.
"They're moving parts from all over the island, but it's mostly from Kalihi," said Buffett, adding that the two teens have had previous arrests for auto theft.
Additional suspects are under investigation. Police are advising residents to buy automobile parts from reputable dealers.
"Anyone who purchases vehicle parts on the Internet is cautioned that items may be stolen," police said. "If the police identify parts as stolen, the person in possession may be arrested for detaining stolen property, and their vehicle may be seized for forfeiture."
No further information was provided by police because the case involves juveniles.
On the Web site www.forumshawaii.net, administrators established a separate subforum just for posting notices of stolen vehicles and parts.
Members of the online community post requests to keep an eye out for their stolen car or car part, as well as warnings of alleged "hot spots" for car thieves, including areas in Kalihi, Kahala and Waipahu.
The site has a classifieds thread where users can post cars and car parts for sale. Although the recent arrests involved Forums Hawaii, users of that site said stolen parts are sold on other online classified sites, such as Craigslist.org.
Users said that drivers have set up bait cars to catch the alleged thieves, but that has yielded no results.
"It is nearly impossible for the average person looking for a good deal to tell when a part is stolen or not," said a user who wished to be identified to the Star-Bulletin by his forum handle, djoverdose.
Some members said they hoped police would step up efforts in making more arrests. They believe thousands of dollars in auto parts are being stolen.