Iconic Honolulu garden shop closing after son's death
Garden House, a landmark Honolulu garden supply store operating for more than 60 years, will close its doors in early July.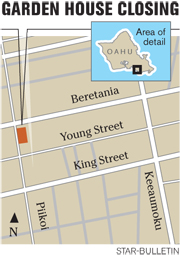 Owner Carol Oda, 90, has decided to sell the business following the death last year of her son Stephen, company president and "plant doctor."
The store at South Beretania and Piikoi streets will be selling off merchandise and furnishings, including an antique safe from the long-gone Hollister Drug Store on Fort Street, where Oda once worked.
But she will take with her decades of memories that include selling some of Honolulu's first flocked Christmas trees.
The buyer of the property, local businessman Tony Young Ho Kim, is seeking a tenant.
---
The Garden House, in business for more than 60 years, will close its doors for good in early July.
The store was founded by the late Stanley Oda and two partners "in about 1947 or somewhere around there," said his widow, Carol.
"I'm broken-hearted at this closing of Garden House, which has been more or less a family business for so many years. I will no longer be here after July. It just breaks my heart to say it," she said.
Her son Stephen became president of the company after his father's death in 1994. He had left an award-winning career in advertising to help run the store, but died of esophageal cancer in April last year.
"That is the reason why I am closing this store," she said.
Both grandsons are attending college in California, but neither plans a retail career.
Local businessman Tony Young Ho Kim is buying the store site, at the corner of South Beretania and Piikoi streets.
Neither side would disclose the selling price, but the 13,677-square-foot lot and 8,424-square-foot building had been listed with an asking price of $3.2 million.
Kim will take possession in mid-July and is seeking a tenant for the property.
Kim said that the "too many" businesses he owns include Ala Moana Golf Shop, Jewels of Hawaii at the Hyatt Regency Waikiki and KHRA-AM 1460, which is currently off the air. He plans to resume broadcasting in July with locally originated Korean-language and other Asian programming.
Oda has worked in retail all her life, starting in 1933 at the old Hollister Drug Store on Fort Street, then moving to City Mill Co. Ltd. in 1955 as an executive assistant to David C. Ai. "I retired from there after many years," then started at Garden House full time.
"I am today 90 years old, and I don't know that I can do a very good job" in a competitive marketplace, she said.
Her strong voice, mental acuity and energy belie her years. She works six days a week, one of them as a volunteer for C.K. Ai Foundation, a charitable organization formed by City Mill founder Chung Kun Ai.
She remains close to Steven and Carol Ai, who run City Mill.
"They have been very, very helpful during this difficult time," Oda said. Their own rich family heritage and business acumen make them successful, "and no big box is going to put them out of business."
Oda plans a clearance sale and needs to sell store furnishings, including an antique safe she bought from Hollister Drug Store when it closed.
"As a matter of fact, King Kalakaua used to get his prescriptions filled at Hollister," she said.
Garden House's first location was near the police station before moving to Sheridan Street. "1955 is when we moved to this location, and we came out with a big bang because we were more or less the biggest garden shop."
The store pioneered flocked Christmas trees, she said.
"We were a boon to the people of Honolulu, as they could come in with a fragment of a plant that was dying, a leaf or a twig," and learn what to do about it, Oda said.
"My son Stephen was known as the plant doctor. ... Some of the UH people would refer customers to us," she said.
Speaking of her son yesterday evoked a mother's tears of grief, as well as pride.
"Please mention his alma mater, Iolani School, where his journalism chair is located," she said. Iolani's McDermott-Oda Journalism Fund is named in part for Stephen Oda, an alumnus of the Medill School of Journalism at Northwestern University.
Garden House's success was also due to its employees, who exhibited professionalism and knowledge of gardening and equipment, she said. Several part-time employees have been hired to help with the closing.
"A lot of mom-and-pops are going out of business, and I guess I'm one of them though we're a little bigger."
When the store closes, probably July 3, she might rest for two weeks, but then it will be "work, work, work" tending to her home, she said.