---
FAST FACTS HAWAII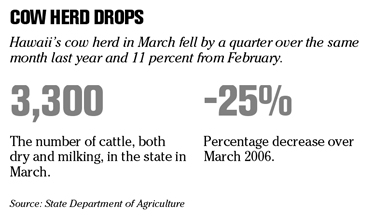 ---
HAWAII
Superferry now aiming for August
The
Hawaii Superferry
has delayed its scheduled July launch by at least a month as it goes through extensive inspections, the company said.
The ferry, a four-story catamaran built in Mobile, Ala., is expected to start service "later this summer," although a specific date hasn't been set.
The ferry must complete a rigorous U.S. Coast Guard certification and inspection process, said Superferry President and Chief Executive John Garibaldi. This is the first ship of its kind built by Austal USA. A second ship is planned, also for Hawaii interisland service.
"When final certifications are completed and the vessel is ready to live Mobile, which is soon, we're going to be opening our reservations relatively soon as well," said Terry O'Halloran, director of business development for Hawaii Superferry. "At those times, we'll have a better idea when our actual launch date will be."
BUILDING A FOUNDATION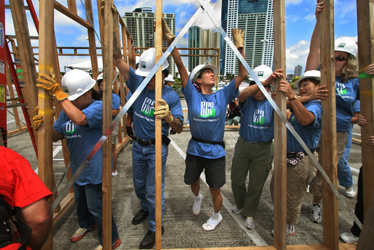 NATION
SEC eyes Dow Chemical case
WASHINGTON » The U.S. Securities and Exchange Commission opened an inquiry into trading of
Dow Chemical Co.
that took place before the company accused two executives of holding unauthorized merger talks and fired them, according to two people familiar with the probe.
The SEC has requested information from Dow and the two men, Romeo Kreinberg and J. Pedro Reinhard, the people said. The probe covers the months before the company dismissed the executives in April, saying they met with banks and foreign governments to arrange a leveraged buyout. Both denied the allegations and sued Dow for defamation.
Chris Huntley, a spokesman for Dow Chemical, declined to comment. SEC spokesman John Nester also declined to comment.
US Airways offers level pay scales
PHOENIX »
US Airways Group
yesterday released details of a contract proposal for its pilots that it says would level pay scales between pilots who worked for US Airways and higher-paying America West Airlines before the airlines combined in 2005.
The proposal is designed to put in place a unified contract for all the pilots, according to a filing with the U.S. Securities and Exchange Commission.
But the offer was soundly panned by the head of the US Airways arm of the pilots union, who said the airline's proposal was viewed as "extremely insulting" when it was presented to the two pilots groups earlier this month.
China approves Carlyle stake
WASHINGTON » China's insurance regulator said yesterday it had approved a consortium led by U.S. investment firm
Carlyle Group
taking 19.9 percent stake in
China Pacific Insurance (Group) Co.
, the parent company of China's third-largest life insurer by premiums.
The move paves the way for an initial public offering by the insurer later this year.
The foreign investor consortium, which also includes U.S. insurer Prudential Financial Inc., will be required to hold its stake for at least three years, the China Insurance Regulatory Commission said.
In December 2005, Carlyle and Prudential took a combined 24.98 percent stake in the group's life insurance subsidiary China Pacific Life Insurance Co., but began negotiating late last year to trade that stake for a smaller one in the parent company after it decided to list shares as a whole.
WORLD
EU questioning Google on privacy
BRUSSELS, Belgium » An independent European Union panel is investigating whether
Google Inc.
's Internet search engine abides by European privacy rules, which tend to be stricter than those in the United States.
EU spokesman Pietro Petrucci said yesterday that the 28-member panel, which advises the European Commission and EU governments on data protection issues, wants Google to address concerns about the company's practice of storing and retaining user information for up to two years.
Google said it would answer the EU's privacy concerns before the panel's next meeting at the end of June.
---
BUSINESS PULSE