| | |
| --- | --- |
| | Newswatch |
---
HAVE A SEAT!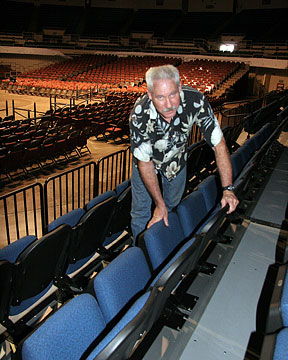 FAA probes 'rare' runway error
The Federal Aviation Administration is investigating a May 20 near collision between a taxiing military plane and a passenger jet on takeoff at Honolulu Airport.
At about 7:45 p.m. a military C-130 cargo plane landed on a diagonal runway and was given instructions to stay away from the east-west runways, said FAA spokesman Ian Gregor.
The pilot either misunderstood or missed the control tower's instruction to turn left, and continued toward the runway, where a 50-seat Canadair CRJ-2 plane operated by go! was speeding for a takeoff, Gregor said.
A traffic controller noticed the military pilot's mistake and told the pilot to stop about 150 feet from the regional jet, which took off safely. The C-130 stopped 110 feet from the runway edge, about 90 feet beyond a marker where it should have stopped, Gregor said.
"The controller did exactly what he or she should have: spotted the problem and acted to prevent a dangerous situation from occurring," Gregor said.
The FAA is investigating the military pilot's error.
"This is a very rare event for Honolulu," Gregor said. "Honolulu has very few runway incidents."
It was the second runway incident in Honolulu since the beginning of the fiscal year, which began Oct. 1. There were two incidents in 2005 and three in 2004.
The majority of runway incidents have not been serious, Gregor said. Classification of the latest incident is still pending.
Chan accepts Aloha Stadium post
Interim stadium manager Scott Chan accepted an offer yesterday to become the permanent Aloha Stadium manager after a closed-door meeting of the stadium authority.
The appointment, effective immediately, follows a national search that lasted two years.
The position was offered to Chan, 48, at last month's stadium authority meeting, but he had requested time to think it over.
In a written news release, Chan called the position "a great opportunity."
The position pays $81,463 a year. The salary is set by the Legislature.
Chan has worked at the stadium since 1995 as assistant events manager. He became interim deputy manager under interim stadium manager Kenneth Lum, who resigned last month.
Lum was serving in a temporary capacity since Eddie Hayashi retired from the post in September 2005.
Two searches for a permanent manager were unsuccessful. In March 2006 the authority rejected two finalists, including Chan, in favor of expanding the search.
Passenger-loading bridges funded
Thirteen aging passenger-loading bridges will be replaced at Honolulu Airport's overseas terminals with $6.4 million in federal funding, U.S. Sen. Daniel Inouye announced yesterday.
"The new loading bridges will enhance passenger safety, facilitate the boarding of disabled passengers and better accommodate the increased number of passengers," Inouye said in a statement. "The existing loading bridges are 20 to 30 years old."
The Federal Aviation Administration is responsible for disbursing the money to the state for this project.
Chamber of Commerce grants available for health projects
The Chamber of Commerce of Hawaii is accepting applications for funding health-related projects involving public education and research until June 15.
The chamber's Public Health Fund will give preference to projects for which funds are not available from other sources and those that are of a collaborative effort.
In the past, grants have been awarded for programs encouraging healthy lifestyles; AIDS education; mental health; cholesterol and diabetes screening; assistance for the homeless, hungry and disabled; drug abuse prevention; and research for disease prevention and diagnosis.
For applications, call the chamber at 545-4300 or e-mail phf@cochawaii.org.
Coming this weekend in your Star-Bulletin:
Saturday
Keeping Faith:
Bon dance aficionados are practicing old Japanese folk dances and newer "jazzy" choreography they will perform at bon dances planned for each weekend of the summer. Also, a list of the season's bon dances.
Sunday
Hawaii:
The Neves family of the Big Island have immersed themselves in Hawaiian-immersion education.
Today: For Guido Salmaggi, portraying a mob boss at Spats nightclub decades ago was only one of several unexpected twists in a lengthy career. We catch up with him at age 90.
Business: "Green" used to be for Hawaii's hippies, loners and true believers -- but it is rapidly going mainstream and is changing how Hawaii constructs and uses its workplaces, as well as our homes, schools, stores, medical facilities and civic and cultural institutions.
| | |
| --- | --- |
| | Police, Fire, Courts |
---
Man allegedly hits child over phone bill
Police arrested a 34-year-old Waikiki man who allegedly beat his child over a phone bill.
At about 7 p.m. Wednesday the suspect got upset because of overage charges on his child's cell-phone bill and then assaulted the child, police said.
The juvenile suffered minor injuries and refused treatment at the scene. Police would not release the child's age or gender.
Police arrested the man on suspicion of second- degree assault.
NORTH SHORE
Blaze scorches land near Kahuku Hospital
Firefighters extinguished a 5- to 10-acre brush fire on agricultural land yesterday behind Kahuku Hospital.
The blaze started at about 1:10 p.m. No houses were threatened and no one was evacuated, said Honolulu fire Capt. Frank Johnson.
About 30 firefighters, a helicopter, four engines and four tankers fought the blaze, finishing up at about 7:45 p.m., Johnson said.
WEST OAHU
2 14-year-old boys finger suspect, 17
Police arrested a 17-year-old boy yesterday suspected of bullying two younger boys for money.
Police said that at about 4:45 p.m. Tuesday the suspect approached a 14-year-old boy at Campbell High School and demanded money, threatening violence. The victim said he had no money. Later that day, the suspect allegedly grabbed a second 14-year-old boy and demanded money. He received $10, police said.
The younger boys identified the suspect to police at school.
HONOLULU
Man torches self, dies from burns
A 31-year-old man died yesterday after he apparently poured flammable liquid all over himself and ignited it, police said.
Bystanders extinguished the flames, and the man was taken in extremely critical condition to a hospital in Honolulu where he died from his injuries, police reported.
Tests could reveal what killed pair
Determinations of the cause of death for two men found dead Wednesday in a Liliha apartment have been deferred by the city Medical Examiner's Office pending test results.
The bodies of the men, ages 49 and 59, were discovered at about 8:45 a.m. after a maintenance worker smelled a foul order coming from the apartment in the Makamae state housing project at 21 S. Kuakini St.
Police said no foul play is suspected.