---
FAST FACTS HAWAII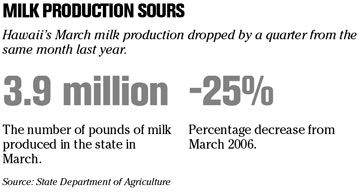 ---
[ HAWAII INC. ]
NEW HIRES / PROMOTIONS
» Pang Communications has hired
Jamie Wan-Lopaz
as senior account executive. She will oversee retail, development and professional services accounts. She worked in public relations for five years in Singapore before moving to Hawaii.
» Heide & Cook has announced the following promotions: Lance Kurata has been promoted to assistant service supervisor from air conditioning service department journeyman. He will be responsible for providing customers with repair proposals and assisting field technicians with technical support. He has served the company for 16 years and has 17 years of experience as an air conditioning service technician. Holly Matsuda has been promoted to air conditioning service department contract administrator from construction operations contract administrator. She will oversee customer contracts and provide customer and accounting services. She has served the company for seven years and has a background in public accounting.
» Hilton Waikoloa Village has named Maurice Test as director of finance. He will be responsible for the hotel's financial activities and serve as financial adviser to upper-level management. He previously served as area controller for Hilton, Promus and Doubletree Hotels and has more than 22 years of experience in the hospitality industry.
» Bright Light Marketing Group has hired Lisa Maruyama as vice president of public affairs. She will be responsible for client services and creating and executing strategic goals for the agency in the areas of government, media and community relations. She previously worked as executive director for the Pacific Affairs Council for 10 years and currently serves on the board of the Hawaii Society of Corporate Planners.
» Hawaiian Eye center has hired Lauren Weatherspoon as administrative assistant at the Wahiawa office. She previously served as pharmacy technician at Kroger Pharmacy in Ohio.
» The Honolulu City & County Employees Federal Credit Union has hired Bryan K. Agbayani as senior branch manager. He will be responsible for business development and managing both the Waikele and Waimalu branches. He previously served as Waipahu branch manager of HawaiiUSA Federal Credit Union and has 12 years of experience in the finance and mortgage industries.
» State Farm Insurance has announced the following new agents: Brandon Bell has been hired for the Ewa Pointe Marketplace location. He previously served as wholesale manager for Tony Group Autoplex for three years. Anita Diniega has been hired for the Kalihi Medical Building location. She has 23 years of financial services experience, previously serving as senior loan officer for American Savings Bank for four years and as a mortgage specialist for First Hawaiian Bank for eight years. Larry Welsch has been hired for the 1575 S. Beretania St. Location. He has 16 years of experience in the temporary help and direct placement employment fields, previously serving as field branch manager for Kelly Services and regional manager for Volt Services Group in Southern California.
---
Last summer worst for flight delays
HERNDON, Va. » Last summer was the worst in history for airline delays, and so far 2007 looks worse, Federal Aviation Administration officials said yesterday. But government officials and airline executives said they hoped weather delays could be minimized by software innovations.
For all of 2006, there were almost half a million delays of 15 minutes or more for airplanes flying under the jurisdiction of air traffic controllers, said Marion Blakey, the agency's administrator.
For the first four months of 2007, there were 142,000 delays, up from 126,000 in the same period last year, she said.
To cope, the FAA is trying a piece of software that will identify small areas of bad weather, usually thunderstorms, and then search the flight plans of thousands of planes to see which ones intended to go through those spots.
Target profit beats expectations
MINNEAPOLIS » The first quarter was a tough one for many retailers, so
Target
's 18 percent profit growth took investors by surprise yesterday.
Despite worries about rising gas prices and a cool, wet April keeping some shoppers away, Target managed what Wal-Mart Stores Inc. and jeweler Zale Corp. could not. It beat Wall Street expectations and predicted full-year results would be in line with analyst expectations, although it warned that growth would not be as fast during the rest of the year.
But for the moment, at least, it appears that Target's higher-income customers are still spending in a way that other retailers are not seeing.
Target shares rose 56 cents to $58.60 yesterday after rising as high as $60.63 earlier in the day. The high for the past year was $64.74 in February.
Insurers settle ground zero claims
NEW YORK » The administration of Gov. Eliot Spitzer announced the settlement of all insurance claims at ground zero yesterday, ensuring that $4.55 billion will be available for rebuilding the World Trade Center site.
The agreement, which the insurers described as the largest single insurance settlement ever undertaken by the industry, brought to an end a protracted and often bitter legal battle with insurers over payouts related to the terrorist attack.
New York state and Port Authority officials said yesterday that the deal removed any uncertainty over how much money would be available for rebuilding and would enable them to obtain private financing for the $9 billion project.
---
BUSINESS PULSE