| | |
| --- | --- |
| | What the Heck? |
---
Students' posters to get mayoral treatment
Fresh Paint:
Because Wilson Elementary School got a new coat of paint, the 22 second-graders in Joan Lai's class get to have punch and cookies with the mayor next Thursday.
Every Earth Day, Lai's students make posters about saving the environment. In previous years, she taped them up around school. But this year the word came down: No posters on the newly painted walls.
Lai e-mailed the governor, the mayor, the Board of Water Supply and NOAA, asking if they'd like some posters. No response. "I was stuck. I promised the kids," says Lai. "I was going to find somebody, anybody who'd take them, even if they never really put them up."
Then, belatedly, the Mayor's Office called, offering not only to take the posters, but also to mount a full-scale exhibit at Honolulu Hale, complete with reception. "I was floored," says Lai. "All week I've had the kids practicing shaking hands and speaking intelligently to the mayor."
Engineering Flavor:
If you are going to have a cup of coffee with anyone in Hawaii, let me suggest Trent Bateman.
Bateman owns Mountain Thunder, an organic coffee farm straight up the mountain from Kailua-Kona Airport. At 2,000 feet, Bateman has the largest and highest coffee farm in Kona, where he lives with his family, several donkeys, geese, peacocks and a pet pig.
A retired engineer, Bateman can apparently do anything. He put up all the buildings at Mountain Thunder himself and personally assembled his coffee sorting, roasting and grinding machines.
Bateman's latest: He's invented a device to make a high-quality Kona coffee extract. That allowed Meadow Gold, which used to use a freeze-dried 10 percent Kona blend in its ice cream, to do a real Kona coffee flavor with Bateman's authentic 100 percent Kona extract.
That's not all. Bateman is planning to use his extract in a range of products, including a Kona coffee Kahlua. "That one's going to be even more fun than ice cream," he says.
Lame Duck: Former news anchor Dan Cooke moves to California next week. That's good news for Cooke, who'll become sales and marketing director for a hotel/condo development in Palos Verdes.
However, it's bad news for connoisseurs of Cooke's performances as Gov. Linda Lingle at the annual Gridiron Show.
Called the governor immediately. She, of course, wished Dan well in his new venture. Said she, "It would be nice if he left his wardrobe behind, especially the earrings."
Killed in Preseason: Last week while researching the Larry Price/Gary Hooser flap, I noticed that the official Perry & Price Web site credits Price as "a former L.A. Ram."
According to Rams public relations director Rick Smith, Price did not appear on any of the Rams regular-season rosters. "I don't know whether he suited for a preseason game," says Smith. "We don't have the old preseason play-by-plays."
Talked to Larry, who said, yes, he was in Rams training camp as a free agent and played only in preseason, falling victim to the last cut.
"Coach George Allen was a friend and gave me a shot," says Price, who played offensive guard. "Essentially, he got me killed in a couple of preseason games."
Career Change: Augie Tulba's ambitious comedy show at the Blaisdell Arena on Friday is called "The Main Event." Here's why. The last time Tulba was the arena was as a boxer.
He'd already won six fights. But in his seventh bout, he was knocked down in the fourth round. He fought back to a draw, but, disgusted with himself, quit boxing and became a comedian. This time he's hoping to deliver a knockout performance.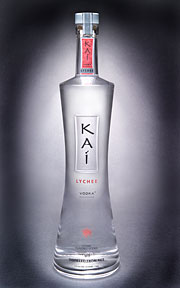 COURTESY PHOTO


Kai is a rice-made vodka.
Rice is Nice:
Had a martini Wednesday night with serial entrepreneur Marcus Bender. Not just any martini. Out of his briefcase he pulled a bottle of Kai, his foray into the increasingly crowded ultrapremium vodka market.
Kai -- Bender checked to make sure the word has positive connotations in most Asian languages -- is distinct among vodkas. It's made from rice -- Yellow Blossom rice grown in the Red River delta in North Vietnam, first batch-distilled by the rice farmers themselves, then redistilled in Hanoi.
"It's a real vodka, not a sake," says Bender.
It's smoother and slightly sweeter than even the French grain vodka Grey Goose. (I checked.) But Bender's big winner may be the lychee vodka he's also introducing. It's a lychee martini in a bottle.
Bender has national muscle behind the product launch, but the test market is Hawaii, starting next month. "Because I live here, that's why," says Bender.
CBS Gets Lucky: When CBS producer Jack Renaud called kumu hula Karl Veto Baker and Michael Casupang, he could tell they were a little dubious. CBS wanted to have a film crew shadow their Halau I Ka Wekiu during last month's Merrie Monarch.
"We could tell even when we got there that they weren't sure mainland TV news was going to take what they were doing seriously, understand its cultural importance," says Renaud.
But finally the two kumu let CBS follow the halau even to the volcano for a tribute to Pele. "Then we got really lucky," says Renaud. The halau took overall honors at the festival, one of the few all-male halau ever to do so.
The result? A segment on the CBS Early Show, scheduled for Tuesday morning. "It's going to run about five minutes," says Renaud. "Which, if you know anything about TV news, is a huge chunk of time."