| | |
| --- | --- |
| | Newswatch |
---
SCENIC ROUTE: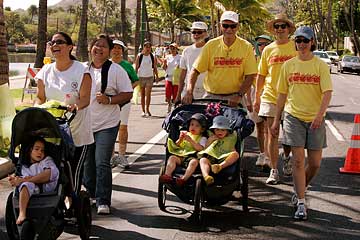 Project Graduation funds offered
The Honolulu Police Department is offering to help with any Oahu high school Project Graduation programs.
The department will help defray transportation costs of up to $1,000 to help any high school or tax-exempt organization planning an alcohol- or drug-free graduation.
Interested organizations must submit their requests on official printed letterhead.
The letter must specify the amount requested, a price quote from the vendor providing the services, and a copy of the organization's Internal Revenue Service tax-exemption identification number.
The letter should also provide a contact person, phone number, fax number and e-mail address.
The deadline is May 31.
Send requests to Finance Division Fiscal Officer, Honolulu Police Department, 801 S. Beretania St., Honolulu 96813.
For more information go to www.honolulupd.org
20 students earn trip to Vietnam
Twenty students from public and charter high schools have won scholarships to tour Vietnam next month.
Under the Pacific Asian Affairs Council's 2007 scholarship, the students will leave Hawaii on June 18 for a two-week trip to Hanoi, Sapa, Hue, Hoi An and Ho Chi Minh City.
The students, from Oahu, Molokai, Lanai and the Big Island, will visit the French Old Quarter in Hanoi, watch a water puppet theater performance, experience local life through home stays in Sapa and the Mekong Delta, and spend a night on a junk in Halong Bay.
Scholarship winners were selected based on interest in Vietnam and international affairs, financial need and academic achievement.
Leadership project seeks teenage girls
The Malama Project is looking for girls in grades 9 through 11 to take part in a leadership development program related to science, technology, engineering and math.
Applications are being accepted until May 31.
The "E Malama Kakou" (Malama Project) is being sponsored by the Girl Scouts of Hawaii, Girl Scouts of the USA and Lockheed Martin.
The girls will interact with leading scientists and professionals to address the challenges of sustainability in Hawaii's future.
For more information or to apply, visit www.girlscouts-hawaii.org.
| | |
| --- | --- |
| | Police, Fire, Courts |
---
Man dies after car goes off cliff
Maui police said a man died yesterday after a 2006 Ford Mustang convertible he was driving plunged 140 feet off a cliff into the ocean near Honolua on West Maui.
Shortly after noon, a passerby called police reporting that a convertible was in the water. Rescue crews found the car in the water and the victim on land, said Mahina Martin, Maui County spokeswoman.
Police identified the victim as Kevin P. Curran, 42, of Ozark, Mo.
Police are still investigating but believe the man was the only occupant of the car. Martin said as of 8:30 p.m. the car was still in the water.
---
WINDWARD OAHU
Smoky brush fire is extinguished
Firefighters extinguished a small brush fire in Waimanalo yesterday afternoon that sent smoke across Kailua and the Enchanted Lake area.
Firefighters received a call at 2:38 p.m. that there was a brush fire at 41-809 Kakaina St. The brush fire was small, about half an acre, and was under control by 3:13 p.m.
"The fire caused more concern than necessary," said Capt. Frank Johnson. "Residents could see a lot of smoke blowing across the highway."
Neighbors' tips lead to arrests
After numerous complaints by neighbors of suspected drug activity, police arrested a 26-year-old Punaluu man on suspicion of drug promotion and other drug offenses and auto theft Friday morning. Undercover officers conducted an investigation on possible drug activity, and purchased crystal methamphetamine from the man at his home at 53-216 Kamehameha Highway, police said.
Police arrested the man and a 25-year-old woman.
They recovered 10 glass ice pipes, seven of which had residue, a plastic bag with ice residue and a bag of marijuana.
Police also confiscated plasma TVs, a video game system, surveillance and digital cameras and a 1996 Honda Accord.
The man was arrested on suspicion of third-degree promotion of dangerous drugs, possession of drug paraphernalia, third-degree promotion of detrimental drugs, forfeiture and auto theft.
The woman was arrested on suspicion of forgery.
LEEWARD OAHU
Passenger in truck crash dies
The passenger in a Ford Ranger pickup truck that overturned at Campbell Industrial Park died Friday night at the Queen's Medical Center.
Police were still trying to confirm the victim's identity and age last night.
The truck was reportedly headed north and speeding on Kalaeloa Boulevard at about 10:20 a.m. Friday when it struck a raised center median at the intersection with Lauwiliwili Street. It veered sharply to the right off the roadway, police said.
The truck overturned when it crossed the shoulder of the road and hit a fence, where it came to rest, police said.
The passenger was taken in critical condition to Hawaii Medical Center-West, then transferred to the Queen's Medical Center, police said.
The 25-year-old Kapolei man who was driving the truck was unharmed, police said. He was wearing a seat belt, but police did not know whether the passenger was wearing a seat belt.
WAIKIKI
Man arrested after roommates argue
Police arrested a 44-year-old Waikiki man after he had allegedly threatened his roommate with a kitchen knife early yesterday morning.
At about 5:15 a.m., police said the man had locked his 39-year-old male roommate out of their apartment on Cleghorn Street because he had been drinking. His roommate got into the apartment and the man allegedly threatened to kill him with a kitchen knife.
He was arrested for first-degree terroristic threatening.
Drivers fight over parking place
Police arrested a man in his 40s who allegedly punched a man over a parking stall in Waikiki on Friday afternoon.
The suspect got out of his car, grabbed another man through his window and hit him three times after an argument over a parking stall on Uluniu Street, police said.
Police arrested the man at 3 p.m. yesterday on suspicion of unauthorized entry of a motor vehicle.
CENTRAL OAHU
Robber allegedly takes cigarettes
Police arrested a 30-year-old man who was armed with a knife and allegedly robbed a Mililani store of two packs of cigarettes early yesterday.
The man allegedly ran with a knife in his hand, pointing it toward a 50-year-old woman who was outside the store cleaning windows, police said.
The man demanded she go into the store, and she complied, police said. He went behind the counter, allegedly grabbed two packs of cigarettes and ran out, police said.
The woman activated an alarm, and officers nearby stopped the man, who was positively identified, police said. Police arrested him on suspicion of kidnapping and first-degree robbery. He was released pending investigation.