---
FAST FACTS HAWAII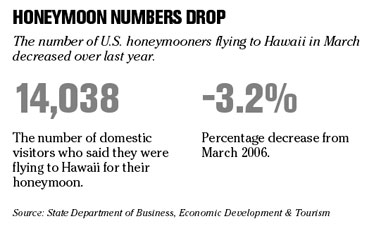 ---
NATION
Clear Channel board takes offer
SAN ANTONIO » The board of
Clear Channel Communications Inc.
yesterday accepted an offer from private equity buyers with a slightly higher price and a rare opportunity for shareholders to continue owning a stake in the radio and billboard company even after it goes private.
The board and the buyer's group led by Thomas H. Lee Partners LP and Bain Capital Partners LLC have faced stiff resistance from several large shareholders who didn't think earlier offers were enough.
The new offer of $39.20 per share, or about $19.45 billion, was initially rejected by the board two weeks ago. The board approved the deal once the private equity partners agreed to allow shareholders to own shares in the new company with the same benefits as the equity firms.
The buyer's group is also assuming $8 billion in debt.
In Hawaii, Clear Channel owns top-rated KSSK-FM 92.3/AM 590 as well as KIKI-FM 93.9, KDNN-FM 98.5, KUCD-FM 101.9, KHVH-AM 830 and KHBZ-AM 990.
Alcatel-Lucent reviews security
TRENTON, N.J. »
Alcatel-Lucent
said yesterday it is reviewing security procedures and has halted use of couriers for sending personnel information after a computer disk with financial and other data on employees and retirees went missing.
The disk was either lost or stolen sometime between April 5 and May 3. It holds names, addresses, Social Security numbers, birth dates and salary data for thousands of employees, retirees and dependents on the company's U.S. payroll, said Peter Benedict, a spokesman at the company's North American headquarters in Murray Hill, N.J. Credit card numbers and bank account information were not on the disk.
According to Benedict, Hewitt Associates, a consultant to Alcatel-Lucent on health care benefits, created a disk with the information and shipped the disk via UPS to another outside vendor, Aon Corp. He said it was going from a Hewitt office in Bridgewater to an Aon office in Somerset. Aon does employee benefits consulting for Alcatel-Lucent.
Aon spokesman Al Orendorff said yesterday that the circumstances of how and when the CD-ROM disk vanished are unknown.
WORLD
Pests threaten Philippine coconuts
MANILA » The Philippines' coconut plantations are facing a pest infestation that's threatening to wipe out output in the world's biggest exporter of coconut oil in three years, an industry executive said.
"Today, it's just 70,000 hectares, but if we can't stop it from spreading, it could wipe out our entire coconut output in three years," Danilo Coronacion, president of the CIIF Oil Mills Group, told reporters in Manila last night.
The government is acting to curb the infestation, providing insecticides and inoculants to kill the coconut leaf beetle, Agriculture Secretary Arthur Yap said.
Prices may jump to $900 a metric ton in the next few months, from $763.68 a metric ton in April, Coronacion said. Coconut oil prices surged 46 percent in April from a year earlier, according to the Philippine Coconut Authority.
The Southeast Asian nation accounts for about 60 percent of global coconut-oil exports, according to the U.S. Department of Agriculture. The commodity is used for cooking, making raw materials used to produce soap and mixed with regular diesel for an alternative fuel.
Canada dollar up to 30-year high
TORONTO » Canada's dollar climbed to the highest level in almost 30 years on speculation the
Bank of Canada
will raise borrowing costs in 2007 as the economy benefits from price increases in the nation's commodity exports.
The Canadian dollar had its biggest one-day gain in almost two months and has outperformed 15 of 16 most-active currencies this year as the economy rebounded from a slump in 2006. Producers of gold, copper and natural gas have been the target of foreign acquisitions this year. Interest-rate futures contracts suggest a central bank rate increase before the end of the year.
HAWAII INC
New Hires / Promotions
» The Gas Co. has hired
Don Kuriki
as financial analyst. He will be responsible for financial reporting, budgeting, consolidations and research. He will also participate in preparing U.S. Securities and Exchange Commission filings, cash forecasting and monitoring internal control compliance. He previously served as senior tax specialist at Hawaiian Telcom and assistant tax manager at Alexander & Baldwin for five years.
» TeamPraxis has announced the following new hires: Robi Peterman has been hired as electronic health record specialist. He will be responsible for support, management and technical aspects of the EHR application and hardware upgrades. He has more than 15 years of experience in the Hawaii life insurance industry. Catherine Nelson has been hired as clinical process transformation advocate. She will be responsible for developing new quality programs and assisting physicians with use of the EHR system. She previously served as training manager for American Healthways.
» Summa Hawaii has promoted Ari Mesa to vice president of sales and marketing from sales manager. He will be responsible for establishing and promoting the company's energy management merchandise. He has more than 13 years of sales experience. Summa Hawaii provides procurement, project management and consulting services for hotels and resorts.
» Bennett Group Strategic Communications has announced the following new account executives: Jill Bona will oversee clients in the banking, financial and real estate development industries. She previously served as a morning show producer for KHNL News 8. Tracy Flores will oversee high-profile clients including Outrigger Enterprises Group and Kapalua Resort. She previously served McNeil Wilson Communications Inc. on the Hawaii Visitors and Convention Bureau account.
» Hawaiian Eye Center has announced the following new hires: Tara Hopewell has been hired as director of nursing services. She previously served as national operations manager for Kremer Laser Eye Center in Pennsylvania. Jolene Alaipalelei has been hired as patient services representative. She previously served Blockbuster Video in Wahiawa.
» Four Seasons Resort Hualalai has named Mitch Sipiala as director of human resources. He will oversee performance standards and training, recruitment, benefits administration and serve on the resort's planning committee. He previously served as director of human resources at the company's corporate office in Toronto and has 25 years of experience in the hospitality industry, including 18 years of experience in human resources.
» The Honolulu Minority Business Enterprise Center has hired Dana Hauanio as director. She will assist in the development and expansion of Honolulu's minority business community by increasing access to capital and markets through technical and business assistance. She previously served as manager and senior loan officer at the Office of Hawaiian Affairs.
» Manpower of Honolulu has promoted Jessica McClaskey to senior staffing specialist. She joined the company in 2006.
» Roberts Hawaii has announced the following new hires: Stephen Lopaz has been hired as data marketing analyst. He will be responsible for the company's market intelligence and database management. He previously served as sales tracking supervisor for Hilo Hattie. Jason Kaneshiro has been hired as senior systems engineer. He will be responsible for data center administration and help desk support. He previously served as a senior IT data center operations engineer for Hawaiian Telcom.
» Castle & Cooke has hired Ryan Nakata as civil engineer in site construction. He previously worked in the City & County of Honolulu Department of Design & Construction and as project manager for the Honolulu Board of Water Supply.
» The Honolulu Board of Realtors has named Nelson Higa as director of strategic development. He will oversee the organization's public policy, government affairs and special projects. He previously served YMCA for 25 years, most recently as district vice president.
» Cades Schutte LLP has announced the following new hires: Christopher T. Harrison has become a partner in the finance and real estate department. His practice focuses on both cross-border and domestic Hawaii real estate matters, including sales and acquisitions, commercial leasing, construction and financing. Ernest H. Nomura has become a partner in the litigation department. His practice focuses on labor and employment law, employment and employee benefits litigation. Keith Y. Yamada has become a partner in the litigation department. His practice focuses on commercial law, suretyship, civil and construction litigation.
» Hilton Hawaiian Beach Resort & Spa has named Kevin Toltzmann as assistant director of property operations. He will assist director of property operations John Clarke in overseeing the day-to-day maintenance and mechanical operations. He returns to Hilton Hawaiian Village after serving as assistant director of engineering for the Four Seasons Hotel in Beverly Hills.
» Mobi PCS has announced the following new hires: Maurice Hatada has been hired as controller. He will be responsible for all accounting functions, including purchasing, taxes, inventory, analysis and reporting. He previously served as chief financial officer for The Islander Group and as finance manager for T-Mobile. Michael "Chip" Cathey has been hired as director of financial planning and analysis. He will be responsible for forecasting and financial reporting. He previously served as senior project manager for Agility Solutions and has also served positions at Qwest Communications, SignalSoft Corp. and GTE Honolulu.
» Prime Care Services Hawaii has named Jim Stremick as director. He will oversee clinical operations and quality initiatives.
Board Elections
» The Agricultural Leadership Foundation of Hawaii has announced its board of directors and officers for 2007: Officers are
Corky Bryan
, president;
John McHugh
, vice president;
Kapu Smith
, secretary;
Matt Smith
and
Stephanie Whalen
, treasurers. Board members are
Jo-Anna Nakata
,
Eleanore Chong
,
Alan Gottlieb
,
Andrew Hashimoto
,
David Kaapu
,
Diane Ley
,
Melvin Matsuda
,
Loren Mochida
,
Tim O'Connell
,
Dean Okimoto
,
Dr. Bob Osgood
,
Monty Richards
and
Carleton Williams
.
---
BUSINESS PULSE