Weekends are time to party at Aaron's at Ala Moana
IT'S BEEN a while since I've heard about a party at
Aaron's
atop the Ala Moana Hotel. The last time I remember writing about an event there was in 2003, so I'm excited to report that promoter
Peter Maharaj
has teamed with
Aaron Placourakis
to present "Taste" at the restaurant.
"We have many exciting things planned and I'm anxious to finally launch," said Maharaj. "I've known Aaron for a very long time, and we've put together a very enthusiastic team."
The team includes Roni Yurong and DJ Ryan Sean, two names familiar to those who have frequented Artist Groove Network parties in the past. Maharaj also plans to feature live jazz music and a cabaret show.
Experience "Taste" from 5 p.m. to 4 a.m. Fridays and Saturdays, with full dinner service until 11 p.m. and lounge pupus available until 3 a.m. Get there for happy hour between 5 and 8 p.m. for half-price drink and pupu specials ...
LOCAL RADIO station KCCN FM-100 is looking to give one talented band an opportunity to perform at their annual "Birthday Bash" concert.
The first-ever "Battle to the Bash" competition kicks off in June at Dave and Buster's, and the station is accepting submissions from bands that want to play in front of thousands at the Waikiki Shell. Demo tracks and/or music videos, along with a picture, will be accepted until May 24.
Visit www.kccnfm100.com for rules and station mailing address, or call 296-1003 for more info ...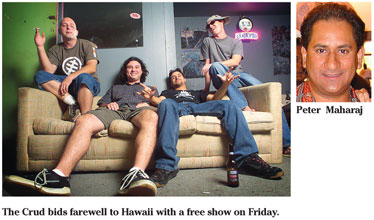 BON VOYAGE to local rockers The Crud, who recently decided to relocate to the mainland.
Faithful readers of this column will recognize the ties between the band and this newspaper; Crud members Ben Henry and Jamm Aquino are part of the Star-Bulletin ohana. While Henry and the rest of the band will regroup with a new name in Seattle, Aquino has decided to stay here (and has already joined another band, Lovechile, with fellow Star-Bulletin photographer and former Crud member Rich Walker).
The Crud will headline at Anna Bannana's on Friday, with Busekrus, Linus and Pimpbot opening the free, 21-and-over show at 9 p.m. ...
FLIERS ARE showing up for the ninth annual "Love Festival," July 21 at Hawaiian Waters Adventure Park. Special $25 pre-sale tickets are available now at www.groovetickets.com, with $60 VIP tickets also available ... Pollstar.com reports Omarion will perform here in June, with Expose to follow in July and Flock of Seagulls (with Dramarama, Gene Loves Jezebel and When in Rome) coming in September ... The "Some Call it House ... We Call it Home Tour 2007" arrives at Lotus on Saturday with vocalist Kenny Bobien and Chicago-based DJs FLX, Monna and Julius the Mad Thinker. Priti Gandhi will also make the trip in order to host this party ...
THE TENTH ANNUAL "B-Boy Reunion" goes down Saturday, with eight hours of dancing from 12 to 8 p.m. at the UH-Manoa Campus Center.
Omega Cix will host the all-ages event that also features DJs Kavet the Catalyst, D-Kre and Jedi. California's Native Guns and Culture Shock LA will perform along with local acts Audible Lab Rats, AIGA Productions, Hunger Pains and the All-Star Boogaloo Squad ...