---
FAST FACTS HAWAII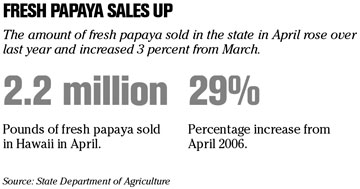 ---
Unite Here union re-elects board
The leadership team of Unite Here Local 5 has re-elected the members of its 15-member executive board, who were running with no opposition.
The results were certified earlier this month, extending the term for the current leadership to July 2010.
Eric Gill will continue to serve as financial secretary-treasurer, Hernando Tan as president, and Godfrey Maeshiro as senior vice-president. Gill, Tan, and Maeshiro will retain their offices for another three years.
Members of the executive board-at-large who will remain include Gloria Bautista, Michael McGurn and Loreta Tactay.
"I'm very pleased with the fact that no one has come forward to oppose the direction the union is taking," said Gill.
---
Slogan rights stay in Vegas
LAS VEGAS » The Las Vegas visitors authority won a ruling in U.S. District Court yesterday protecting its trademark slogan "What Happens Here Stays Here."
Judge Larry Hicks denied a request to stay his ruling from last month, when he ordered the cancellation of a trademark registration by Dorothy Tovar and Adrenaline Sports Inc. of the slogan "What Happens in Vegas Stays in Vegas."
Hicks ruled in August that Tovar's slogan infringed on the trademark of the Las Vegas Convention and Visitors Authority. Last month, he ordered her and the company to pay $114,487 in damages and legal costs and pull merchandise bearing the motto from shelves.
Tovar's lawyer, Barry Breslow, said his client planned to appeal to the 9th U.S. Circuit Court of Appeals.
iPhone gets FCC approval
SAN FRANCISCO »
Apple Inc.
received the required approval yesterday from the Federal Communications Commission for its upcoming iPhone, the company said.
The regulatory green light, a standard certification process that any cellular phone must receive before hitting the U.S. market, means the launch of the iPhone can now proceed as planned, Apple spokeswoman Natalie Kerris said.
"We're on track to release it in late June," agreed Mark Siegel, a spokesman for AT&T Inc.'s Cingular, the cellular carrier with an exclusive contract to distribute the highly anticipated product. "Nothing has changed."
The FCC approval comes a day after a false rumor of a product delay briefly frightened investors, plunging Apple shares by more than 4 percent in a matter of minutes. The rumor was quickly squashed, and the stock largely recovered by the end of the day.
Qantas exec out over failed bid
SYDNEY »
Qantas Airways Ltd.
Chairman Margaret Jackson, who supported a buyout that was rejected by investors and criticized by workers and lawmakers, will step down from the board of Australia's biggest airline.
Jackson, 54, told directors yesterday she won't seek re-election at the airline's annual meeting in October, said Simon Rushton, a spokesman for Qantas. The buyout, led by Macquarie Bank Ltd. and TPG Inc., collapsed two weeks ago when investors rejected the offer as too low.
The bidders yesterday said they won't attempt another takeover.
---
BUSINESS PULSE