| | |
| --- | --- |
| | Newswatch |
---
CONGRATULATIONS CLASS OF 2007!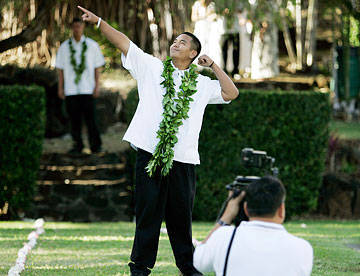 ---
Hanauma Bay reopens
Hanauma Bay was reopened to the public yesterday after an influx of box jellyfish forced its closure for one day.
The popular tourist attraction was closed at 7:35 a.m. Friday and reopened at 6 a.m. yesterday after no box jellyfish were found during an early-morning assessment by city lifeguards and officials.
Bryan Cheplic, Honolulu Emergency Services Department spokesman, said the main influx of box jellyfish peaked Friday but "dropped off considerably" yesterday.
More than 20 box jellyfish were found Friday on the beach at Hanauma Bay and more were seen floating offshore.
More than 700 box jellyfish were also found Friday morning on Waikiki Beach, with more than 40 stings treated by lifeguards during the day, Cheplic reported.
One jellyfish was found yesterday morning in Waikiki.
Events to mark HPD anniversary
The Honolulu Police Department is getting ready to celebrate its 75th anniversary with events planned throughout this week.
After a proclamation-signing tomorrow morning by Mayor Mufi Hannemann, the department will gather at 6 p.m. at Holy Family Catholic Church to remember officers who died in the line of duty.
The department will announce its officer of the year on Wednesday. On Thursday, the Honolulu Police Community Foundation will induct three people into the Honolulu police hall of fame at a banquet at the Sheraton Waikiki.
Tech center at UH progresses
A design consultant is expected to be selected by the end of this month after Gov. Linda Lingle released $1 million for a new information technology center at the University of Hawaii at Manoa campus.
The new technology center will serve all 10 UH campuses.
All UH servers and data communications now are located in the basement of Keller Hall, which could be susceptible to flooding, the governor's office said in a news release.
The proposed new center will house central computing, data, voice and video resources and also will serve as the university's Emergency Operations Center.
The new center will also include a computer laboratory and classrooms equipped with technology to support distance learning.
The total estimated project cost is $61.25 million, most of which must still be appropriated by the Legislature.
Free tests for hepatitis to be offered during May
The Hepatitis Support Network of Hawaii and infectious-disease specialist Alan Tice and his team are scheduling free or low-cost hepatitis B and C tests in recognition of May as Hepatitis Awareness Month.
They will be in room 400 at 550 S. Beretania St., 10 a.m. to 2 p.m. tomorrow and again May 21 and May 29.
They will also be at Ward Warehouse in front of the Native Books store from 1 to 3 p.m. May 27 to mark National Hepatitis Awareness Month and the 63rd birthday of NovaLei Gonzales, the network's special projects director.
According to the network's Ken Akinaka, tests for hepatitis C should be taken by those who:
» had a blood transfusion in the United States before July 1992;
» have smoked, snorted or shared injection drugs even once;
» had a tattoo or body part pierced in the street or in prison;
» shared razors, toothbrushes, finger or toe nail clippers with a hepatitis-infected person.
Those born in an Asian or Pacific Island country also need to get tested for hepatitis B, Akinaka said.
Call the testing program at 221-6204 for appointments for testing outside of the dates listed. For more information, call the Hepatitis Support Network of Hawaii, 373-3488.
| | |
| --- | --- |
| | Police, Fire, Courts |
---
Woman escapes apartment fire
A 59-year-old woman escaped unharmed from a fire at an eight-story apartment building that left her without a home last night.
The American Red Cross helped the woman find a place to stay, said Honolulu Fire Capt. Terry Seelig.
Fire investigators estimated the damage to 1122 Elm St., unit 406, at $15,000 to the structure and $5,000 to the contents. Investigators believe the cause of the fire to be a stove that was accidentally turned on, igniting cabinets above the stove, Seelig said.
The kitchen of the one-bedroom apartment was destroyed, but no other units were damaged.
The woman, who lives alone, smelled smoke and saw flames coming from the kitchen. She escaped and called the fire department, Seelig said.
Other residents of the building used a fire hose on the floor to fight the fire through the kitchen window until firefighters arrived.
Firefighters received the call at 7:04 p.m. and arrived four minutes later. About 35 firefighters and eight apparatus had the fire under control within 10 minutes. The fire was reported extinguished at 7:21 p.m.
---
NEIGHBOR ISLANDS
Man is sought regarding shooting
Big Island police are asking for help in finding a 23-year-old man considered armed and dangerous.
Police want to question Jarrett Mcattee in connection with a shooting incident on May 1 on the Hamakua Coast.
At about 9 that night, South Hilo patrol officers responded to the shooting in Hakalau near the shoreline by the mill. A parked vehicle was shot multiple times, but there were no injuries.
Mcatee is about 5 feet 6 inches tall, with black hair and brown eyes. He is known to frequent the Hilo and Honomu areas. Anyone with information is asked to call Big Island police at 935-3311 and is strongly cautioned against approaching him.
Kailua-Kona crash victim identified
Big Island police have identified a 28-year-old Kailua-Kona man who died in a Thursday morning motorcycle crash.
About 3:30 a.m., Kenneth A. Hayes was riding his 2007 Harley-Davidson motorcycle north on Kapuna Street when he hit a curb and was thrown from the bike, police said.
Police believe speed, alcohol and drugs were factors in the crash. This is the 13th traffic fatality on the Big Island this year.
Foul play ruled out in death of man
An autopsy has determined that a 48-year-old man whose Hummer sport utility vehicle plunged off a cliff into the ocean died from his injuries, Big Island police said.
Terrance Manion died from multiple traumatic internal injuries consistent with a vehicle crash and there is no evidence of foul play, police said.
Manion was found in the vehicle Wednesday in Hawaiian Paradise Park, just south of the intersection of Paradise Drive and Beach Road.
Police believe the driver-side door of the Hummer was knocked off in the crash and may have been swept out to sea. They ask anyone who spots the car door, anyone who witnessed the car go over the cliff, or anyone who saw Manion between midnight and the time of the crash to call the Police Department's nonemergency number at 935-3311.
HONOLULU
Alleged DVD theft brings 2 arrests
Police arrested two people Friday night after they were caught allegedly taking DVDs from an Aiea store.
A 41-year-old woman and 27-year-old man were seen taking DVDs from a shelf at a retail store on Kamehameha Highway in Aiea. They allegedly left the store without payment, and were arrested on suspicion of second-degree theft.