MUSIC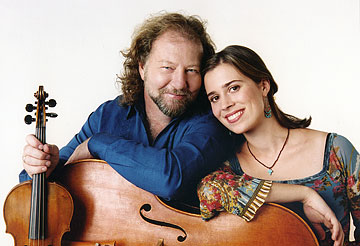 Alasdair Fraser and Natalie Haas
Rosin up your bow, fiddlers
The Los Angeles Times, that bastion of reserved praise, gushed all over Scots fiddler Alasdair Fraser: "The expressive gamut from deep Celtic melancholy to joyful jig, his fiddle imitations of the bagpipe almost unbelievable, the whole rendered with a humble sincerity, flawless virtuosity and the sweetest sound ..." The San Francisco Examiner simply proclaimed him "the Michael Jordan of Scottish fiddling!"
And if that weren't enough, Fraser -- plus cellist protégé Natalie Haas -- are hosting a series of fiddling workshops this week, courtesy of Iolani School and the Suzuki Association of Hawaii. After two days of private fiddling at the school, there are public workshops for Hawaii fiddlers from 8:30 a.m. to 12:30 p.m. at the University of Hawaii-Manoa Music Department, Rooms 36 and 108. These sessions are $30, open to all skill levels on a first-come, first-served basis. Information and reservations: 398-1925.*
At 7 p.m. Saturday at Seto Hall, Iolani School, Fraser and Haas will perform a free concert, with a rousing opening performance by Hawaii fiddler Lisa Gomes.
Call 398-1925.
CORRECTION
Monday, May 14, 2007
» Scots fiddler Alasdair Fraser and cellist Natalie Haas, who are performing a free concert Sunday night at Iolani School, have a $30 charge for workshops Saturday morning at the University of Hawaii Music Department. A story on Page D1 yesterday incorrectly stated that there was no charge for the workshops. Information and reservations: 398-1925.