| | |
| --- | --- |
| | Newswatch |
---
YOUNG CHOPPER PILOTS: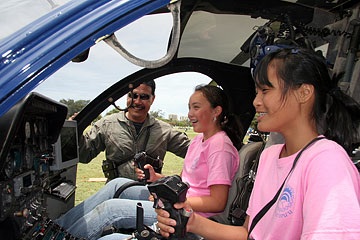 Bush to mark loss of isle officer
The family of Honolulu police officer Steve Favela is traveling to Washington, D.C., to participate in a national memorial service for fallen officers and to meet President Bush.
Favela died Nov. 26 from injuries he suffered in a motorcycle crash during a motorcade for Bush five days earlier. Favela's family will join Honolulu police officials in a wreath-laying ceremony at the National Law Enforcement Officers memorial on Tuesday.
Favela is one of 145 officers who died in 2006.
U.S. Attorney General Alberto Gonzales will deliver the keynote address in a candlelight vigil tomorrow.
Hanauma still on jellyfish alert
City officials will decide whether to reopen Hanauma Bay today, a day after a monthly box jellyfish influx forced closure of the beach.
By the peak of the influx at 3 p.m. yesterday, 46 people had been stung at Waikiki Beach, where officials counted more than 750 jellyfish. On the island's north and west shores, no stings were reported and no box jellyfish found.
Officials closed Hanauma Bay at 7:35 a.m. after 20 jellyfish were counted on shore and several more were seen in the water.
Lifeguard stations are equipped to treat jellyfish stings, and warning signs will be posted where jellyfish are found. Box jellyfish usually invade Oahu beaches several days after a full moon.
Kauai Springs can remain open
KOLOA, Kauai » Kauai Springs, a family-owned water bottling business on the Garden Isle, has been granted a reprieve until a judge makes a decision on the company's future.
The company, owned by Jim and Denny Satterfield and operated by the couple and their children, has been bottling ground water supplied by Grove Farm Co. for years. But the Kauai Planning Commission decided to deny a use permit in January, saying that commercial water bottling is not necessarily a proper use of land zoned for agriculture.
The Satterfields hired Honolulu attorney Robert Thomas to represent them as they appeal the decision to the Kauai Circuit.
This week, Judge Kathleen Watanabe ruled that the county could not make any moves to shut the operation down until she had made a ruling on the appeal.
No date for a decision has been set.
Fund established for 9/11 victim
In memory of Sept. 11, 2001, victim Heather Ho, Peter S. Ho and his wife, Michelle, have established the Heather Malia Ho Scholarship Fund at Rehabilitation Hospital of the Pacific.
The scholarship, established with a $10,000 pledge, will be used to provide continuing education for the REHAB clinical staff.
Heather Ho, a noted pastry chef and Punahou School graduate, died in the terrorist attack on the World Trade Center, where she worked at the Windows on the World restaurant.
Peter Ho, her brother, is treasurer of the REHAB Foundation board of directors. Their father, Stuart Ho, is president and chief executive officer of the hospital.
Sewage bypass work progresses
Workers recently finished boring the second of two tunnels for new sewage lines under the Ala Wai Canal and Kaiolu Street in Waikiki.
The 1,100-foot tunnels run underneath the canal from Ala Wai Community Gardens on the mauka side to the Beach Walk sewage pump station at Kaiolu Street and Kuhio Avenue, according to a news release from the city's contractor, M&E Pacific Inc.
The work is part of the city's $20 million Beachwalk Emergency Bypass project, undertaken in the wake of the March 2006 spill of 48 million gallons of raw sewage into the canal.
The emergency bypass consists of above-ground pipes and pumps along Ala Wai Boulevard and at the bottom of the canal. The portion on the makai side of the canal will be removed in phases later this year, once the new permanent pipes under the canal are in use.
Information about the project is available at www.beachwalkbypass.com or by calling 543-8374.
| | |
| --- | --- |
| | Police, Fire, Courts |
---
Man held in alleged rape of girl, 4
Police charged a 32-year-old man in the alleged rape of a 4-year-old Kalihi girl earlier this week.
Shane Ngirmidol was charged with first-degree and third-degree sexual assault, and second-degree burglary Thursday.
According to court documents, Ngirmidol pulled the girl into a tool shed in her back yard on Monday and sexually assaulted her.
Ngirmidol then gave the girl a dollar bill, jumped over the fence and fled, according to the documents.
Witnesses saw him leave and, based on the descriptions they provided, police found him the next day at Palama and North King streets, according to the documents. The victim identified Ngirmidol as her attacker in a field lineup that same day and police arrested him.
Ngirmidol was expected to make his initial appearance in District Court yesterday morning, and is being held in lieu of $50,000 bail.
---
WINDWARD OAHU
Husband allegedly hits wife's car
Police arrested a 31-year-old man Wednesday after he allegedly hit his wife's car.
At about 12:25 p.m. Wednesday, the 31-year-old wife was sitting in her car, waiting to pick up her children in Kahuku when her estranged husband pulled up beside her, police said.
After a conversation, the husband became upset and allegedly drove his vehicle into the side of the wife's car, pushing it up against the curb.
The husband fled and was later found by police and arrested for investigation of criminal property damage charge.
HONOLULU
Knife threat leads to man's arrest
Police arrested a 42-year-old man after who allegedly threatened another man with a knife last Saturday.
Police said that at 11:50 a.m. a 51-year-old man in Kaimuki reported the suspect ran toward him with a knife up to 10 inches long, yelling that he was going to kill him.
The suspect came within a foot of the victim and had raised the knife to strike when two other men held him back, police said.
The suspect turned himself in at the main police station Thursday, where he was arrested for investigation of terroristic threatening.
Man tracks down burglary suspects
Police arrested two teenage boys suspected of burglarizing a Kaimuki home after the man who lives at the house tracked them down.
The resident saw the teens as he got home at about 10:45 a.m. Thursday and questioned them as they left the area, police said.
The man then discovered his home had been burglarized and items taken, police said. So the resident followed the teens and as they got on the city bus, police said.
Police stopped the bus and the man identified the teenagers.
Police arrested a 15-year-old Honolulu boy and a 14-year-old Mililani boy on suspicion of first-degree burglary.
NEIGHBOR ISLANDS
Police charge two men in home-invasion robbery
Big Island police charged two men in connection with a home invasion robbery last Saturday in the Discovery Harbour subdivision.
The victim reported that a masked man entered his home with a knife and forced him to the floor before taking items from the home on Hekau Street.
John Kalahiki, 21, and Roland Castandea, 26, were charged with first-degree robbery. Kalahiki also faces charges of kidnapping, first-degree terroristic threatening and second-degree theft. Kalahiki's bail has been set at $29,000, while Castandea's bail has been set to $5,000.