---
FAST FACTS HAWAII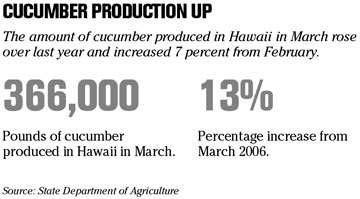 ---
Network trouble hits DSL users
Hawaiian Telcom
's DSL service was knocked out in some parts of Oahu, primarily the metropolitan Honolulu area, yesterday afternoon.
DSL subscribers in Kaimuki, Koko Head and Manoa were reporting intermittent coverage, according to Hawaiian Telcom spokesewoman Ann Nishida, who estimated a customer base of about 1,000 in those areas.
Initially, it was believed that the spotty coverage extended as well to Waikiki, Kakaako, Kalihi, Aina Haina, Punahou, Moanalua and Aiea, as stated in a recording.
But that ended up not being the case, said Nishida.
She attributed the intermittent coverage to network trouble. Service was down at around noon, and running again by 3:30 p.m.
---
Hershey cuts earnings outlook
HARRISBURG, Pa. » Hershey, the nation's largest candy maker, said yesterday it will earn less in 2007 than it had originally forecast, a day after disclosing plans to close its last two plants in Canada and cut jobs from another plant in Pennsylvania.
Hershey Co. blamed a sluggish domestic business and higher dairy costs for lowering its earnings growth estimate for this year to 4 percent to 6 percent, down from the 7 percent to 9 percent range it forecast last month. It maintained its forecast of sales growth in the 3 percent to 4 percent range.
The maker of Reese's, Hershey's Kisses and Ice Breakers gum has pledged to put more muscle into advertising and marketing to invigorate sales after it stumbled in late 2006.
Drugmaker admits it misled public
ROANOKE, Va. » The maker of the powerful painkiller OxyContin and three of its current and former executives pleaded guilty yesterday to misleading the public about the drug's risk of addiction, a federal prosecutor and the company said.
Purdue Pharma LP, its president, top lawyer and former chief medical officer will pay $634.5 million in fines for claiming the drug was less addictive and less subject to abuse than other pain medications, U.S. Attorney John Brownlee said.
The plea agreement settled a national case and came two days after the Stamford, Conn.-based company agreed to pay $19.5 million to 26 states and the District of Columbia to settle complaints that it encouraged physicians to overprescribe OxyContin.
China's April trade surplus doubles
BEIJING » China's monthly trade surplus in April rose to nearly $17 billion, almost double the previous month's figure, the government reported yesterday.
Exports in April rose 26.8 percent, while imports rose 21.3 percent, the General Administration of Customs said on its Web site.
The government reported a monthly trade surplus of just $6.9 billion in March, down sharply from February's gap of $23.7 billion, the second-highest level on record.
Economists had projected a sharp jump in the trade surplus from March to April. They said the February surge was caused by exporters shipping goods early to beat an expected change in taxes, leaving less to ship in March.
---
BUSINESS PULSE