| | |
| --- | --- |
| | Newswatch |
---
Influx of jellyfish is expected
City lifeguards are advising beachgoers to be wary of jellyfish today and tomorrow and will post warning signs if warranted. People who know they are allergic to jellyfish stings are advised to stay out of the water. The area most commonly affected by jellyfish is Waikiki Beach, but jellyfish have been known to affect Ala Moana Beach, Hanauma Bay, Pokai Bay, Makaha Surfing Beach, Waimea Bay and other areas.
Mail theft nets 6-month term
A Big Island U.S. Postal Service employee who admitted to stealing mail because he was passed up for promotion was ordered to serve six months in prison.
U.S. District Judge Michael Seabright imposed the maximum term under applicable sentencing guidelines on Joseph Amormino Jr., 39, of Pahoa on Monday for stealing two pieces of undelivered mail.
Assistant U.S. Attorney Tracy Hino had argued that six months was sufficient punishment for the two counts Amormino had pleaded to and would serve as a deterrent to other postal employees.
Amormino, who delivered mail along a route in Pahoa, admitted to investigators that he had stolen about 640 to 650 pieces of mail, including money, gift cards, DVDs and parcels since December 2002 until he got caught in May 2006, Hino said. He initially had a route with 300 delivery addresses that later increased to 600.
Amormino was caught after a red greeting card containing a $20 bill that postal inspectors had planted in his mail deliveries was recovered from his car, in addition to another piece of undelivered mail that had been opened. Inspectors had planted the bait card after receiving numerous complaints of undelivered mail on his route.
BENEFIT BARGAINS: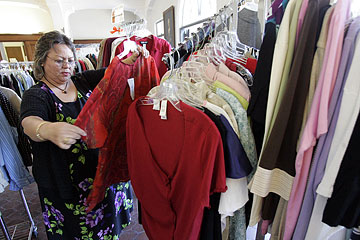 ---
SHINING STARS
---
Kamehameha alumni support schools
Kamehameha Schools alumni
donated $15,000 to 12 Hawaiian-focused charter schools participating in the school's Ho'olako Like program. Sixty alumni classes from 1940 to 2005 gave $1 for every $4 the state provides to the charter schools.
Recipients include Hakipu'u Learning Center, Halau Ku Mana, Halau Lokahi, Ka 'Umeke Ka'eo Hawaii Immersion PCS, Ka Waihona 'o Ka Na'auao, Kanu 'o Ka 'Aina, Kanuikapono, Ke Kula Ni'ihau o Kekaha Learning Center, Ke Kula 'o Nawahiokalani'opu'u Iki Laboratory PCS, Ke Kula 'o Samuel M. Kamakau, Kua O Ka La and Kula Aupuni Niihau a Kahelelani Aloha.
Kamehameha alumni also donated an additional $1,500 to the Kokua Fund, which provides financial assistance to needy students at Kamehameha's Kapalama campus in areas not covered by financial aid. The fund is administered by the Association of Teachers and Parents.
---
Heald College inducted into its Alumni Hall of Fame Terri Escritor, who graduated from the accounting program in 1997, and Johanna Falenofoa, who completed her Specialist Diploma in the Medical Office Administration Program with Highest Honors in 1995.
---
"Shining Stars" runs Monday through Thursday.
| | |
| --- | --- |
| | Police, Fire, Courts |
---
2 passengers die while on cruise
The bodies of two passengers who died while on a cruise from Australia were brought to Honolulu yesterday.
Police said the deaths were unrelated, and no foul play is suspected in either case.
The cruise was on the Sapphire Princess, which departed from Sydney on April 17.
A 76-year-old woman with previous health problems died Sunday. Police said she had gone to the infirmary for medical attention and was to be hospitalized upon her arrival in Honolulu. But she developed shortness of breath and later fell unconscious and died.
A 73-year-old man died Tuesday after losing his balance and falling on the bathroom floor, police said.
Police said efforts to revive him were unsuccessful.
The man, who was on the cruise with his wife, reportedly had fallen a couple of times during the cruise and had been having dizzy spells, police said.
---
HONOLULU
Cashier, shoppers catch shoplifter
Shoppers caught an alleged thief Tuesday at Ala Moana Center.
Police said that at about 12:20 p.m. a 52-year-old cashier saw a man leave a store with unpaid merchandise under his clothing. She confronted the 47-year-old man outside the store, and he pushed her away, police said.
Witnesses chased the man and detained him until security arrived, police said. The cashier had some pain and redness to her upper chest but refused medical treatment. The suspect was arrested on suspicion of second-degree robbery.
WINDWARD OAHU
Car is rammed after couple argues
Police arrested a 31-year-old Hauula man yesterday for allegedly using his van to ram his wife's sport utility vehicle while she was inside.
The 31-year-old Hauula woman and her estranged husband were arguing on a Kahuku street while in their vehicles, and he allegedly then hit her vehicle with his at about 12:20 p.m. yesterday.
Police caught the man later and arrested him on suspicion of first-degree criminal property damage. Police said they also served a restraining order on the man to stay away from his wife.
Man hides, loses gun, gets arrested
Police arrested a 67-year-old Laie man who reported his shotgun missing yesterday.
Police said the man had gone up Plantation Road into the mountains in Laie on Saturday to do some target shooting and left his Mossberg shotgun hidden in some bushes.
The man went in to the Kahuku Police Station yesterday and reported his shotgun stolen, police said.
Police opened a first-degree theft case and also arrested him for investigation of a firearms violation.
NEIGHBOR ISLANDS
Driver found dead in Hummer found over cliff
HILO » Big Island Fire Department rescue personnel removed the body of a man from a 2004 Hummer yesterday after it went over a 20-foot sea cliff south of Hilo and came to rest upside down and partially submerged, authorities said.
The identity of the man was withheld pending notification of his family. Police ordered an autopsy to determine the cause of death, they said.
A Fire Department helicopter and ground crews searched the coastline but found no other victims.
The site was a narrow strip of undeveloped park land facing the ocean in Hawaiian Paradise Park subdivision.
The vehicle was reported found at 12:30 p.m., the Fire Department said. There no indication when it went over the cliff.
Rescue personnel said they saw the man in the vehicle when they arrived, and there was no sign of life at that time.
Two tow trucks were used to remove the vehicle from the water.
Hilo students' art stolen from display
Big Island police are asking for help in finding persons who stole student artwork from a Hilo charter school.
Police said the drawings were put on display for public viewing on the lower level of the Kress Building in Hilo and disappeared sometime Saturday or Sunday.
The artwork consists of a green chalk pastel drawing of a manta ray, a blue chalk and oil pastel drawing of two dolphins, a colored pencil drawing of an underwater scene and a pencil drawing of seashells.
Anyone with information about the case is asked to call police at 936-3311. Anonymous tips may be called in to CrimeStoppers at 961-8300 in Hilo or 329-8181 in Kona.