Say it with flowers
Flowers can be forever when delivered in themed scents, apparel, accessories and jewelry
Since there have been moms, there have been unofficial mother's days when even children remembered to show their appreciation of the woman who labored on their behalf. Mother's Day didn't get its official national cred until 1914, but it wasn't long before FTD began urging dutiful progeny to express their feelings with the slogan "Say it with flowers."
But who says you have to interpret that literally? Like diamonds, flowers can be forever when delivered in themed scents, apparel, accessories and jewelry. The mother of all such blooms is Chanel's iconic camellia, which appears at its boutiques in many forms, including gold charms starting at about $560.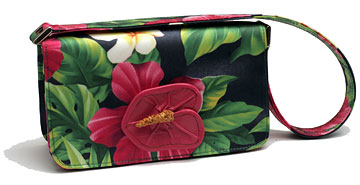 A purse from C. June Shoes.
Cherry trees blossom in April, also lending their essence to May gift offerings. L'Occitane Ala Moana has gift sets of Cherry Blossom Treasures ($84) and Cherry Blossom Vanity ($64). The former includes eau de toilette, shower gel, shimmering body lotion and floating candles. The latter features eau de toilette, body lotion and lip gloss.
At Lupicia, cherry blossom leaves are mixed with green, roasted green and black tea leaves in $10 tins or a $16 sampler trio bearing spring-themed pastel illustrations.
---
Here's a sampling of what's out there:
1. At C. June Shoes, Ward Warehouse, blossoms sprout at your feet in sandals by Spanish designer Ramon Tenza, with purses to match. This ladybug framed handbag is $120. A fabric purse accented with a leather anthurium is $130. Companion sandals are $145.
2. At Calista for Cotton Cargo, silk blossoms go anywhere when pinned to clothing or purses, at $8 to $12 each. Also available are floral-painted straw hats ($35) or hats with sisal flowers ($48 to $69).
3. Mom-and-daughter florals are a Cinnamon Girl tradition, where, in addition to tea-time apparel, you'll find accessories such as barrettes and headbands adorned with roses, for $3.50 to $15. For Mom's casual days, you'll find the roses topping rubber slippers ($17.50). Girls' shoes to match are $17.
4. Bubble Shack Hawaiian Soap Co. (www.bubbleshackhawaii.com) opened its first store in Waikiki's International Marketplace, where soaps ($5 to $6.50) bear heavenly scents of "Sweet Hawaiian Plumeria," "Gardenias by the Sea Shack," and "Ku'u Aku's" blend of tuberose, lilac, honeysuckle and lavender. Body lotions are $9 to $12.50; soy candles, $11 to $26.
5. Floral fragrances abound at Sephora, where Issey Miyake's limited L'eau D'Issey summer scent ($58) blends freesia, peony, violet and lily of the valley.