---
[ STYLE FILE ]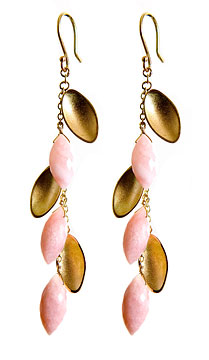 Shaesby pink opal and fiore bud earrings.
Meet Shaesby Scott
Stop by the Designer Jewelry department at Neiman Marcus from 10 a.m. to 6 p.m. tomorrow and Saturday for a look at what's new in jewelry.
Designer Shaesby Scott will be showing his collection, which reflects his background as a sculptor and furniture designer whose primary medium was steel.
While living abroad in Rio de Janeiro, Scott embraced the Brazilian custom of adorning the body with art and discovered a passion for jewelry, a natural progression in his career, permitting him to make his sculptures wearable.
Also at Neiman, Shu Uemura principal artist J.P. McCary and atelier artist and education manager Misumi Kitano will be available in Cosmetics for personal consultations from 11:45 a.m. to 6:30 p.m. tomorrow and 10:30 a.m. to 5:30 p.m. Saturday, to help customize their looks using Shu Uemura's innovative color products.
New obsessions
Split Obsession will host a trunk show on Saturday featuring hand-worked shirts by Reincarnation Hawaii's Allison Izu Nagato and swimwear by Marylea Conrad of Melia Conrad.
The event will take place from noon to 3 p.m. at the Koko Marina Shopping Center boutique that is home to clothing, toys and art. For more information, call 395-3380.
Fit for the Cure
Wacoal will be hosting a Fit for the Cure event during the launch of Wacoal Promise from 11 a.m. to 5 p.m. tomorrow at Macy's Ala Moana.
Women will be able to receive a complimentary bra fitting in a Wacoal, DKNY Underwear or Donna Karan Intimates bra from a Wacoal fit specialist, while helping to support breast cancer research. For every woman who participates, Wacoal will donate $2 to Susan G. Komen for the Cure for breast cancer research and outreach programs. Wacoal also will donate an additional $2 for every Wacoal, DKNY Underwear or Donna Karan Intimates bra purchased at the event.
Research shows that eight out of 10 women are wearing the wrong-size bra. Women should be professionally fitted for a bra once a year to ensure their bra size has not changed as a result of fluctuations in their body.
Also, sign up for a monthly breast self-exam reminder while you're there. A monthly self-examination helps women detect breast abnormalities at an early stage and is part of the "Wacoal Promise" to help women stay committed to their health.
Pageant at Tower
The Miss Aloha Tower Pageant will take place from 2 to 5 p.m. Sunday at the Aloha Tower Marketplace Center Atrium. All are invited to the free event.
There will be six divisions for girls and women ages 4 to 25. Titleholders will be used exclusively in marketplace promotions, events, fashion shows and advertising campaigns. In addition, winners of the Miss Teen Aloha Tower (ages 15 to 18) and Miss Aloha Tower (19 to 25) divisions will go on to compete in the Miss Hawaii Teen USA and Miss Hawaii USA pageants in December.
The competition includes interview, swimsuit and evening gown segments. Call 566-2337.