---
FAST FACTS HAWAII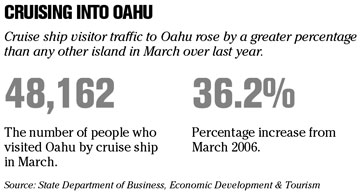 ---
Bank of Hawaii finds new CFO
Bank of Hawaii Corp.
has hired the former chief financial officer of a Chicago-based bank to be the isle bank's vice chairman and CFO.
Daniel Stevens, who will start Tuesday, replaces ex-CFO Richard Keene, who left during the first quarter to take over as CFO for all entities of QHS, parent company of the Queen's Medical Center, Queen Emma Land Co., Queen's Development Corp., Molokai General Hospital and other subsidiaries. Keene had been with Bankoh since 2001.
Bankoh's new executive recently served as CFO from 2004 to 2006 at Taylor Capital Group, the parent company of Cole Taylor Bank in Chicago. Prior to that, Stevens was the CFO at UMB Financial Corp. in Kansas City, Mo., from 2001 to 2004. He also has held senior financial positions with ABN AMRO and Credit Agricole in Chicago.
Skywave passes WiFi milestone
Wireless Internet access provider
Skywave Broadband
said it has passed the 100-transmitter mark in Hawaii.
The company sells broadband WiFi access by subscription as well as by customer vouchers in coffee shops, hotels, offices and shopping centers. It also sells location-specific advertising on the Web pages customers use to log into the service.
About 70 percent of Skywave's hotspots are in Waikiki, but the company also has sites elsewhere on Oahu as well as Kailua-Kona on the Big Island and Waipouli on Kauai.
Skywave says it is looking to deploy 500 transmitters by the end of 2008.
Maui home sales, prices down
It was still predominantly a buyer's real estate market on Maui last month.
While the median price for a single-family home declined 1.4 percent to $690,000, the number of sales increased by 41.7 percent from the year ago April. More than half of the condominium buyers in Maui paid $465,000 for a condominium in April, a decrease of 13.8 percent from the same month in 2006. Condominium sales also declined 14.7 percent from the same month in 2006
Growing inventory provided plenty of options for Maui buyers last month, said Terry Tolman, chief staff executive for the Realtors Association of Maui Inc.
Year-to-date indicators show sales of single-family homes are starting to gain ground on Maui compared to the first four months of 2006, he said, but added that condo unit sales and dollar volume have declined considerably.
[ HAWAII INC. ]
NEW HIRES / PROMOTIONS
» Sopogy Inc. has announced the following new hires:
Kip Dopp
has been hired as product development manager. He previously served as director of Lichen Research and has 25 years of experience in the solar energy industry.
Sherrilyn Komoda
has been hired as office manager. She previously served as Hawaii sales manager at Energy Industries for five years.
» A&B Properties has hired Sandra Billington as project manager of customer service and warranty. She will be responsible for the company's customer service and warranty program for residential and commercial development projects. She previously served as office manager at Metropolitan Management.
» Roberts Hawaii has announced the following new hires: Normand H.J. Robert has been hired as sales and reservations operations manager. He previously served as telesales manager at Sprint Hawaii for 10 years. Blake Higa has been hired as fleet and purchasing manager. He previously served as general manager of Big Brothers Big Sisters Foundation and has more than 16 years of management experience in the automotive industry. Micah Chinen has been hired as sales manager. He previously served Xcel Wetsuits Hawaii, Local Motion and Rip Curl with seven years of retail management and sales experience.
» Heide & Cook has announced the following promotions: Melvin Lee has been promoted to service manager from service supervisor. He will oversee technical daily operations for the entire service department for both Oahu and Maui, and will provide customers with air conditioning, replacement and preventative maintenance agreement estimates. He has served the company for 27 years. Peter Bessara has been promoted to service supervisor from service foreman. He will oversee technical daily operations, customer service and provide technical assistance to field technicians. He has served the company for two years and has 17 years of experience as an air conditioning service technician.
» Mobi PCS has announced the following new hire and promotion: Russell Lundberg has been promoted to director of network engineering from director of information technology and advanced systems. He will be responsible for all aspects of configuration, demand and capacity engineering for the company's fixed network comp- onents and advanced network systems. He has 30 years of experience in the wireless and fixed communications industries. Michael Guidry has been hired as director of information technology and billing operations. He will be responsible for all internal information systems, external data communications systems and computer technologies that support the cellular network. He previously served as director of billing operations and revenue assurance for Time Warner Cable in Los Angeles.
AWARDS
» The
Hawaii Building Industry Foundation
has received $50,000 from the Haseko Training Fund. The grant will offer adults 18 and older in the Ewa community an opportunity to participate in a pre-apprenticeship construction training project. The foundation is a public charity that provides scholarships to economically disadvantaged students who are interested in pursuing careers in the building industry.
» Bank of Hawaii has been honored as "Company of the Year" at Aloha United Way's Spirit of Community Awards at its 2007 annual meeting and recognition luncheon. The bank's employees exceeded their fundraising goal of $500,000 by raising more than $530,000 for Aloha United Way's 2006 campaign.
---
Northwest reorganization OK'd
MINNEAPOLIS »
Northwest Airlines Corp.
said its creditors overwhelmingly approved its bankruptcy reorganization plan, another key step on its way toward emerging from bankruptcy protection next month.
An unofficial vote tally shows that almost 97 percent of creditors who voted approved the plan, the airline said yesterday. Final results will be filed in bankruptcy court in New York later this week.
A confirmation hearing on Northwest's reorganization plan is set to begin May 16, and Northwest has said it expects to emerge from bankruptcy in June. It has been operating under bankruptcy protection since Sept. 14, 2005.
Even though creditors approved the plan, several people have objected to it, including the Owl Creek hedge fund, which wants to block the claims given to unions in exchange for pay cuts and work rule changes negotiated during Northwest's reorganization.
Toyota throttles back outlook
TOKYO »
Toyota Motor Corp.
expects that flat sales in North America -- where higher gas prices, a housing slump and a slowing economy have tempered consumer spending -- will slow growth in its overall sales and profits this year after double-digit gains last year.
Besides the anticipated sales slowdown, Toyota officials said yesterday that investments in new plants to boost production and research costs to develop new models will depress its profit expansion for the fiscal year through March 2008.
It expects a 0.4 percent rise in profit this year, its smallest improvement since its profit slipped in the fiscal year ending March 2002, while sales grow 4.4 percent.
---
BUSINESS PULSE