| | |
| --- | --- |
| | Newswatch |
---
PACIFIC PLANNING: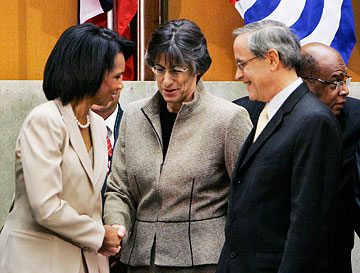 Science, math teachers honored
Two Hawaii public school teachers have won the 2006 Presidential Awards for Excellence in Mathematics and Science Teaching.
Paul Burnett Jr., a science teacher at Waialua Elementary, and Shari Kaneshiro, a math teacher at Hokulani Elementary, will each get $10,000 from the National Science Foundation and travel to Washington, D.C., for professional development activities and meetings with government and education leaders from May 14 to 19.
Established by Congress in 1983, the award identifies outstanding math and science teachers from the 50 states and four U.S. jurisdictions. A national committee of scientists, mathematicians and educators selects up to 108 teachers nationwide for the award each year.
Hawaii finalists for the science part of the award included Joan Hansen of Likelike Elementary and Laurie White of Iolani School. Math finalists included Shari Higashi of Salt Lake Elementary and Lena Sumiye, resource teacher at the Nanakuli/Pearl City/Waipahu complex area.
The state finalists will be recognized at a May 26 lunch.
---
Not-guilty plea in visitor's death
Kirk Matthew Lankford remains in Oahu Community Correctional Center after pleading not guilty in the presumed murder of Japanese visitor Masumi Watanabe.
Lankford, 22, of Kalihi, was arraigned yesterday before Circuit Judge Derrick Chan* by video transmission from the prison. The judge confirmed the bail set previously at $1 million and set July 9 as the trial date.
Lankford was charged with second-degree murder in the presumed death of Watanabe, 21, who was reported missing April 12 by her host family in Pupukea. Her body has yet to be found, although police have searched in Windward and North Shore areas.
Lankford was indicted Wednesday by an Oahu grand jury on the basis of circumstantial evidence, which included Watanabe's glasses and a DNA sample found in Lankford's company vehicle. He either killed Watanabe or, knowing she had serious injuries, failed to obtain aid from law enforcement or medical attention, the indictment alleges.
Coke dealer is convicted for 'ice'
HILO » A Big Island man who allegedly threatened to blow up the homes of two police officers has been sentenced to 20 years in prison for the separate offense of methamphetamine possession.
Francis "Adobo" Carter was sentenced yesterday by Judge Glenn Hara for possessing 38 grams of "ice."
Hara ordered the 20-year sentence to run concurrently with a previous 10-year sentence for distributing cocaine.
Carter pled guilty to the methamphetamine charge in exchange for the prosecution dropping two terroristic threatening charges.
Last year, while in the Hawaii Community Correctional Center, Carter allegedly told a fellow prisoner that he would blow up the homes of two police officers by driving a car up to each home loaded with C-4 explosive.
He told the fellow prisoner, Aaron Duchesne, that he would shoot any survivors who ran out of the houses, according to Duchesne's testimony in District Court.
---
SHINING STARS
---
3 state buildings win energy certification
Three state buildings with energy-efficient designs were certified this year under the U.S. Environmental Protection Agency's Energy Star program, Lt. Gov. James "Duke" Aiona's office announced recently.
The Leiopapa A Kamehameha Building (State Office Tower) and Abner Paki Hale Courthouse (Ko'olaupoko District Courthouse) were certified for the first time.
The Kakuhihewa Building (Kapolei State Building), first certified in 2006, was recertified for 2007. All three buildings are designed and managed by the state Department of Accounting and General Services.
"This is an important step forward in the state's continuing effort to lead by example in energy conservation," Aiona said in a release.
---
The Hawaii Pacific Federal Credit Union collected 447 pounds of food for the Hawaii Foodbank to support its 18th Annual Food Drive. This is the sixth year that the credit union has participated in the drive. Since 2002 it has collected more than 5,500 pounds of food and more than $3,800 to help feed the hungry.
---
The Four Seasons Resort Hualalai donated $64,553, the proceeds of its annual Weekend to Benefit Cancer Research event last September, to the American Cancer Society.
---
"Shining Stars" runs Monday through Thursday.
CORRECTION
Wednesday, May 9, 2007
» Judge Derrick Chan presided over murder suspect Kirk Lankford's arraignment and plea hearing Monday. A Page A3 "Newswatch" item yesterday incorrectly reported that Judge Karl Sakamoto presided.
| | |
| --- | --- |
| | Police, Fire, Courts |
---
Big Isle man robbed at knifepoint
A masked man armed with a knife entered a Kau home Sunday night and forced the occupant to the ground, Big Island police said.
During the robbery at the house on Hekau Street in the Discovery Harbour subdivision at 9:51 p.m., the male victim escaped, fled to a neighboring house and called police. He was not injured in the robbery.
The suspect removed several items before leaving.
The suspect is described as 5 feet 8 inches tall, weighing about 165 pounds, with a medium build and dark complexion.
Police ask anyone with information to call the Police Department's nonemergency number at 935-3311.
---
LEEWARD OAHU
Man is arrested in threat with ax
Police arrested a 48-year-old Nanakuli man Saturday afternoon who allegedly threatened a woman with an ax in Waianae.
Police said that at about 1:20 p.m. the man threatened the 37-year-old woman, chased her and damaged a parked car.
Police arrested the man for investigation of terroristic threatening and criminal property damage.
During the arrest, officers found marijuana on the man, police said, and arrested him on suspicion of drug violations.
WEST OAHU
Pair identified who died in crash
The Medical Examiner's Office has identified the man and woman killed Sunday in an early-morning car crash in Pearl City as Loretta Luavasa and Mikaele Ah Kam.
The two died at the scene from multiple blunt-force injuries due to the car accident, an official from the Medical Examiner's Office said.
Luavasa, 47, of Waianae, was driving the car when it spun out of control and crashed into a cement pillar on Kamehameha Highway, police said.
Ah Kam, her passenger, was a 41-year-old man from Wahiawa, according to the Medical Examiner's Office.
The car was speeding at about 3 a.m. Sunday near Zippy's Restaurant, veered left, spun out of control, crossed the grass median, hit a street sign and utility pole, then crashed into a natural-gas line and cement pillar, but the gas line did not explode.
HONOLULU
Kakaako robbery suspect is held
Police charged a 47-year-old Hauula man yesterday for allegedly robbing a 21-year-old man in Kakaako at 3 a.m. Saturday.
Penrod Reid Leota was charged with second-degree robbery and two warrants.
Police said he approached the victim and demanded money, threatening to use physical force.
The victim fled and called police, who found and arrested Leota at 320 Ward Ave. on suspicion of second-degree robbery and two warrants.
Laptops stolen in home break-in
Police arrested a 36-year-old Kamehameha Heights woman Saturday evening on suspicion of breaking into a home and stealing two laptop computers in Kalihi.
At about 6:35 p.m. the woman walked into the home of two other women and allegedly tried to attack one, but she ran out of the house. The intruder left and came back, kicking at the door, police said.
The two roommates watched from a neighbor's house as the suspect took their laptops, threw them around and then walked out with them.
Other residents detained the woman until police arrived. She was arrested on suspicion of first-degree burglary.