---
FAST FACTS HAWAII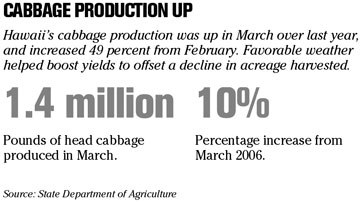 ---
Hawaiian, Aloha, top rankings again
Hawaiian and Aloha airlines again ranked at or near the top of the U.S. Department of Transportation consumer benchmarks for March, according to figures released yesterday.
Hawaiian Airlines took top honors in on-time performance among the 20 airlines reporting, with 93.9 percent of its flights arriving within 15 minutes of schedule.
But Aloha Airlines was a close second, at 93.2 percent. Mesa Air Group, which operates go! in Hawaii as well as numerous mainland commuter operations, was 14th at 70.7 percent systemwide.
Aloha came in first in consumer complaints, with none in 348,854 enplanements. Hawaiian was fourth, with three complaints for 609,812 boardings. Mesa was seventh, with nine in 1.19 million enplanements.
In cancellations, Hawaiian, Aloha and Mesa ranked first, third and 17th, respectively. On baggage handling, Aloha was first, Hawaiian second and Mesa 15th.
Neighbor isle home sales mixed
The number of residential real estate sales continued dropping on the the Big Island and Kauai last month, while prices presented a mixed bag, according to a report from
Hawaii Information Service
.
Single-family home transactions on the Big Island fell from 187 to 139, a 25.7 percent decline; while condominium sales dropped 26.9 percent to 49 from 67.
The median home price on the Big Island declined 6.34 percent to $412,000 and the median condominium price dropped to $385,000, a 28.7 percent drop.
The number of single-family home sales on Kauai fell only 2.38 percent to 41; however condominium sales dropped by 62.8 percent to 29.
Still, home prices in Kauai were strong. The median price paid for a single-family home rose 4.03 percent to $749,000, while the median price paid for a condominium nearly doubled, rising 94.74 percent to $685,000.
Hawaii late to Starbucks fat cut
SEATTLE »
Starbucks Corp.
announced yesterday that it will cut artificial trans fats out of food and drinks in its stores in the continental United States, Alaska and Canada by the end of the year.
Starbucks started ridding its U.S. and Canadian stores of trans fats in January. Company spokesman Brandon Borrman said trans fats will eventually be eliminated from its Hawaii stores, but that it will not likely happen by the end of the year because jurisdiction for the state is being shifted from Starbuck's international division to its domestic unit.
The coffee retailer isn't about to quit selling its whipped cream-topped Frappuccino shakes or rich baked sweets, but said it will only use ingredients with naturally occurring fats, like butter, whole milk, eggs and whipped cream.
Listed on food labels as partially hydrogenated vegetable oil, trans fats are thought to boost "bad" cholesterol and decrease "good" cholesterol. They have attracted attention from health regulators, most notably in New York City, where they have been banned in restaurants and eateries.
Starbucks also said yesterday that it is working to rid trans fats from stores in markets outside North America, but Borrman said no timeline has been set.
---
BUSINESS PULSE