HIGH SCHOOL BASKETBALL
Rested Lunas primed for MIL title run
Over the past two weeks, the Lady Lunas of Lahainaluna had nothing to gain with another win.
The Maui Interscholastic League regular-season title had long been clinched, so coach Todd Rickard executed a plan to rest his starters a tad and play his reserves more. The longtime coach also let his injured players heal and put extra emphasis on bookwork.
The result? A few more wins, a narrow loss to Maui and a healthy crew of Lunas as the MIL playoffs tip off this week.
Lahainaluna moved up a notch to No. 8 in today's Star-Bulletin Girls Basketball Top 10 and awaits the Kamehameha-Maui/King Kekaulike winner on Thursday. Winning the tourney this week would assure the Lunas the overall MIL title and the league's seeded berth in the state tournament.
"The girls know what is at stake this week," Rickard said. "We try to keep them focused, but they knew the (recent) games weren't going to be a factor in the regular-season championship. Now they know this week is something they really need to focus on."
The turbulent swings of momentum across the state caught the coach's eye.
"Every time I read an article, it looks like one team is doing well, then they're losing. I don't know what to expect," he said of the BIIF, ILH and OIA.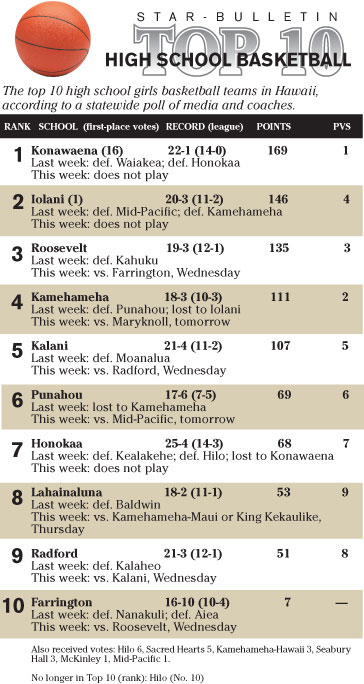 ILH
Final Standings

Team
W
L

x-Iolani
10
2

Kamehameha
10
2

Punahou
7
5

Mid-Pacific
3
9

Maryknoll
0
12

x- Iolani won playoff game for regular-season championship; standings and stats do not include playoff game
Scoring

Player
G
Pts
Avg
High

Nicole Fu, Mryk
12
190
15.8
26

Jamie Smith, Iol
12
186
15.5
25

Analee Viena-Lota, Kam
11
151
13.7
27

Johnnelle Kapua, MPI
12
138
11.5
23

Alana Matayoshi, Iol
12
102
8.5
14

Melanie Feldman, Pun
11
93
8.5
18

Chanel Hirata, Iol
12
97
8.1
15

Jenna Savusa, MPI
12
97
8.1
14
3-pointers made

Player
3s

Chanel Hirata, Iol
14

Nicole Fu, Mryk
13

Tami Konishi, Iol
10

Alexis Furtado, Kam
10

Tiana Abbley, Kam
9

Jordan Kealoha, MPI
9

Johnnelle Kapua, MPI
8

Dara Tompkison, Pun
8
OIA Red East
Final Standings

Team
W
L

Roosevelt
11
1

Kalani
10
2

Farrington
8
4

Kalaheo
5
7

Kahuku
4
8

Moanalua
3
9

Kaimuki
1
11
Scoring

Player
G
Pts
Avg
High

Shanadee Canon, Kalh
12
181
15.1
26

Iwalani Rodrigues, Roos
12
179
14.9
21

Jamie Ronolo, Moan
12
178
14.8
24

Courtney Gaddis, Kaln
12
160
13.3
22

Britni Ronolo, Moan
9
104
11.6
18

Megan Kamehiro, Kaln
12
135
11.3
23

Olivia Phommachanh, Kaim
12
136
11.3
26

C'ani Kealoha, Far
12
124
10.3
21
3-pointers made

Player
3s

C'ani Kealoha, Far
23

Megan Kamehiro, Kaln
16

Elane Leaupepe, Far
13

Tiana Sugui, Roos
13

Olivia Phommachanh, Kaim
12

Tiyana Nakasone, Roos
11

Chloe Martin, Kaln
9

Caira Pires, Kalh
9

Deja Bryce, Far
8

Jayna Tasaka, Roos
8
OIA Red West
Final Standings

Team
W
L

Radford
11
1

Aiea
9
3

Pearl City
8
4

Kapolei
5
7

Mililani
3
9

Leilehua
3
9

Nanakuli
3
9
Scoring

Player
G
Pts
Avg
High

Ta Nitra Byrd, Rad
11
171
15.5
23

Brittaney Stafford, Lei
12
172
14.3
24

Natasha Helsham, Aiea
12
155
12.9
23

Jazmin Pahukoa-Malia, PC
12
151
12.6
19

Capri Holiona, Aiea
12
139
11.6
29

Marlena Malepeai, Rad
7
80
11.4
17

Ashley Gonzales, Lei
12
134
11.2
18
3-pointers made

Player
3s

Ashlee Dela Cruz, Kapo
13

Natasha Helsham, Aiea
12

Jamielyn Kaleiwahea, Mil
11

Tahnee Foki, Kapo
11

Jazmin Pahukoa-Malia, PC
9
OIA White
Final Standings

Eastern Division

Team
W
L

McKinley
11
1

Kailua
8
4

Castle
7
5

Kaiser
3
9

Anuenue
0
12

Western Division

Campbell
10
1

Waianae
6
5

Waialua
6
5

Waipahu
1
10
Scoring

Player
G
Pts
Avg
High

Chelsie Sato, McK
12
194
16.2
23

Jessica Dusich, Kais
12
175
14.6
25

Danielle Lovell, Wain
11
139
12.6
23

Chelsey Ramirez, Wail
11
139
12.6
19

Margaret Siligo, Waip
11
119
10.8
18

Ashley Jacobs, Kail
12
128
10.7
16

Aloha Dias-Kekahuna, Camp
11
114
10.4
24

Kristen Corrales, Kail
12
122
10.2
14
3-pointers made

Player
3s

Chelsie Sato, McK
24

Chelsey Ramirez, Wail
22

Ashley Jacobs, Kail
21

Kaitlyn Ikehara, McK
20

Jackie Tihano, McK
19

Kristen Corrales, Kail
16

Kristyn Mathenson, Kais
14

Chelsea Okuma, Kais
14

Kori Berinobis, Cast
13
Sports
Hawaii News
Features
Business
Editorial
Tools