---
FAST FACTS HAWAII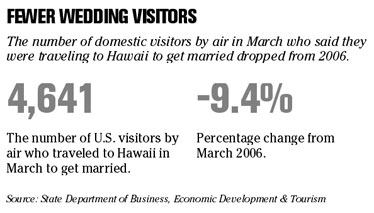 ---
NATION
Berkshire's net jumps again
OMAHA, Neb. » Billionaire Warren Buffett's holding company reported yesterday that its net income jumped 12 percent during the first quarter because of strong performances in its insurance and utility divisions.
Berkshire Hathaway Inc. said it earned $2.6 billion, or $1,682 per Class A share, during the quarter which ended March 31. That's up from $2.3 billion, or $1,501 per share, last year.
Berkshire said its companies and investments generated $28.8 billion in revenue during the quarter, up from $19.2 billion in the same period a year ago.
Berkshire's Class A shares are the most expensive U.S. stock, and they have traded above $100,000 a share since last fall.
The earnings report was released on the eve of Berkshire's annual meeting. Between 25,000 and 28,000 Berkshire shareholders are expected to attend today's annual meeting.
Sears still window shopping
HOFFMAN ESTATES, Ill. »
Sears Holdings Corp.
Chairman Edward Lampert told shareholders yesterday the retail giant is eyeing numerous possibilities for acquisitions or investments two years after the parent of Sears and Kmart stores was created.
But the billionaire investor and hedge-fund manager gave no indication at the company's annual meeting that a move is imminent. Sears was rumored last year to be a potential bidder for everything from Home Depot Inc. to Anheuser-Busch Cos., but no large investment has yet surfaced.
While Lampert wouldn't tip his hand on what companies could be targeted, the company disclosed plans for its first big marketing campaign of his tenure, to be rolled out beginning tomorrow.
The Kmart brand is getting a new mascot -- a talking light bulb called "Mr. Blue Light." The Sears brand will be promoted under the tag line: "Sears: Where it begins."
Chief Executive Aylwin Lewis said the company is intent on doing a better job in promoting its leading brands in appliances, tools, and lawn and garden.
Kodak cost cuts not enough
ROCHESTER, N.Y. »
Eastman Kodak Co.
posted a smaller first-quarter loss yesterday -- its ninth quarterly deficit in the last 2 1/2 years -- as it applies the final cost-cutting touches to a drastic digital makeover. The results still missed Wall Street expectations and its shares dipped nearly 5 percent.
The photography company lost $151 million, or 53 cents a share, in the January-March period versus a loss of $298 million, or $1.04 a share, a year ago when it took hefty charges tied to its massive overhaul.
Sales fell 8 percent to $2.12 billion from $2.89 billion a year ago, hurt by Kodak's move away from lower-priced cameras in favor of marketing pricier but more profitable models.
Its overall digital sales fell 3 percent to $1.2 billion, while revenues from film, paper and other traditional, chemical-based businesses slumped 13 percent to $896 million.
WORLD
Kia Motors posts unexpected loss
SEOUL »
Kia Motors Corp.
posted its third straight quarterly loss yesterday, hit by a stronger South Korean currency, production losses from a line retooling and marketing costs.
Kia Motors, South Korea's second-largest automaker, lost 30.6 billion won ($33 million) in the three months ended March 31, the company said in a statement. Kia posted net profit of 38.4 billion won a year earlier.
Sales during the quarter at Kia, an affiliate of Hyundai Motor Co., fell 12 percent to 3.85 trillion won ($4.2 billion).
The loss was unexpected and came just two days after Hyundai Motor recorded its fifth straight quarterly decline.
Company spokesman Michael Choo said the loss resulted from the South Korean won's strength, the shutdown of a production line at the company's Hwaseong plant for a model addition and overseas marketing expenses.
---
BUSINESS PULSE