---
FAST FACTS HAWAII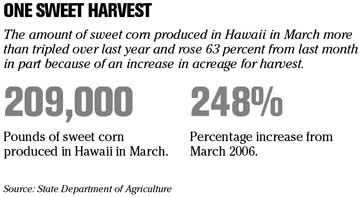 ---
[ HAWAII INC. ]
NEW HIRES / PROMOTIONS
» Waikoloa Land Co. has hired
Margo Mau Bunnell
as sales manager for Waikoloa Beach Resort. She will be responsible for selling group tour packages and developing marketing partnerships for the resort. She previously handled international sales and marketing for the Big Island Visitors Bureau, and has 15 years of Big Island tourism and hotel sales experience.
» Central Pacific Bank has announced the following new hires: Kent K. Iboshi has been hired as vice president and manager of strategic analytics. He served as vice president and market information manager for Bank of Hawaii for 10 years and has more than 20 years of banking experience, specializing in information management. Joseph J. Miller has been hired as vice president and corporate security manager. He previously served as security manager for the Hawaii Convention Center for 10 years and has more than 30 years of experience in the law enforcement and security industries. Paula M. Vincent has been hired as assistant vice president and card product manager. She previously served as card consultant for the bank and has more than 33 years of experience in banking and marketing, specializing in debit card and business product management. Kay Y. Yara has been hired as assistant vice president and trust operations manager. She previously served as asset liability officer for First Hawaiian Bank and has more than 15 years of banking experience, specializing in trust services.
» Alexander & Baldwin Inc. has promoted Kevin L. Halloran to vice president of corporate development and investor relations. He joined the company in October 2006 as director of corporate finance and investor relations, and will be adding corporate planning to his current responsibilities.
» Intracorp Companies has hired Gail Nakamura as vice president of marketing for its Hawaii office. She will oversee all sales and marketing activities related to development of The Watermark, and will pursue new projects in Hawaii. She previously served as vice president of marketing for D.R. Horton/Western Pacific Housing in San Diego and has more than 18 years of experience in the urban and suburban home building industry.
» Bright Light Marketing has promoted Charlene Lo Chan to executive vice president and chief operating officer from senior vice president and chief operating officer. She will oversee operations and strategic business development and assist the firm's largest clients with public relations, marketing and event coordination. She joined the firm in 2006 and has more than 15 years of project and group management experience.
» Marriott Hawaiian Islands Hotels & Resorts has hired Todd Castor as market director of e-commerce sales. He will be responsible for identifying, developing and maximizing online exposure for Marriott's Hawaii resorts. He served as staff vice president of e-commerce for Pleasant Holidays since 1994.
---
Time Warner beats estimates
NEW YORK » Media conglomerate
Time Warner Inc.
, parent of Oceanic Time Warner Cable, said yesterday its first-quarter profit slipped 18 percent but beat Wall Street expectations as growth in its cable segment helped lift revenue by 9 percent.
Net income slipped to $1.20 billion, or 31 cents per share, from $1.46 billion, or 32 cents per share, a year ago.
Excluding one-time gains, profit from continuing operations totaled 22 cents per share in the latest period, ahead of the 20 cents per share that analysts had been expecting and also above the 20 cents per share that the company earned on a comparable basis in the same period a year ago.
Revenue grew to $11.18 billion from $10.24 billion, led by growth in cable television.
Time Warner also raised its full-year profit outlook, saying it now expected to earn $1.05 per share, including 10 cents per share of gains from asset sales such as the sale of AOL's Internet access business in Germany and some sales of cable systems. In January Time Warner said it expected to earn $1.00 per share in 2007.
Deal to take Cablevision private
NEW YORK »
Cablevision Systems Corp.
, a New York-area cable TV provider that also owns Madison Square Garden, said yesterday it has agreed to be taken private by the Dolan family, the company's controlling shareholders, in a deal worth about $10.6 billion.
It was the Dolans' third attempt to take the company private in recent years, the first two having been rejected as inadequate by a two-person committee of independent directors on its board.
Chairman Charles Dolan said in a statement that the company would be better able to compete as a privately held company.
Like other cable companies, Cablevision has been seeking to retain customers with "triple play" offerings of digital video, high-speed Internet and phone service. Craig Moffett, an industry analyst at Sanford C. Bernstein, said Cablevision is two to three years ahead of its rivals in offering such advanced services.
Fannie Mae cuts back outlook
WASHINGTON » Fannie Mae, which finances one of every five home loans in the United States, reported yesterday its profit rose 26 percent in 2005, but expects to report lower earnings for 2006. It also named a new chief financial officer and raised its dividend.
The government-sponsored company is remaking itself as it recovers from a multibillion-dollar accounting scandal. The 2005 report was its first public reckoning of finances since it announced a restatement in December that erased $6.3 billion in previously reported profit for 2001-2004.
The company, which undertook a massive reworking of its accounting after the scandal became known in September 2004, expects to file its 2006 results before the end of the year.
Fannie Mae said Stephen Swad, a former executive vice president and CFO of Internet company AOL, will succeed Robert Blakely as its CFO. Company officials said that Blakely -- who came in November 2005 to direct the untangling of the company's accounting -- has largely completed that task.
---
BUSINESS PULSE