---
FAST FACTS HAWAII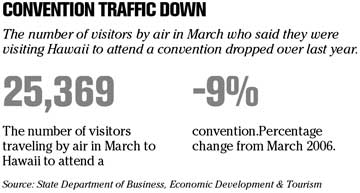 ---
HDR buys Hawaii engineering firm
HDR Inc.
, a Nebraska-based architecture, engineering and consulting firm, said yesterday it has acquired Honolulu-based Hawaii Pacific Engineers Inc.
The 20-person isle firm, formerly known as HPE, will now conduct business as HDR/Hawaii Pacific Engineers.
Terms of the deal were not disclosed.
Headquartered in Omaha, HDR is an employee-owned firm with about 6,000 professionals in 141 locations worldwide.
Under the new corporate structure, former HPE president Frank Hino will become a vice president responsible for managing HDR's engineering operations in Hawaii. Other HPE principals, Lester Fukuda and Roy Abe, will become vice presidents.
[ HAWAII INC. ]
NEW HIRES / PROMOTIONS
» Architects Hawaii Ltd. has promoted
Terry McFarland
to principal from senior associate. He will be responsible for managing projects, marketing, managing and scheduling staff. He joined the firm in 1996.
» First Hawaiian Bank has announced the following new hires and promotions: Harvey G.W. Chun has been hired as vice president of its risk management department. He will be responsible for credit risk initiatives. Jennifer M.L. Abiva has been promoted to personal banking officer at the Wahiawa branch. She has served several positions in the bank since 1983. Debra Ann Bulosan has been promoted to service manager of the Hilo branch. She has served several positions in the bank since 1979. Christopher L. Dods has been hired as assistant vice president of new markets and business develop- ment. He previously served as business development manager at K1 Ventures USA. Kelly Ann Hall has been promoted to retail systems officer. She will oversee the branch automation system for new accounts. Noel Ishihara has been promoted to cash management service officer from service supervisor. He joined the bank in 2001.
» Shell Vacations Club has announced the following promotions for its new preview center at the Waikiki Marina Resort at the Ilikai: Thom Newman has been named director of sales. He previously served as sales manager at the Kauai Coast Resort. Domonique Machovec has been named support services manager. She has served the company for three years.
» Nishihama & Kishida CPAs Inc. has announced the following new promotions: Heeyeon Kim has been promoted to tax senior. She previously served as a financial services adviser in Canada. Lai Ieng Yee has been promoted to tax senior. She joined the firm in 2005.
» Maryl Group Inc. has announced the following new hires for Maryl Pacific Construction's three Big Island projects: Mike Biddle has been named superintendent for the Wai'ula'ula at Mauna Kea. Stephen Metcalf has been named superintendent for the Hali'ipua Villas. David Rietow has been named project engineer for the Maryl Beach Houses at Kukio.
» Ruth's Chris Steak House has announced the following new hires and promotion for its new Waikiki location: Jay Kaneshiro has been promoted to general manager. He previously served as manager of the Restaurant Row location. Leighton Miyakawa has been named executive chef. He previously served as executive chef at Gate Gourmet International and Dobbs International, and has 36 years of culinary and catering experience. Peter J. Dietrich has been named manager. He previously served as chef and manager at Mariposa in Neiman Marcus.
» Kapalua Resort has named Carol Koepke Tuua as general manager of the Kapalua Villas on Maui. She will be responsible for overall day-today operations. She previously served as general manager of Classic Resorts at Lahaina Shores Beach Resort and has more than 20 years of experience in the hospitality industry.
---
Royal Caribbean's 1Q profit sinks
MIAMI »
Royal Caribbean Cruises Ltd.
, the world's second-largest cruise line, said yesterday its first-quarter profit sank 92 percent from the year-ago period, mainly because of higher cruise operating expenses and its acquisition of Spanish cruise and tour operator Pullmantur.
Net income sagged to $8.8 million, or 4 cents per share, for the three months ended March 31 versus $119.5 million, or 55 cents per share, in the prior year. Analysts had expected 6 cents.
Revenue for the quarter rose 6 percent to $1.22 billion from $1.15 billion in the previous year. Wall Street consensus estimates put sales at $1.18 billion.
But total cruise operating expenses rose faster, climbing 15.2 percent, and the company continued to lament a weak demand environment in the important Caribbean market -- a problem besetting the entire cruise industry and hurting net yields.
Maytag Repairman returns to air
BENTON HARBOR, Mich. » The Maytag Repairman is back, and he's still trying to find some work to do.
The first of three television commercials featuring the newest actor to play the perpetually idle appliance service technician started airing nationally yesterday, Whirlpool Corp. said.
The Benton Harbor-based company announced last month that after a nationwide search, it had chosen Clay Jackson, a real estate agent from Richmond, Va., from among more than 1,500 applicants to portray the next Maytag Repairman in a major new advertising campaign.
Jackson is the fourth actor to play the character since the first Maytag Repairman commercials aired in 1967.
P&G earnings gain 14 percent
CINCINNATI »
Procter & Gamble Co.
said yesterday that strong growth in developing markets helped power earnings 14 percent higher in the third quarter for the world's largest consumer product company.
P&G said net income in the three months ended March 31 climbed to $2.51 billion, or 74 cents per share, from $2.21 billion, or 63 cents per share, in the year-earlier period. The Cincinnati company also improved its full-year earnings target on the strong quarterly sales.
However, the result failed to beat expectations of analysts polled by Thomson Financial, a day after investors drove the stock up $1.42, or 2.3 percent in anticipation of the earnings report. P&G shares fell $1.44, or 2.2 percent, to close at $62.96 on the New York Stock Exchange. The shares have traded in a 52-week range of $52.75 to $66.30.
---
BUSINESS PULSE