| | |
| --- | --- |
| | Newswatch |
---
Bottom-fish ban delayed 2 weeks
Bureaucratic red tape will allow Hawaii fishermen an extra two weeks to fish for seven types of bottom fish that will be off limits May 15, officials said yesterday.
State and federal officials who regulate fishing had hoped to close the fishery for onaga, ehu, gindai, opakapaka, kalekale, lehi and hapuupuu in the main Hawaiian islands today, but pushed back the start date to complete necessary procedures, said Sylvia Spalding, spokeswoman for the Western Pacific Regional Fishery Management Council.
The state rule approved Friday needs to go through review by the Lieutenant Governor's Office before taking effect, and the council, which sets rules for federal waters (from three to 200 nautical miles from shore), needs to publish them in the Federal Register, Spalding said.
The fishing closure is the first of several measures intended to allow recovery of overfished stocks. The seasonal ban will affect recreational and commercial fishers.
11 isle principals named finalists for $25,000 award
The Island Insurance Foundation has recognized 11 public school principals in an awards presentation for school leadership.
Each nominee was presented with a $500 cash award and a commemorative plaque in a ceremony at the Island Insurance Center in Honolulu.
An awards committee will select one of the principals for the annual Masayuki Tokioka Excellence in School Leadership Award, which provides a $10,000 personal cash award and $15,000 for a school project. Two runners-up will receive $2,000 cash awards.
The award, named for the late founder of Island Insurance Co., will be announced May 24 at the Public Schools of Hawaii Foundation Dinner.
The finalists are Duwayne Abe of Salt Lake Elementary School, Myron Brumaghim of Nanaikapono Elementary School, Stanley Kayatani of Kalihi Kai Elementary School, Steve Nakasato of Mililani Iki Elementary School, Mitchell Otani of Kaneohe Elementary School, Norman Pang of Holomua Elementary School and Charlotte Unni of Ala Wai Elementary School.
Also named were Nathan Aiwohi of Hanalei Elementary School, Kauai; Fern Markgraf of Kahului Elementary School; and Claire Yoshida of Konawaena Elementary School in Kealakekua and Lloyd Matsunami of Kaumana Elementary School in Hilo, on the Big Island.
READY FOR JURIST DUTY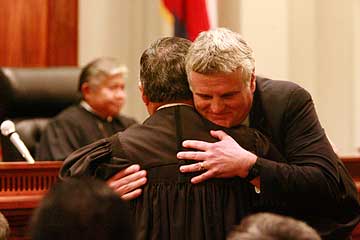 359,000 gallons of fuel leaked
The Navy says 359,000 gallons of marine diesel fuel that leaked through a 3-inch crack from a storage tank over the weekend at Pearl Harbor did not pose any hazard to the public.
The leak from one of several million-gallon storage tanks along Kamehameha Highway was discovered late Sunday after gauges showed a decline in the level of diesel fuel. More than 890,000 gallons of fuel was transferred to other tanks.
The Navy said there are no drinking water wells or springs in the area, and none of the fuel made it to the harbor.
Free housing law session today
The city and state are holding a free annual conference for property owners, landlords and rental agents from 9 a.m. to 4 p.m. today at McCoy Pavilion.
The conference will feature housing experts from the U.S. Department of Housing and Urban Development, the Hawaii Public Housing Authority and the city.
Attendees will learn about the Section 8 rent subsidy program, fair housing, equal opportunity housing, the landlord/tenant code and loan programs.
Space for the event is limited. To RSVP, call 527-5995.
Blood drives coming up
The Blood Bank of Hawaii has scheduled these blood drives around Oahu:
» Friday: 8:30 a.m.-3 p.m., Hawaii Pacific University, downtown campus
» Saturday: 7 a.m.-2:30 p.m., Town Center of Mililani; 8 a.m.-1 p.m., Pearlridge Center; 7 -10:30 a.m., Don Quijote-Kailua
» Next Tuesday: 9 a.m.-2 p.m., Kaimuki municipal parking lot
» May 12: 7 a.m.-1 p.m., Ben Parker Elementary School
» May 13: 7:30 a.m.-1:30 p.m., Hawaii Kai Towne Center
» May 19: 7 a.m.-2:30 p.m. Town Center of Mililani
» May 20: 8 a.m.-12:30 p.m., Waikele Center, next to Leonard's Bakery; 7 a.m.-11 a.m., Kahala Mall, near Macy's Men's Department
» May 21: 9 a.m.-3 p.m., University of Hawaii-Manoa Campus Center
» May 26: 7 a.m.-1 p.m., Ben Parker Elementary School; 8 a.m.-1 p.m., Laie Shopping Center
» May 28: 7 a.m.-2 p.m., Foodland-Ewa Town Center
» May 29: 10 a.m.-3 p.m., Manoa Marketplace
» May 31: 9 a.m.-3 p.m., UH-Manoa Campus Center
Donors must be in good health, 18 or older, weigh 110 pounds or more and provide a valid photo ID. Call 845-9966 or visit www.bbh.org for an appointment.
Event to teach about Lou Gehrig's disease
The Muscular Dystrophy Association will hold a free event from 9 a.m. to noon May 19 at the Queen's Conference Center to help the public understand ALS, known as Lou Gehrig's disease.
About 500 Hawaii residents have muscular dystrophy, a neuromuscular disease, according to the MDA.
The public event will feature displays from spas, beauty consultants, massage therapists, architects, medical equipment vendors and financial planners, plus hospice, Social Security and Handi-Van information.
The annual MDA Summer Camp will be held June 9-15 at YMCA's Camp H.R. Erdman, the organization announced. It is seeking volunteers. For more information, call 593-4454 or see www.mda.org.
---
SHINING STARS
---
Keiki injury group presents awards
The
Keiki Injury Prevention Coalition
gave its annual champion awards to 14 representatives of 10 medical institutions on Oahu for their volunteer work on a child passenger safety seat program. The coalition said the program has saved countless children's lives and prevented and reduced childhood injuries.
The 14 include Karen Tessier of the University of Hawaii School of Nursing; Nola Faria and Lisa Dau of Kapiolani Medical Center for Women & Children; Lois Arakaki of Kalihi Palama Health Center; Wendy Miyamoto, Katie Barbieto and Lisa Nishikawa of the Queen's Medical Center; Piilani Kai of Waimanalo Health Center; Ivy Johnson of Waianae Coast Comprehensive Health Center; Dan Martyniuk of the U.S. Navy family support services; Alice Mello of Kahuku Hospital; and Carol Moreno of Tripler Army Medical Center.
State Farm Insurance and former state Rep. Dennis Arakaki also were honored for their contributions to preventing injury to children.
---
St. Francis Hospice received $7,242 from the Hawaii chapter of World Wings International for a third hospice facility for the terminally ill. The chapter's membership consists of former flight attendants of Pan American World Airways, who adopted St. Francis as its local charity in 1990.
---
"Shining Stars" runs Monday through Thursday.
| | |
| --- | --- |
| | Police, Fire, Courts |
---
CENTRAL OAHU
Police arrest kids after theft of car
Police arrested two juveniles for allegedly stealing car keys and a car Friday afternoon.
At about 4:20 p.m. a 56-year-old man reported that while swimming in a pool at a get-together in Mililani, his keys and car were taken. Two juveniles returned with the car, and they were arrested on suspicion of auto theft.
WAIKIKI
Man flees alleged stabbing attempt
Police arrested a 20-year-old man late Sunday for allegedly attempting to stab another man in Waikiki.
Police said a 36-year-old man was walking on a street in Waikiki at about 11:45 p.m. when another man, with no local address, came out of the bushes. The suspect tried to hit the victim with a bottle and then stab him, police said. The man was not injured and ran away, police said.
Police later found the suspect on Kuhio Avenue and arrested him for investigation of terroristic threatening and attempted assault. During the arrest, officers found packets containing what appeared to be crack cocaine, police said. The man was then also arrested for investigation of promoting dangerous drugs.
Police get suspect in jewelry heist
Police arrested a 35-year-old Salt Lake man who allegedly stole jewelry from a kiosk at the Royal Hawaiian Shopping Center Sunday night.
Police said the man allegedly put four pieces of jewelry into his pocket at about 7:30 p.m. A 50-year-old woman saw him and yelled to the other kiosk owners. The man then allegedly threw the jewelry at the kiosk and ran. The kiosk owners ran after him and caught him down the street, police said.
Police officers also found what appeared to be drugs in the suspect's pockets. He was arrested for investigation of second-degree robbery and promoting dangerous drugs.
HONOLULU
Police investigate pet store burglary
Police are investigating the burglary of a Honolulu pet store Sunday morning.
At 5:18 a.m., police responded to an alarm at the pet store and found someone had broken in and taken a safe containing receipts and about $6,000.
Police opened a second-degree burglary investigation.