HIGH SCHOOL BASKETBALL
Konawaena takes poll's top spot
For the fourth time this season, a new team has emerged at No. 1 in the Star-Bulletin Girls Basketball Top 10.
The Konawaena Wildcats, riding a 12-0 mark in the Big Island Interscholastic Federation, collected all 20 first-place votes in today's poll.
Turnover at the top has been quite constant. Kamehameha opened the season there before losing to Iolani. The Raiders took the throne and remained there for four weeks. Roosevelt ended Iolani's reign and held the No. 1 ranking for two weeks, but a loss to Kahuku on Saturday opened the door.
Konawaena is no stranger to the spotlight. The Wildcats won the state championship in 2004. This season, however, has been one of pure parity statewide.
"I think it's been a roller coaster. There's no favorite, even now with us," said Konawaena's Donald Awa, who assists his wife, head coach Bobbie Awa. "The BIIF is as strong as any league. We don't play all D-I teams like the ILH does. I wish we did, but our D-I teams are strong."
Konawaena has already clinched a state-tournament berth by winning the regular season. The top ranking, he added, may or may not have an added benefit.
"Over the course of the season, if it helps you get a better draw at the state tournament, then great. But this is the one year I wouldn't know which team I'd want to avoid," he said. "Last year, you'd want to avoid Punahou. I think we match up pretty good with Kalani or Roosevelt, but even then, it's a pick 'em.
"There's so much parity, I don't think it matters where you fall. The first seed could lose to the eighth-best team."
Konawaena has relied on senior sharpshooter Jazzmin Awa-Williams, a returning All-State swingman. Center Mana Hopkins has emerged as a force.
"Mana's more aggressive and looking to score now. She's quick and elevates, and she runs the floor, scoring in transition," Awa noted.
BIIF officials, he added, are letting teams play strong defense, as Konawaena did in a 41-20 win at Kamehameha-Hawaii on Friday.
"They're letting us play defense, the way the games are in Honolulu," Awa said.
Viking uprising
Hilo has finally emerged after floating off the radar for most of the season. Standout Vicky Tagalicod is back to form after slowly recovering from a foot injury suffered during Team Aloha's mainland trip last fall.
Along with center Kamaile Allen, Tagalicod sparked the Vikings in a surprisingly easy 56-38 win over Honokaa over the weekend.
Hilo entered today's Top 10 at No. 10 after finishing BIIF play with a 10-2 record. Tagalicod, a 5-foot-9 sophomore, scored 27 points and had 12 rebounds, five assists and four steals in the win, while Allen had 22 points. Coach Ferd Masulit said his team has come a long way since a rough trip to Oahu in the preseason.
Only two state berths are available to the BIIF, and Konawaena has locked up one of them. That means Honokaa, Waiakea, Keaau and Hilo will fight for the remaining berth when the playoffs begin this week.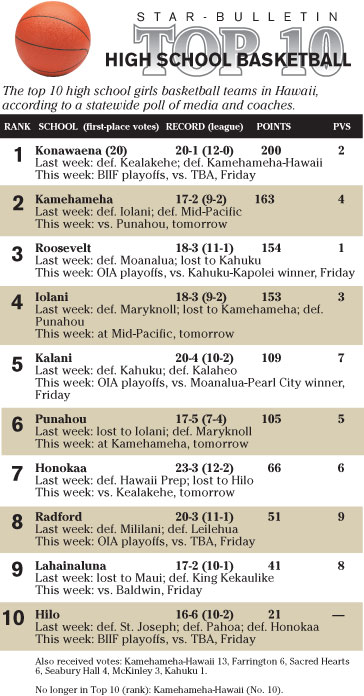 ILH
Through APRIL 27
| | | |
| --- | --- | --- |
| Team | W | L |
| Iolani | 9 | 2 |
| Kamehameha | 9 | 2 |
| Punahou | 7 | 4 |
| Mid-Pacific | 3 | 8 |
| Maryknoll | 0 | 12 |
Scoring leaders

Player
G
Pts
Avg
High

Nicole Fu, Mryk
12
190
15.8
26

Jamie Smith, Iol
11
161
14.6
20

A. Viena-Lota, Kam
10
124
12.4
17

J. Kapua, MPI
11
132
12.0
23

M. Feldman, Pun
10
89
8.9
18

Chanel Hirata, Iol
11
97
8.8
15

A. Matayoshi, Iol
11
91
8.3
14

Jenna Savusa, MPI
11
91
8.3
14

J. Nomura, Pun
11
89
8.1
25
3-pointers made

Chanel Hirata, Iol
14

Nicole Fu, Mryk
13

Tami Konishi, Iol
10

Alexis Furtado, Kam
10

Tiana Abbley, Kam
9

Jordan Kealoha, MPI
8

Kristen Canencia, Mryk
7

Dayna Jandoc, Iol
7

Johnnelle Kapua, MPI
7

Sarah Turgeon, Iol
7

Dara Tompkison, Pun
6

Lindsey Wong, Kam
6
OIA Red East
Through APRIL 28
| | | |
| --- | --- | --- |
| Team | W | L |
| Roosevelt | 11 | 1 |
| Kalani | 10 | 2 |
| Farrington | 8 | 4 |
| Kalaheo | 5 | 7 |
| Kahuku | 4 | 8 |
| Moanalua | 2 | 9 |
| Kaimuki | 1 | 10 |
Scoring leaders

Player
G
Pts
Avg
High

S. Canon, Kalh
12
181
15.1
26

I. Rodrigues, Roos
12
179
14.9
21

J. Ronolo, Moan
12
178
14.8
24

C. Gaddis, Kaln
12
160
13.3
22

Britni Ronolo, Moan
9
104
11.6
18

M. Kamehiro, Kaln
12
135
11.3
23

O. Phommachanh, Kaim
12
136
11.3
26

C'ani Kealoha, Far
12
124
10.3
21

Tiana Sugui, Roos
12
110
9.2
17

Taeja Afalava, Kah
12
108
9.0
16
3-pointers made

C'ani Kealoha, Far
23

Megan Kamehiro, Kaln
16

Elane Leaupepe, Far
13

Tiana Sugui, Roos
13

Olivia Phommachanh, Kaim
12

Tiyana Nakasone, Roos
11

Chloe Martin, Kaln
9

Caira Pires, Kalh
9
OIA Red West
Through APRIL 27
Team
W
L
Radford 11 1
Aiea 9 3
Pearl City 8 4
Kapolei 5 7
Mililani 3 9
Leilehua 3 9
Nanakuli 3 9
OIA White
Through APRIL 28
Eastern Division
Team
W
L

McKinley
11
1

Kailua
8
4

Castle
7
5

Kaiser
3
9

Anuenue
0
12

Western Division

Campbell
10
1

Waianae
6
5

Waialua
6
5

Waipahu
1
10
Scoring leaders

Player
G
Pts
Avg
High

J. Nomura, Pun
11
89
8.1
25

Ta Nitra Byrd, Rad
11
171
15.5
23

B. Stafford, Lei
12
172
14.3
24

N. Helsham, Aiea
12
155
12.9
23

J. Pahukoa-Malia, PC
12
151
12.6
19

Capri Holiona, Aiea
12
139
11.6
29

M. Malepeai, Rad
7
80
11.4
17

Ashley Gonzales, Lei
12
134
11.2
18

Sasha Montez, Nan
12
126
10.5
20
3-pointers made

Chanel Hirata, Iol
14

Ashlee Dela Cruz, Kapo
13

Natasha Helsham, Aiea
12

Jamielyn Kaleiwahea, Mil
11

Tahnee Foki, Kapo
11

Jazmin Pahukoa-Malia, PC
9
Scoring leaders

Player
G
Pts
Avg
High

Chelsie Sato, McK
12
194
16.2
23

J. Dusich, Kais
12
175
14.6
25

D. Lovell, Wain
11
139
12.6
23

C. Ramirez, Wail
11
139
12.6
19

M. Siligo, Waip
11
119
10.8
18

Ashley Jacobs, Kail
12
128
10.7
16
3-pointers made

Chelsie Sato, McK
24

Chelsey Ramirez, Wail
22

Ashley Jacobs, Kail
21

Kaitlyn Ikehara, McK
20

Jackie Tihano, McK
19

Kristen Corrales, Kail
16

Kristyn Mathenson, Kais
14

Chelsea Okuma, Kais
14